By Eric Neel
Page 2
"I will meet you anywhere the western sun meets the air"
--Son Volt
It's not my first impulse, but I gotta say straight off, props to the East. The East has been a beast these last two seasons. The bias has been completely legit. From Boone to the bloody sock, it has been tremendous theater, start to finish.
But when Johnny Damon cozies up to Regis peddling Jack Handey wisdom on the "game of life," I see motorcycles and shark tanks.
And when Mo Rivera hands out cheerful waves to the Fenway crowd and hanging cutters to Boston hitters, I swear the Fonz is flying slo-mo straight overhead.
I'm afraid the East might be played out, my friends.
I think maybe it's time to look out West for a while, don't you?
OUT WEST, where story lines are fresh and full of promise, where the division races are wide-open, where Derek Jeter's just a guy swinging through town on a road trip and Theo Epstein is the kid who got the job only after Billy Beane turned it down.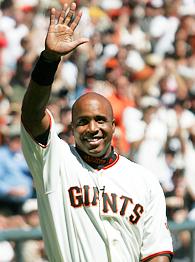 AP Photo/Eric Risberg
Bonds should get a rousing reception from the fans at SBC Park on Monday night.
OUT WEST, where not one but four teams entered the season hoping, wishing and praying to end decades of trophyless frustration and sorrow. The Mariners (28 years, 0 rings) probably have no shot, but the Padres (36 years, 0 rings) and the Giants (47 years since the team moved West, 0 rings) are postseason contenders in a wide-open NL West. The Giants are old and full of history (great players, from Cepeda, McCovey and Marichal to Clark, Bonds and Schmidt, never won a title), and they come complete with cold-sweat memories of Scott Spiezio. Every player in the clubhouse has the proverbial "sense of urgency," otherwise known as the craven sense of desperation. Talk about good theater.
OUT WEST, where the reigning AL MVP, a guy who plays with swagger and abandon, a guy capable of making you shake your head in wonder and delight every time he takes the field, punches the clock.
OUT WEST, where Milton Bradley is making a game effort to reinvent himself. For the earnest and hopeful among us, this has tremendous feel-good upside, and for the cynical and jaded in the crowd, there's the enduring possibility of a high-quality, objects-flying meltdown.
OUT WEST, where Bartolo Colon clearly plans to continue his (slow-) moving tribute to William "The Refrigerator" Perry.
OUT WEST, where a healthy Troy Glaus (and shouldn't we always refer to him this way – "A Healthy Troy Glaus" – just as a way of offering support, as a way of trying to make it so? A friend of mine sometimes asks people to meditate on a certain healing color – I think it's green – in the name of someone who's not well. I feel strange about it, but if the cause is right, what the hey?) is going to hit a whole lot of balls out into the high, dry desert air.
OUT WEST, where the Dodgers and Giants will play 14 more times over the course of the season (they've put five in the books in the first two weeks), renewing what Jim Caple has called the best rivalry in baseball, and almost certainly gearing up to once again screw each other over when it matters most.
OUT WEST, where opposing managers will refuse to pitch to a certain unstoppable hitter time and time and time again. That hitter's name is ... Todd Helton. Check the rest of the Rockies' lineup – Relaford, Gonzalez, Holliday, Greene, Restovich, Baker, Sullivan and a pitcher – and you'll see what I'm getting at.
OUT WEST, where Barry Bonds is sure to call another news conference, and sure to resume chasing a little thing called the all-time home run record, bringing back steroids suspicions, BALCO rumors and a profound ambivalence none of us knows quite what to do with. Juiced or not, he's a Hall of Famer, a singular talent. Even in an era when we suspect performance-enhancing drug use to be widespread, he has stood head and shoulders above his peers. Even if it turns out he has been using, even if he confesses to it, we can't dismiss his record out of hand. The ugliest of ugly truths wouldn't settle the Bonds question, it would make it more convoluted. Where does talent end, and where do PEDs take over? How, beyond some vague use of a mental asterisk and a scornful eye, do we reckon with him and his place among the greats?
OUT WEST, where steroid stories will almost certainly start to swirl around Padres second baseman Mark Loretta, who is clearly experiencing an unnatural explosion in production after age 32. (Just kidding, Mark.)
OUT WEST, where Bobby Madritsch (when he comes off the DL) will hopefully continue to write one of the best bootstrap stories the sport has seen in a long time.
OUT WEST, where if you're not rooting for Byung-Hyun Kim to somehow, miraculously, survive Coors Field and his own shattered psyche, then you'd better check your chest and get yourself on down the yellow brick road, because you might be heartless. Seriously, Colorado? Do the baseball gods have an ax to grind with this guy? First, they make him the antagonist in "You've Never Heard of Me and I'm Not This Good: The Story of Scott Brosius' World Series Heroics." Then, they send him through the grinder in Boston. Now he gets high elevation and thin air?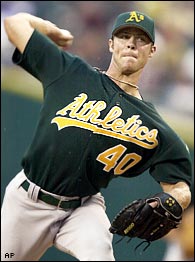 AP Photo
The A's are banking on Rich Harden to prove 'Moneyball' still works.
OUT WEST, where Rich Harden, Danny Haren, Joe Blanton and Kirk Saarloos may well make folks forget Mark Mulder and Tim Hudson in a hurry. As my friend Andy Behrens, Page 3 contributor, suggested to me the other day, Haren (2.77 ERA, .167 BAA and 6.23 K/9 in his first two starts) alone might be worth more than Mulder from here on out, and that's before we take into account the fact that the A's also picked up Kiki Calero (one of the great names and underrated arms in baseball) in the deal.
OUT WEST, where every line in every Los Angeles Dodgers box score will be read as a referendum on Paul DePodesta's sanity, effectiveness and future. Along with the Athletics' pitching changes, the Dodgers' moves for J.D. Drew, Derek Lowe, Jeff Kent, Jose Valentin and (last year) Hee Seop Choi and Brad Penny, and the ongoing story of how those moves play out, will be the next chapter in the ongoing holy war between Moneyballers and old-schoolers. The offseason programs of the A's and Dodgers are the two most radical, and most publicly doubted, yet instituted by an "objective analysis" team. Maybe even more than the Red Sox winning the Series under Epstein, the fate of these two teams this season will determine whether, as President Eisenhower once said, "Things are more like they are now than they've ever been before," or whether, as David Byrne once said, it's all the "same as it ever was."
OUT WEST, where Adrian Beltre looks to build on one of the best third-base seasons ever – and drive a stake through the heart of contract-year theory while he's at it.
OUT WEST, where Jake Peavy and Harden might come home with a Cy apiece when it's all over. If you're not keeping an eye on these two, you're missing out. Both come with compact, cutting mechanics (echoes of Cone), and both throw stingy stuff that seems to shoot down and across the plate the way stars shoot across a night sky.
OUT WEST, where Dallas McPherson, Jeremy Reed, Merkin Valdez, Joel Guzman, Huston Street and King Felix Hernandez are the future.
And finally, OUT WEST, where the good people of Anaheim are planning to march on The Big A en masse and demand their team and its name back.
Actually, that one's not so much a story line as a dream I have.
That's what happens out West: The story lines are so good you feel like you're dreaming.
Eric Neel is a columnist for Page 2.