Single page view
By Eric Neel
Page 2
I don't want to be like this, because my mom taught me long ago that all god's children have gifts, but seriously, why even bother watching the Wizards and Sonics?
I mean, assuming you're not related to, or bound by blood, sweat and tears to root for the children of 1978 and '79, what's the point? We know where these series are headed, why spend the time?
Because we love this game. Because it ain't all about winning. Because not only were we raised by our moms, but we were raised by Jim McKay and "the human drama of athletic competition" and such.
So that's why we do, and that's why I did.
Notes from Games Deux:
Washington at Miami

• These Dr. J-as-a-late-night-DJ spots are cheesy, but I love 'em for one reason: They echo the old Doc, the 'fro, the knee pads, the soar and glide. Doc the Magic exec, Doc the studio analyst; that was some sad, buttoned-down stuff. But Doc the DJ? Now we're talking.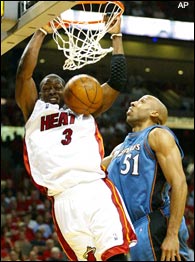 Dwyane Wade's monster year continues againt the Wizards.
• Question: Was it two-for-one night at the Sizzler in Miami or something? Was it an all-you-can-eat popcorn shrimp thing? Where the heck was everyone?
• Shaquille O'Neal vs. Brendan Haywood. Reminds a fella of Jack Nicholson vs. Greg Kinnear.
• There's a thin line between a player's going from shooting poorly to announcers' invoking the name of John Starks. Larry Hughes was tightroping it for three quarters.
Somewhere about mid-third quarter, when a wide-open baseline 3 bounced off the rim like a Happy Fun Ball ("Warning: Happy Fun Ball contains a liquid core, which, if exposed due to rupture, should not be touched, inhaled, or looked at"), it looked like Hughes had fallen off. (For a while after that, he was giving up the ball on the perimeter like it might give him cooties, and dishing to Michael Ruffin like the guy might actually finish for him.)
But to his credit, he went for 13 in the fourth, runners and jumpers included. ("Won't you help to sing, These songs of freedom – all I ever have: Redemption songs.")
• Not for nothing, but I like that hula-hoop wrap-around thing Gilbert Arenas does at the free-throw line.
• Can we just talk about Dwyane Wade for a minute?
Even if we don't have the words?
I'm looking at him drive the left lane, take the body blow from Brendan Haywood and fade (not back but up, mind you) for a bucket plus one, and then a second later I'm watching him intercept an Arenas pass at one elbow, weave his way to free-throw line at the other end, and wait a half-beat on the collapsing defenders before floating a little gift with a bow for Udonis Haslem, and I'm damn near speechless. I'm thinking up words that don't exist.
Thirty-one points, 15 assists, seven rebounds, three steals and two blocks?
This guy is positively smoogly, he's fundamentally liquicious, you know what I'm saying?
• Was that Eddie Jones I saw playing for Miami? I know it's impossible, but I swear I think I saw him pull a reverse baseline slam.
Probably just a ghost.
Quick list of guys most likely to make playoff X-factor appearances when it matters most, from five to one: