By Eric Neel
Page 2
Phoenix Suns coach Mike D'Antoni sat in the postgame interview room at America West Arena after his club beat Dallas in Game 4 of the Western Conference finals Tuesday night and said, straight-out, "We're not going anywhere. They're going to have to beat us."
Ding. Ding. Ding.
All of a sudden we have a series, ladies and gentlemen. All of a sudden we have a prize fight on our hands …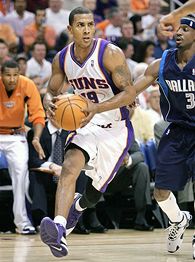 Matt York/AP Photo
Raja Bell provided a huge lift in Game 4 -- but how much more will he be able to give?
Heading in to Game 4 this thing was on life support. Dallas was cruising, up two games to one. Phoenix was hurting, down one Raja Bell. The Mavs seemed to have stalled the Suns' running game, and the Suns seemed to have surrendered to the Mavs' deliberate pace. Dallas looked headed to the Promised Land. Phoenix looked headed for summer break. But then Raja went all Willis on us. Leandro Barbosa played like the ghost of Andrew Toney. Boris Diaw dunked on people. Repeatedly. The Suns harassed Dirk Nowitzki like Lou Gossett dogging Richard Gere on one end of the floor, and found a bunch of interior gaps and back-cuts for easy buckets on the other. And blammo, it was 106-86, two games apiece, with Mike at the mic, standing up and throwing down.
So instead of a walkover, we're looking at punches and counter-punches: Phoenix sprints to the lead in the first game in Dallas; the Mavericks slow things down to take Games 2 and 3; then the Suns, who everyone figures have to run to win, instead somehow thrive within Dallas' half-court style and take the fourth game to pull even. Now we've got a best-of-three. And now we've got the real possibility of a classic series, of something going seven, of something great, of something worthy of the dramatic standard set in the opening rounds of these playoffs.
Look at how it sets up; the thing is ripe:
1. Dirk's going to be on fire. Which is to say, Dirk better be on fire. That 3-for-13 in Game 4 is weighing on him like Nate Newton in a piggyback race. Everything's about getting out from under it, about proving he can rise and meet the moment. He has to shoot spot-ups in the flow. He has to demand the ball (13 shots? Please). He has to work the boards, absorb the blows, and get his throws. At all costs. Forget cool, competent Dirk. Forget impressive Dirk. It's time for some mad dog Nowitzki now. It's the difference between star and superstar, between player and warrior now. All that clichéd talk about legends being born in the playoffs? All that stuff is true.
2. We don't know what Bell has. The decision to suit up in Game 4 was big-time. His nine points and four boards were key, and, to a man, the Suns will tell you his presence on the floor gave them an emotional lift. So now the question is, can he sustain it and continue to contribute? Is the calf going to hold up? Can he push off on it? Will the jump shot from distance be there? Can he keep pace at the defensive end? And how far will he push it if the leg fails him? And how much will it mean to his teammates to see him try? And will there come a point when he, or one of them, says enough's enough? Bell was humble after the game Tuesday night, waving off comparisons to Willis Reed and such. But the risk he took was real, and it gave the series an emotional pitch, and every minute he plays from here on out, good or bad, is vibrating at that pitch.
3. Josh and Boris are busting out all over. The Suns have had no answer for Josh Howard (18.3 points and seven rebounds. 48 percent from the floor, and 41.7 percent on 3s). Dallas has scoring options all over the floor, but he's Phoenix's kryptonite; they can't rush him, they can't stop him from getting into space, and they can't keep him off the glass. Ditto Dallas and Diaw (24.8 ppg, 7.8 rpg, 4.0 apg, 50 percent from the field), who, in addition to great vision and deft passing, has shown an increasing willingness to go hard at the bucket in this series, stirring up the crowd and his club every time he does. It's dueling coming-out parties with these guys. It's like they're realizing, right here and now, exactly how good they can be. Our attention is on Nowitzki and Nash, and it probably should be, but a big part of the appeal in seeing how this series plays out is in seeing whether and how these two guys continue to assert themselves.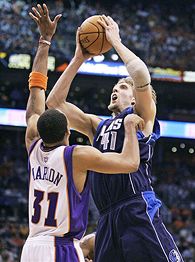 Chris Carlson/AP Photo
Don't you get the feeling Dirk's going to go off in Game 5?
4. You've got to figure Dallas has a truly great game still coming. The D's been there, but they haven't shot well (low 40s in Games 3 and 4), Devin Harris has looked tentative at the point, and they've been weak at the line as a team. One of these nights they'll come down like rain, though, right? Dirk, Howard, Jason Terry and Jerry Stackhouse all north of 20, the Suns resting their starters in the fourth with yet another must-win in Phoenix on the horizon? My guess is we see the total Dallas package Thursday night, back in front of the home crowd, with the frustration of Game 4 fueling them. And then it's a matter of how Phoenix responds.
Which brings us to 5. The Suns are thin -- they're getting decent production out of five guys, six if you count Bell -- so how long do they last? Dallas is deep -- Avery Johnson can call on and count on up to nine players -- which means they ought to be able to wear Phoenix down. But the thing is, people have been saying this about the Suns all season (and all of last season, too), and the Suns keep finding another gear. D'Antoni was adamant Tuesday: His guys are not tired. This is no time to be tired. Tired is a luxury they don't have. You'd call it coach-speak if they hadn't gone out and pasted the Mavs by 20 right after he said it. I see them winning Game 6. I think, in paying attention to their lack of fresh bodies, we've neglected a key element of the Suns' attack. Like Henry V's "happy few," they're a band of brothers. They've been tested time and again this season, they've had no one but each other to lean on, they've been without Amare, they've been down 3-1 to the Lakers, and they keep coming through it. That's what D'Antoni's "we're not going anywhere" is all about; it's a thing he knows to be true, because it's been forged in the fires.
In the end, that's why I'm picking Phoenix to win this thing in seven. Deep, versatile, and talented as Dallas is, Phoenix has the intangibles edge. Call me a romantic, call me a fool. I'm sorry, but I think that's a real thing this time of year. Every time they could have folded up their tents, the Suns have stood their ground and said, "You wanna piece of us? Let's get it on."
I'm just not betting against that.
And no matter how it goes, I'm betting we're in for something special in these next three games.
Eric Neel is a columnist for ESPN.com and Page 2.