By Eric Neel
Page 2
It's fun to vote on things like Major League Baseball's Hometown Heroes promotion. It's fun to think about players gone by. It's fun to argue their merits, with yourself and with friends at the watering hole.
But you know what's even more fun? Deconstructing the ballot. Looking for holes, shooting down choices, wondering what the heck the good people who made the list were thinking.
It ain't easy making definitive lists (we know, we've been sweating our Hometown Bums list for weeks). You know when you make them some opportunistic sniper's going to come along and take them apart.
I'm sorry, baseball, I couldn't resist. I'm that guy.
If it makes you feel any better, I'm sure, in the eyes of some other snipers, I'll get it wrong, too.
That's the real fun of these things.
Angels
Jim Abbott, Don Baylor, Rod Carew, Chuck Finley, Tim Salmon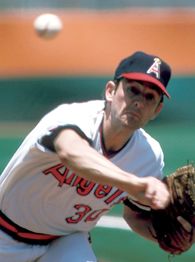 Darryl Norenberg/WireImage.com
Umm, sure, Don Baylor won an MVP and all, but ...
Abbott's a great story, but he's sitting in Nolan Ryan's seat here and he needs to get up out of it, dust it off, and ask Mr. Ryan if there's anything he can do to make him more comfortable. The Express pitched his peak years (age 25-32; 2,416 strikeouts, a 3.12 ERA, 156 complete games, and 40 shutouts) with the Angels, and during those years he was just about the most feared pitcher in baseball. Until Vlad Guerrero came along he was the one and only true Angels superstar, and for nearly a decade he made an afterthought franchise legit.
Astros
Jeff Bagwell, Craig Biggio, Larry Dierker, Nolan Ryan, Jimmy Wynn
Where have you gone, J.R. Richard? I suppose he was more a comet than a star, and I know it hurts to remember what happened, and to think about what might have been, but I don't imagine it's ever felt better to be an Astros fan than it must have felt every time James Rodney took the hill in 1979.
Athletics
Dennis Eckersley, Lefty Grove, Rickey Henderson, Catfish Hunter, Reggie
Some fun facts about Mr. Grove: He was a Philadelphia Athletic who once struck out Babe Ruth, Lou Gehrig and Tony Lazzeri on only 10 pitches. He posted a league-leading ERA nine times. He went 31-4 in 1931, with an ERA of 2.06. He retired in 1941 with 300 wins and a .680 career winning percentage. His given name was Robert Moses Grove. He was a descendant of Betsy Ross. He used a rubber-stamp facsimile of his signature to give autographs. And he was traded, straight up, for a new ballpark fence in 1920. True story. You can look it up.
Blue Jays
Roberto Alomar, Joe Carter, Tony Fernandez, Pat Hentgen, Dave Stieb
No disrespect to Joe Carter, who had a fine career and was an upstanding Jay, but has any World Series home run ever been more predictable? Doug Ault would have gone yard on Mitch Williams that night. Rance Mulliniks would have owned him. Can't you remember just sitting there watching it and thinking, "Here it comes"? In the years since 1992, craving history, longing for meaning, we've come to see Carter's home run alongside Bill Mazeroski's 1960 shot, but they're apples and oranges. Maz shook up the world and slayed the mighty Yanks. Carter just put Williams out of his misery.
Braves
Hank Aaron, Chipper Jones, Phil Niekro, John Smoltz, Warren Spahn
It's funny how lists work. Chipper Jones is a terrific player, a guy who's come up big in the postseason, played though injuries, and been a consistent run producer in this league for 13 years. But you put him next to Hank Aaron and Warren Spahn on a list and just like that he's some stiff, a warmed-over corpse, a cardboard cutout of a man. The same thing happens, by the way, when you put George Clooney on a list next to Cary Grant and Clark Gable.
Brewers
Cecil Cooper, Rollie Fingers, Jim Gantner, Paul Molitor, Robin Yount
These five guys were teammates in the one magical Brewer era, when the uniforms were god-awful but the team was real good. We don't think of Milwaukee as a town or a team with a legacy. When you lose as often as the Brewers have since Yount and Co. moved on, it's hard to believe anything good could ever happen for them, but this list ought to be a gauntlet for today's young Brews. If I'm Ned Yost I'm breaking out the ugly old hats again and I'm sewing the names of these guys under the bills of Prince Fielder, Rickie Weeks, J.J. Hardy, Ben Sheets, and Derrick Turnbow. If I'm Yost, I'm saying, "Be a Brewer, damnit."
Cardinals
Lou Brock, Bob Gibson, Stan Musial, Albert Pujols, Ozzie Smith
These are the best Cardinals, but they aren't the most important Cardinals. That honor goes to Curt Flood, whose efforts in the cause of free agency meant hometown guys didn't have to stay "home." Maybe that makes him the hometown antihero. I know it makes him the hometown revolutionary …
Cubs
Ernie Banks, Ferguson Jenkins, Ryne Sandberg, Ron Santo, Billy Williams
If Ron Santo doesn't win this vote based on the strength of his moaning, heart-on-his-sleeve, homer radio calls alone, the whole thing's a sham.
Devil Rays
Wade Boggs, Carl Crawford, Roberto Hernandez, Aubrey Huff, Fred McGriff
Boggs is a Red Sox guy. McGriff's a Brave, maybe a Blue Jay. Roberto Hernandez? Roberto Hernandez is just bad. You know the folks in the Rays' front office are convinced the people in Selig's office green light things like the Hometown Heroes vote just to humiliate them. You know there was a call, maybe eight or 10 calls ("Swingers" style) when this thing was announced, every one of which was a variation on "What the $@!*? What'd we ever do to you?!"
Diamondbacks
Jay Bell, Luis Gonzalez, Randy Johnson, Todd Stottlemyre, Matt Williams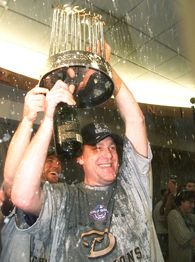 Jed Jacobsohn/Getty Images
Remember the guy who led you to a World Series title?
How does a team that won a World Series within the last five years continue to be a joke and an afterthought? (1) They insist on still taking the field in purple and teal. (2) They don't vet their spouse-abusing managerial hires. (3) They somehow leave Curt Schilling off their hometown heroes list, and put Todd Stottlemyre on.
Dodgers
Roy Campanella, Sandy Koufax, Pee Wee Reese, Jackie Robinson, Duke Snider
It's a storied franchise, no doubt, but only one mug (Koufax, who began in Brooklyn) from the L.A. days makes the cut? No Fernando? No Gibby? No Orel? The '70s infield isn't cool enough? Piazza -- a lock Hall of Famer -- isn't in the mix? Duke Snider's a hero in Flatbush, about a hundred years ago. That was then. This is now. The Dodgers aren't in Brooklyn anymore. Haven't been since 1957. It's officially time for baseball to get over that. Let the Fernando Valenzuela write-in campaign begin here and now.
Giants
Barry Bonds, Juan Marichal, Willie Mays, Willie McCovey, Mel Ott
One of the strange, great subcurrents of all the nationwide Barry blasting has been the way San Francisco has positively loved him, come rain or shine, come "Game of Shadows" or Greg going back to the pokey. Mays will win this vote, and he should, but Barry won't be far behind, and that will drive folks in other parts of the country a little nuts, and Giants fans will delight in knowing they've had that effect.
Indians
Earl Averill, Larry Doby, Bob Feller, Nap Lajoie, Tris Speaker
In a radical attempt to pretend Albert Belle and Manny Ramirez never existed, the Cleveland committee declares 1959 the end of western civilization.
Mariners
Jay Buhner , Ken Griffey Jr., Edgar Martinez, Jamie Moyer, Ichiro Suzuki
Sources high up within the Mariners' organization confirm that Mario Mendoza and Spike Owen would make the list before that "son of a b---- poseur A-Rod gets even a whiff of the thing."
Marlins
Josh Beckett, Luis Castillo, Jeff Conine, Robb Nen, Dontrelle Willis
The Marlins originally tried to nominate Steve Bartman, but Major League Baseball insisted they include a big league player. Hence Luis Castillo, who the club and the league decided was, "you know, close enough."
Mets
John Franco, Tug McGraw, Mike Piazza, Tom Seaver, Darryl Strawberry
There ought to be a "defining moment" provision on the ballot. If a player, regardless of career achievements, exists in the minds of most fans in a single moment, pose, or circumstance, he is forever, exclusively, affiliated with the team with whom he had the moment. Tug McGraw's moment came as a Philadelphia Phillie, closing out Game 6 of the 1980 World Series, when he jumped, arms extended, legs tucked behind his butt like a cannon-baller, for joy on the mound. That moment is Tug McGraw. Tug McGraw is that moment. And in that moment he was with the Phillies. All of which is to say, he shouldn't be on the Mets' list. Doc Gooden, whose defining moment came on the cover of Sports Illustrated as a 19-year-old Mets ace, should.
Nationals
Gary Carter, Livan Hernandez, Brian Schneider, Rusty Staub, Jose Vidro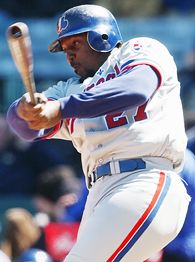 Jonathan Daniel/Getty Images
We have nothing against Brian Schneider, but we do feel Vlad is a slightly better choice.
Before you laugh at the inclusion of Brian Schneider here (instead of oh, I don't know, Vlad Guerrero or Andre Dawson or Tim Raines or maybe Pedro Martinez, or Dennis Martinez, or even one-time "Santa Barbara" star A Martinez), you should know that Schneider, in 2001, at age 24, posted a .317/.396/.463 line over … 41 at-bats in 27 games. All right, now you may laugh.
Orioles
Eddie Murray, Jim Palmer, Cal Ripken Jr., Brooks Robinson, Frank Robinson
Palmer got all the attention for the Jockey ads, but my mom was always a much more devoted fan of Murray, who, she would tell you, didn't need to strip down and lay about the pages of a magazine because he looked so good in his uniform. "Eddie has a fine behind," she would say, perched in the box seats behind first base. And she would draw it out -- fiiiiiiiiiiine behiiiiiiiiiiind -- as if she were a southern dame (which she isn't), lingering over the off-rhyme like a baked teenager giggling between hits on a fatty (which she wasn't either). I found it excruciating, but the folks around us at the ballpark swore it was hilarious, even charming. And mom, for her part, said it was just true, plain and simple. So make of that what you will, and cast your votes accordingly.
Padres
Brian Giles, Tony Gwynn, Trevor Hoffman, Randy Jones, Dave Winfield
My favorite Tony Gwynn stat: 319 career stolen bases, including 56 in 1987. You forgot about that, didn't you?
Phillies
Richie Ashburn, Steve Carlton, Chuck Klein, Robin Roberts, Mike Schmidt
It's a nice list, but like that new laptop you just bought, it's about to be obsolete. If Ryan Howard hits 60-plus (and he's a decent bet, averaging a home run every 9.3 at-bats) he blows most of these guys out of the water -- Ashburn is still beloved, but Carlton was surly, Klein is long forgotten, Roberts is routinely mistaken for a GMA host, and Schmidt, well, they've been dogging Schmidt in Philly since before young Ryan was born.
Pirates
Roberto Clemente, Ralph Kiner, Bill Mazeroski, Willie Stargell, Honus Wagner
Remember Stargell Stars? The little gold star patches Willie handed out to teammates when they made good plays in the field or came through with timely hits? I'm not trying to influence your vote here; you have to vote your conscience, and that's a private decision and I respect that. But still, let me say this: Those stars are symbols of a more innocent, more openly goofy and well-intentioned time. There is no irony in those stars. They are not hip. They are not cool. They are the tools of kindergarten teachers and loving parents. They are the last thing you'd expect to see in a contemporary clubhouse. And that, of course, is what makes them so purely, truly great.
Rangers
Rusty Greer, Ivan Rodriguez, Nolan Ryan, Jim Sundberg, Mark Teixeira
Growing up, Jim Sundberg was the baseball card I used to get a bunch of, every time I bought packs. I thought he was cheap, easy, not worth my time. I gave away Jim Sundberg cards to kids looking for bike spoke clickers. I gave Jim Sundberg no respect. I was wrong. Sundberg caught 1,900-plus games, hit a whole bunch of doubles and triples for a catcher, and had almost 1,500 hits over 16 seasons. Jim Sundberg deserves better than the spokes of a bike wheel. He doesn't deserve to beat out Pudge Rodriguez here, but he deserves better.
Red Sox
Roger Clemens, Jim Rice, Ted Williams, Carl Yastrzemski, Cy Young
I've got three words for you and the Red Sox selection committee: "Vote For Pedro."
Reds
Johnny Bench, Joe Morgan, Tony Perez, Frank Robinson, Pete Rose
First alternate, in case one of the above is, I don't know, maybe disqualified for conduct unbecoming a hometown hero: Seņor Barry Larkin, SS, straight shooter, good egg, and lifelong Cincinnati Red.
Rockies
Dante Bichette, Vinny Castilla, Andres Galarraga, Todd Helton, Larry Walker
After Helton it's a list of happy clams reborn in the thin mountain air. After Helton, it's an I-can't-believe-my-dumb-luck team parlaying the altitude into paydays in and out of Colorado. The heroes, after Helton, are the poor slobs who take the ball and the hill. Jason Jennings, who's somehow managed a 4.70 career ERA in six seasons … he's a hero. Armando Reynoso, with a 4.65 ERA in 500-plus Rockie (pun intended) innings pitched … that there's a hometown hero.
Royals
George Brett, Amos Otis, Bret Saberhagen, Mike Sweeney, Frank White
I've actually been asked by my editors not to say anything here that might upset our colleague Rob Neyer, and send him reeling, full of melancholic memory, into a deep, dark pit of despair that will necessitate weeks and months of therapy and a major workers' comp claim against the company's healthcare policy. I've been asked to say, for Rob's sake, "As you can see from this list, the Royals are a proud franchise" and "it won't be long before we see the names Teahan and DeJesus," and to repeat these lines as often as possible. Under no circumstances am I to say, "Dude, what the heck happened to the Royals? They were once, like good and stuff. They were once, you know, not a joke."
Tigers
Ty Cobb, Charlie Gehringer, Hank Greenberg, Al Kaline, Alan Trammell
Two questions: (1) While they certainly recognize Ty Cobb's greatness, is it possible for even the most ruthless, mercenary Tigers fan to call a racist, fan-beating, spike-flashing S.O.B. a hero? (2) If an Alan Trammell falls in the woods but a Lou Whitaker isn't there to hear it, did it really fall at all?
Twins
Rod Carew, Kent Hrbek, Harmon Killebrew, Tony Oliva, Kirby Puckett
I'm not one of those who argues Jack Morris should be in the Hall of Fame because of his 10-inning masterpiece in Game 7 of the 1991 World Series. But you can count me among those who finds it pretty silly that his effort, the single greatest achievement in franchise history (and there is no close second), isn't enough to warrant a spot on this here ballot. In fact, you can count me among those who think we ought to do this whole $%&* thing over, because not only did they leave Jack off, but they left the Big Train, Mr. Walter Johnson, off the list as well. And I am one of those who argues you just can't do that.
White Sox
Luke Appling, Harold Baines, Nellie Fox, Minnie Minoso, Frank Thomas
In the late early 1980s, the sight of Greg Luzinski and Ron Kittle in wide lapels dug a humiliation hole from which it appeared the White Sox might never recover. Enter Frank Thomas, whose consistent, Hall of Fame-caliber brilliance and pop at the plate is the only reason the 2005 White Sox could even dream of a World Series run. The 2005 season belonged to the young arms on the pitching staff, and the bats of Paul Konerko and Jermaine Dye, but they were in a position, they had a shot, because, and only because, Big Frank had systematically erased the shame the organization felt, the embarrassment we all felt, in seeing Luzinski and Kittle turned into dress-up dolls.
Yankees
Yogi Berra, Joe DiMaggio, Lou Gehrig, Mickey Mantle, Babe Ruth
They need a 1 and 1A list, the second one for Jeter, Rivera, Mattingly, Munson, and of course, Luis Sojo.
Eric Neel is a columnist for ESPN.com and Page 2. Sound off to Page 2 here.