"There are no moral victories in the NBA."
-- David Lee, New York Knicks, Jan. 20, 2007
After "He just knows how to win" (a truly singular bit of tautological nonsense), and "You can't teach size" (a bromide that too neatly, too painfully, encapsulates the premature end of my playing career) one of my least favorite sports clichés is: "There are no moral victories."
Yes, it's true, only actual wins and losses count in the standings. And yes, as descendants of Vince Lombardi, Gordon Gecko and General William Tecumseh Sherman, we're all taught to be satisfied with nothing less than the brass ring. But let's not forget, at one point or another every season, 29 out of 30 NBA teams go down.
This means there are all kinds of moral victories. This means, cliché be damned, the vast majority of players and teams in the league (and the vast majority of people who love them) must content themselves with some sort of postmortem, wound-licking philosophy, some sort of silver-lining rationalization, every single year.
Winning as defined by a trophy and a ring is the champions' lot. But for everyone else winning is some more fuzzy, fluid thing, some scrap of a reason to keep going or to try again, some wait-till-next-year glimmer of hope, however faint.
Just look at the Western Conference standings right now, with seven teams (within five games of each other) vying for the final two spots in the playoffs as we head into the regular season's home stretch. Not one of these teams is a viable championship contender. The Mavericks, Suns and Spurs are head and shoulders above the rest of the conference. And not one of these teams looks like a good bet to pull a Nuggets-over-Sonics-in-'94-style upset, either. The clubs that get in will just be lambs for the slaughter, sacrificial virgins bound to the ceremonial pyre.
So what constitutes a moral victory for each club? What, short of winning the whole enchilada, would be enough to feed their souls and the souls of their faithful?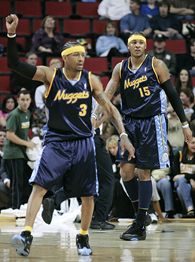 AP Photo/Ted S. Warren
It's taking the Nuggets longer than we thought to figure this out.
Denver Nuggets
With A.I. and Carmelo a threat to score roughly 200 points on any given night, these guys look complacent as hell right now, soft as the center of a Cadbury Egg. They casually flip alley-oops all over the place. They settle into isolation after isolation, letting the shot clock dwindle down to nothing. And the way they play defense, reaching and pawing like slow-footed zombies in "The Day of the Dead," is straight-up sickening.
Here's how the Nuggets could win, even if they lose: Dial. It. Up. Push it real good. Play like a George Freakin' Karl team for the next 25 games. Run hard, play frenzied. Use the altitude, Iverson's handle and Anthony filling the lane from the wing to your advantage. Make like Loyola Marymount. Make clubs pay for stepping onto the floor with you.
If they do this they'll scare people (always a magically delicious moral victory), and they'll have some crazy confidence to build on heading into next season. If they don't do this, they'll settle into the worst sort of navel-gazing inertia and an offseason riddled with questions about how something that looked so good on paper turned out to be so bad.
Los Angeles Clippers
Shaun Livingston's dislocated kneecap is a beyond-cruel twist of fate. The basketball gods need to let up on this young man. He deserves better. He's sometimes too timid, but he's been growing out of it. And even if he hadn't been, they shouldn't have done this to him.
The Clips' path to moral victory is simple and corny (in a good way): Win for Shaun. The club has survived a truckload of injuries this season -- to Elton Brand, Sam Cassell and others -- and managed to somehow stay in the hunt despite wicked blow after wicked blow to their chemistry and rotation. Now they can be unified, gallantly, in their affection for the kid. And while it won't be enough to get even a sniff of the crown, it will be enough to make them everybody's sentimental favorite in the first round.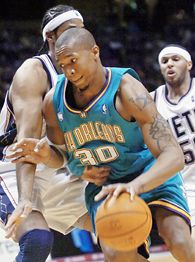 AP Photo/Bill Kostroun
David West is one of the most underrated players in the NBA.
NO/Oklahoma City Hornets
This is a tough one. Chris Paul, quietly being the versatile genius that he is, as a hedge against the $60 million they spent on Peja Stojakovic and his gimpy back, is kind of already their moral victory.
But we'll add this: The Hornets will win, even when they ultimately lose, if they keep the David West train rolling alongside Paul. West is sneaky good, and has been sneaky great since coming back from injury in mid-January (averaging 18 points and six rebounds in February). And the combination of West and Paul, while not enough to win an opening-round series, is enough to mess with somebody something fierce. There's a peculiar sort of satisfaction that comes when the overdogs, like Apollo Creed, have to step back, look at you and say, "Damn!" The Hornets have that kind of win in them.
Minnesota Timberwolves
Kevin Garnett wasn't happy with the other Kevin's silence at the trading deadline. He needed to see a little love. He needed some reason to feel good about being the loyal cat he is. As it stands now, he's feeling like a dope for going the Ripken route, even though that's what his heart tells him is right.
So the Wolves' moral victory would come by good faith. Not from McHale, who's likely made his last deal, but from the guys on the floor. If I'm Randy Wittman I'm calling a secret meeting, all Dead Poet's style, complete with robes and candles and whatnot. I'm gathering the boys in the dark of night and I'm imploring them, in hushed, solemn tones, to find some way to do more. I tell them it's not for me. I tell them it's not for them. I tell them it's not about the playoffs. I tell them it's about making the big guy feel like he's made the right call. It's about being worthy of his commitment.
Golden State Warriors
They're decimated by injuries and saddled, still, by that bizarre bolt-toting blue-streak robot man in the logo. They've got such a long way to go, it's hard to know where to begin.
Let's start here: If they keep electric water bug Monta Ellis happy, and if they keep Stephen Jackson and his busted toe out of strip clubs, for at least the next couple months they'll earn a gold star.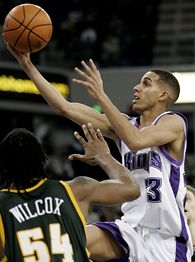 AP Photo/Max Whittaker
Kevin Martin should keep Kings fans smiling for a long time.
Sacramento Kings
The Maloofs, like Clay Bennett in Seattle and the ownership in Memphis, are bucking for a new arena deal. Arco is too small, too quaint and too luxury box-less to generate the kind of revenue they think they need to compete.
But if Arco 's going out, the Kings' moral victory will be in sending it out in a blaze of glory -- one of the truly unique rooms in the league, a sweaty box full of crazy cowpoke passion and us-against-the-world intensity. We've forgotten now, because the Lakers' combination of Shaq and Kobe erased them from our memory. But the Webber-Bibby-Jackson-Vlade Kings were a great team, with a share-the-ball style they believed in and a fan base who believed in them in the fiercest way. If the Kings can wind up the locals one more time, for one more series, for one more stretch run, that'll be something rare, and maybe even something that's in danger of extinction leaguewide.
How do they do it? Kings blogger TZ has a suggestion: Less Ron Artest, more Kevin Martin (link tip courtesy of colleague Henry Abbott at Truehoop.com). Sounds right to me.
Portland Trail Blazers
More than any other team in the seven, these guys have to be playing for the future. Not because they have no shot at the present, but because they have so much baggage in the past. This team is efficient on offense and seems to enjoy playing together. They look nothing like the Blazers of the last several years. There's a chance here to finish off strong and, after unpopular GM Steve Patterson stepped down Thursday, turn a page and begin a new era. If you watch Brandon Roy make his graceful, unhurried cuts and hop into clear space, you can see something exciting. If you watch LaMarcus Aldridge work the interior, you can see something promising. If you watch the way Jarrett Jack distributes the ball on aggressive drive-and-dishes you can see a tight, potent crew finding its identity. That's a win, no matter how many wins they post between now and the playoffs.
Eric Neel is a columnist for ESPN.com. Sound off to Page 2 here.