Truth be told, I'm a bit of a slut. My eyes wander. I fantasize freely and often. I'm never quite satisfied with monogamy.
I was born and raised a Dodgers fan, and my blood runs blue. But the fact is, I cheat. Every year I pick some hot young club -- some sleeper, some long shot -- and shower them with love and attention. I can't help myself. This season, I'm such a dog I've chosen two paramours. This season, just moments after (and sometimes before) I check the Dodgers' box score, I scan for Arizona Diamondbacks and Milwaukee Brewers scores.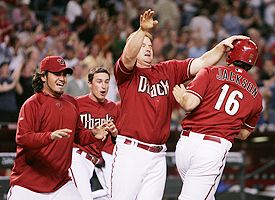 AP Photo/Ross D. Franklin
These young D-Backs could make a lot of noise in the NL this season.
The Diamondbacks are loaded with young talent. Shortstop Stephen Drew, center fielder Chris B. Young, right fielder Carlos Quentin and first baseman Conor Jackson are all less than 25 years old, and are all legitimate candidates for breakout seasons. Brandon Webb, their defending Cy Young Award-winning ace, is just 27 -- and he's just now starting to realize, to truly believe, that he and his black-hole sinker are nearly unhittable. And Micah Owings and Edgar Gonzalez sport green, but mean arms.
This club is on the cusp, about to do some damage. Loving them is like loving "Los Angeles"-era X or Spike Lee coming off "She's Gotta Have It" -- all full of rage and promise, just off the radar but coming on strong.
In Tucson, Ariz., a couple of weeks back, just before he slapped three home runs in a late spring tuneup against the Rockies, outfielder Scott Hairston (age 26) said this group knows they are young and relatively inexperienced -- and they like it like that.
"It gives us an edge," he said. "We feel like we have to prove ourselves every game, every series. We feel we have to earn the respect of the league."
Now, the quest for respect in sports is the tiredest of clichés. But coupled with a little youthful bravado in the early days of April, I actually find it charming as hell, and strangely convincing. When Jackson said, "We can absolutely win the division. We believe that, every one of us believes that," I was down with that. I too believed.
Though everyone gets to be hopeful and bright-eyed in the spring, the Diamondbacks' claim to optimism is legit (witness the 7-3 start, without Randy Johnson back yet), if not this year then soon after. Barring injury, Arizona has a core you can reasonably picture raking and dealing for the next four or five years, contending for the division crown every season. And that is all I need to fall into a deep, giddy swoon. They don't have to win the 2007 World Series, or even the pennant. They just have to grow, to show flashes and bursts, to give me something to invest in -- some exciting beginning to a story, some prospect of magic.
Same with the current crop of Milwaukee Brewers, a team whose "veteran" leader is 27-year-old mashing handyman Bill Hall. In Rickie Weeks (25), Prince Fielder (23), J.J. Hardy (25), and Corey Hart (25), they have a nucleus every bit as charged as Arizona's. And in Ben Sheets (please, God, let him stay healthy), Chris Capuano, Dave Bush, and Francisco Cordero, they have an even more turnkey staff. Their line scores are portals, gateways to 2008, 2009, 2010.
And it's not just that the Brewers look good for the future. It's that, as an organization, they carry, and are looking to bury, so much ugly past. Not since 1982 have the Brewers so much as sniffed the crisp air of the postseason. Not since 1992 have they posted a winning record. They've been bad, they've been a laughingstock (see the 69-win season in 1993), they've been utterly irrelevant.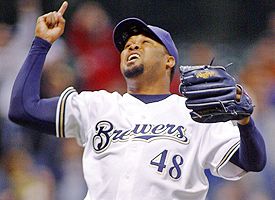 AP Photo/Darren Hauck
Francisco Cordero and the Brewers hope to have plenty to celebrate this summer.
That was supposed to change last season, when their youngsters first hit the scene. But things didn't work out. Sheets got hurt early, the kids pressed, the losses mounted.
"We were in over our heads," Fielder said in Phoenix this spring. "We wanted it so bad that at times we just flailed."
This year feels different, looser, more quietly confident. Hall -- having just finished smacking balls in the cage, waggling his bat casually as we talked -- floated a theory that sounded like a philosophy, a game plan: "Last year was good for us. The sting of it motivates us, but more than anything I think we learned not to be so anxious early on. We're ready to let this year come to us more. We're smarter about what it is we do and what it is we have to do."
I stood off to the third base side of a practice field in Phoenix and watched the Brewers, babes and vets alike, host the "Clubbie Olympics" -- a for-yuks competition in which their clubhouse assistants tried to catch high fly balls flung by pitching machines, ran towel-cart relays and such. The players laughed hard and often, goading the clubbies, mocking and challenging each other. I stood outside the cage while Hart worked on loading his swing and finishing smooth and high, and saw him walk out of the cage and thank the coach throwing him pitches for "taking the time." I saw Fielder, Weeks, and Tony Gwynn Jr. practice stances -- sometimes doing impressions of other hitters, sometimes comparing notes on where they keep their hands and why. I saw a team acting like a team.
"We're tight," Fielder said. "Last year was tough, but it brought us together."
I like stocks that are bloodied but unbowed. I'm a sucker for posthype sleepers. I love this Brewers squad. They've been hurt, they've come up short, they carry baggage and expectations -- but they look and feel primed for a run.
There's drama in watching another in a long line of Red Sox-Yankees duels, in watching the field narrow toward October and the World Series. There's steady satisfaction and a sense of purpose in watching whatever team it is you root for do their thing inning by inning and game by game, as they write the next chapter in the story of your baseball life. But the mainstream and the tried and true aren't everything.
Give me the rush of watching something being built, something new, too. Give me a team -- two teams, that are just going to be fun to watch, no matter what the payoff is. Give me the D-Backs and the Brewers.
Give me someone to love, a chance to cheat.
Eric Neel is a columnist for ESPN.com. Sound off to Page 2 here.