I have to say, I'm pretty excited for this weekend's (and next weekend's) Yankees-Red Sox series. This is an unfamiliar feeling (I usually ignore and sometimes revile the 800-pound gorillas). And I'm not exactly comfortable with it (there's no real satisfaction in throwing logs on an always-stoked, always-raging hype fire). But it's here, and it's not going away. At least for the weekend, I'm just like seemingly everyone else in the world of sports journalism -- endlessly fascinated by the Yanks and Sox.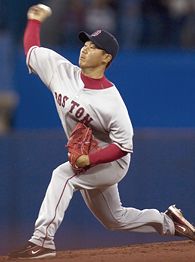 AP Photo/Adrian Wild
Dice-K will get his first taste of the bitter Yankees-Red Sox rivalry on Sunday night.
Chalk it up to Daisuke Matsuzaka -- who, despite a hard-luck 1-2 record, has been ridiculously good (2.70 ERA, 24 strikeouts, 1.10 WHIP) in his first three big-league starts. He's slated to start the Sunday night ESPN game, a night full-to-the-gills with anticipation -- Sox fans thinking this is why they spent the dough, Yanks fans eager to play rough with their rivals' shiny new toy.
Matsuzaka's no stranger to pressure. The hopes and dreams of Japan ride on his every pitch, and he knows it. But I wonder, will this atmosphere -- with all its bilious history -- register as some other order of weirdness for him? Will he think, even for a moment, "What the hell have I gotten myself into?" Will there be some step-back, deep-breath, go-to-the-rosin-bag stroll behind the hill during which you can literally see the scene press down on him? And how will he respond to it? Will we get a glimpse of what's already become his trademark shy, sly smile? Will he step back up to the rubber with a sense of purpose and fearlessness and proceed to make the Yankees' hitters look silly just for showing up? Or will he press and sweat and hang sliders and get rung like a bell?
Chapter 1 in the Matsuzaka story was the posting and the signing. Chapter 2 was the first few "show us what you got" starts against teams the Sox were expected to beat. Sunday is the beginning of Chapter 3 -- the heart of the story, the true outlay of character, the start of the action.
Ditto that for A-Rod. His first couple weeks have been comic-book-hero spectacular. With 10 swings he's moved the intractable Alex Rodriguez story lines -- off his no-love affair with Derek Jeter, off his jittery play at third, off the glossy lips and frosted tips, off what he can't do and who he isn't, and onto discussions of 70 home runs, another MVP award, and the return of Yankee greatness. It's been the most radical transformation -- every one of his grimaces from last year finding its counterpoint in a smile and a shout these past two weeks.
But, of course, it will count for nothing if he doesn't sustain it this weekend against Boston. It will evaporate if Curt Schilling saws him off a few times tonight, if Matsuzaka gets him jumping out at the slider on Sunday. The conventional wisdom is that Rodriguez's fate in New York hinges on what he can and will do in October -- which is true -- but it's also true that October really begins this Friday night in April, against the Red Sox. No matter how hot he's been, no matter what thunder he brought down on Cleveland, he's vulnerable right now, his new reputation minted in glass. No matter how excited Yankee fans are by what he's done so far, they know this weekend in Fenway is the first real test of his mettle.
The fates of Matsuzaka and Rodriguez clashing like Godzilla and Mothra -- with smoky, miniature-scale buildings and crushed little plastic cars scattered beneath them -- is drama enough to make me watch. But they're not all that make Yankees versus Red Sox appealing right now.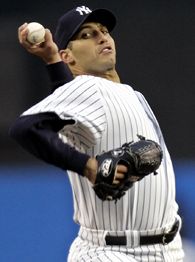 AP Photo/Mike Segar
Andy Pettitte must be excited to be back involved with the rivalry.
For starters, Schilling's new blog "38 Pitches" has quickly become one of my Firefox favorites. Love him or hate him, his Q-and-A's with readers are frank and often interesting. And his post-outing breakdowns are not to be missed, full of strategy and behind-the-veil thinking, and brutally honest about his limitations. (Stuff like, "Walking off the mound I knew my FB was crap, and that I'd need to get it right fast," and "I never let us get into the game after the first. Every inning they pushed and I didn't push back.")
We know what a Yankees-Red Sox series looks like through the camera lens, and we know what it looks and feels like from the seats at Fenway and in the Bronx. Come Monday, I'm eager to put those impressions together with Schilling's words, to get what I think will be the most complete picture yet of the mechanics and the tensions of this rivalry.
And on the Yankees' side of the ledger, there's all this uncertainty about the pitching staff, which I find oddly compelling. Mike Mussina's down, Carl Pavano's hurting again, Roger Clemens is still cooling his heels. And so they come into this series featuring Andy Pettitte, Jeff Karstens (fresh off the DL and with only eight major-league starts to his name) and Chase Wright (who's thrown five whole innings in the big show), and come out of it looking to set the tone for what's next with the untested Kei Igawa.
It's not just that I enjoy watching the mighty Yankees scrape and bow a bit (though I must confess …). It's that, in the scraping and bowing, they start to take on a little bit of an underdog look, going heads-up with a potent Schilling-Josh Beckett-Matsuzaka hydra. The underdog look doesn't suit them, of course. But that's what I like about it -- its awkwardness, its freshness.
If they succeed in the six games they have with the Red Sox in the next 10 days, it most likely will be because the Yankees' young punks, who have no business doing so, stepped up and pitched with a kind of moxie the moment demands. They might look different come the fall; the rotation might feature a healthy Mussina and Pettitte and a motivated Clemens, with a sprinkle of Chien-Ming Wang and Igawa. And then it will just be good-to-great as it usually is, and there'll be no drama, no charm to it at all.
But in this stretch, early in the season, the job of going toe-to-toe with hated Boston falls to far greener, far shakier, trees. And watching that, anticipating that, I find myself feeling something very much like a rooting interest. In the Yankees.
Clearly, I need help.
Eric Neel is a columnist for ESPN.com. Sound off to Page 2 here.