True greatness tastes bittersweet.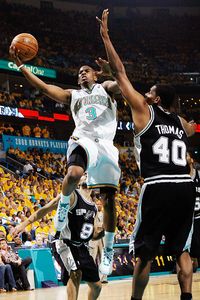 Chris Graythen/Getty Images
Kobe Bryant beat out Chris Paul for the MVP award, but Chris Paul has been the brightest star of these playoffs so far.
Think back to first seeing Robert De Niro in "Taxi Driver," Prince live in the days of "Purple Rain" or Kerry Wood shutting down the Astros one by hapless one.
The very best performances are so perfectly pitched, you sense even as they're unfolding before your eyes how impossible they are, how they can't last, how they'll one day be undone by fame, vanity or Dusty Baker.
Chris Paul is that great right now. He's so great, it hurts to watch him.
He cuts hard left off that Tyson Chandler pick Monday night, jab-steps Tony Parker at the free-throw line -- like maybe he's going to shoot or maybe he's driving to the basket -- and then lobs a ball to Chandler for a dunk like a mesmerist moving objects in space just by thinking about it.
I'm not looking at a point guard. I'm looking at a damn miracle.
Part of it is that he didn't come to us the way LeBron did, prepackaged for greatness, so hyped that every remarkable thing about him feels ordinary and expected. And he didn't emerge -- as Kobe did -- alongside a giant, in the shadow of the Hollywood sign, below a baker's dozen's worth of championship banners. We didn't see Paul coming. We saw him selected fourth in an uninspiring 2005 draft, after a Bogut and two Williamses and just before a Felton. We figured he could play, but we weren't thinking he would bowl us over. Now every insane 30-15 line he posts is amplified by our surprise and delight at the way he's toying with Manu Ginobili on the perimeter or taking it to Tim Duncan at the rim.
Part of it is he's so ordinary looking, so (forgive me, Chris) small. You look at Kevin Garnett and you know you're looking at some extraordinary specimen even before you watch him play. Ditto LeBron and Kobe, whose ripped, long frames seem almost predictably tied to excellence. Paul is fit but not sculpted. He's the shortest guy on the floor most of the time. He's got this unassuming, slightly pigeon-toed walk and this young, seemingly guileless grin. And even though you know he's capable of stealing Jason Kidd's immortal soul, you're still dumbfounded when he completely dominates a Western Conference semifinal game.
Part of it is he's playing for the New Orleans Hornets. Which is to say he's not playing for the Suns or the Mavericks or the Spurs. Which is to say he's not just an outstanding player on a surprisingly good team, but he's someone we can view as a symbol, a turning of some historic page, a bellwether signaling the end of one era (that belonged to Kidd and Steve Nash) and the beginning of another.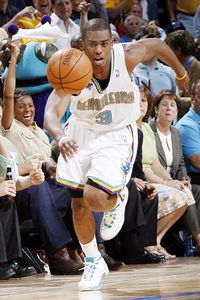 Layne Murdoch/Getty Images
Paul's constantly on the move, or at least he seems to be.
Part of it is he's young and he's been doing the great things he does in relative obscurity, and there are no seriously loaded, seriously disappointing narratives attached to him yet. He hasn't screwed up in the public eye (other than an ill-advised right hook to Julius Hodge's crotch a couple of years back). And he hasn't T-Mobilized his name into a campy brand, a la Dwyane Wade. His whole story right now is about basketball, about ridiculously proficient basketball in deliciously significant basketball games.
And the biggest part of it is he's head-butting his way up and under to easy buckets, and blowing by defenders in transition, and imagineering ball-fake assists we can't decode in slow-motion playbacks … and it all seems to come from this palpable, boundless reserve of energy somewhere inside him.
A lot has been made of his fearlessness, rightfully so. And a lot has been made of his poise under pressure, rightfully so. But the defining feature of Chris Paul right now is something even more elemental and impressive and captivating than those things. Chris Paul is being Chris Paul. Young, fast, creative, tough, eager and gifted. He's being Chris Paul completely. Without reservation. Tirelessly. Without complication.
It's an exhilarating thing to watch. Appointment television. Giggle television. But the measure of its greatness, play by play, game by game in these playoffs, is that I can't separate how much I love it from how certain I am that it's all too good to last.
Eric Neel is a senior writer for ESPN.com and ESPN The Magazine. You can reach him here.
Chris Paul story archive
Feature articles written about Hornets point guard Chris Paul from the ESPN.com archives.
Columns
•
Neel: CP3's a miracle (May 2008)
•
Adande: Paul's mean streak widens (May 2008)
•
TrueHoop: Paul will beat you now (May 2008)
•
TrueHoop: Eyes in the back of head (April 2008)
•
Hollinger: CP3's brillant season (Dec. 2007)
•
Hollinger: Better than you think (May 2006)
•
Drehs: Secret to Chris Paul's mojo (Feb. 2006)
•
Gustafson: Staying power (Nov. 2004)
•
Vitale: Comparing CP3 and Jeter (Sept. 2004)
Video
•
Chris Paul's tribute to grandfather from 2002
Also See
ESPN Top Headlines