The length of the baseball season is the beauty of the baseball season. A 162-game grind rewards sustained performance and reveals the weaknesses of every flavor-of-the-month. It's a true measure.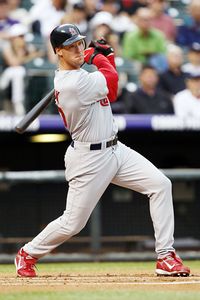 AP Photo/David Zalubowski
Ryan Ludwick continued his hot start with two homers Thursday.
But it is only May 9, and on May 9 it's anomalies and upstarts that appeal to me. In short bursts, early in the season, unlikely players can take center stage, provide a spark for their clubs and add a glimmer of hope for their fans.
More than the big-time stars, I find myself tracking these character actors in the spring. I know some of them, if not most, will regress to the mean before long. I also know it's easy to exaggerate their true value to a team (even the crazy-mad stud Chase Utley, who has only been worth a little more than two extra wins over a replacement-level second baseman so far this season). But I don't really care about any of that. I figure these guys are compelling for the tone they set and for the air of possibility that surrounds them.
If the Cardinals are still around later this summer (and yes, that's a very big "if," given that their gaudy record is largely due to the weak schedule they've played so far) my flimsy, untestable, but staunchly-held theory is that it will have something to do with the way Ryan Ludwick, out of nowhere, looked a little bit like Dave Winfield for 30-odd games this spring. It will in some way be related to the fact that Ludwick, at age 30, after being a .260 hitter all his life, made his teammates think, however briefly, "This year just may be different, this year just may be special."
And Ludwick (7 HR, 21 RBI; .361/.427/.758) is not the only guy I'm willing to shower with early attention and to whom I'm willing to award anticipatory theoretical credit.
These other guys make the Just May Be list too:
Eric Hinske, RF, Tampa Bay Rays
The AL Rookie of the Year in 2002, but a scuttling .246 hitter just two years later. Is he back? The early numbers -- 7 HR and 16 RBI; .271/.375/.583 -- make you wonder, and make you hope.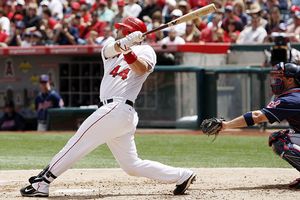 AP Photo/Kevork Djansezian
Eight homers -- not bad from a part-time catcher!
Mike Napoli, C, Los Angeles Angels of Anaheim
He splits time with Jeff Mathis, so he has only 66 at-bats in 18 games. But in those 66 at-bats he has 18 hits, and of those 18 hits, nine are for extra bases, and of those nine, eight are home runs.
Jorge Cantu, 3B, Florida Marlins
Last year Cantu spent most of the season on the outside of the big leagues looking in (at one point refusing to report for an assignment to the Durham Bulls). This year, he's at the heart of an unlikely Marlins uprising with his 20 runs, 10 doubles and five home runs.
Blake DeWitt, 3B, Los Angeles Dodgers
This was supposed to be Andy LaRoche's spot and Nomar Garciaparra's spot before that, but it's fallen to DeWitt because the other two have gotten hurt. And to his credit, DeWitt has stepped up, playing very good defense at third and hitting much better (.306/.385/.471 with 2 HR and 18 RBI) through 29 games than Joe Torre could have hoped for. If the Dodgers are in this thing come September, don't underestimate the spiritual value of DeWitt's inside-the-park home run against the Rockies Tuesday night.
Santiago Casilla, RP, Oakland Athletics
Zero runs in 17.1 innings as I write this. Twenty-one strikeouts and only three walks. A 0.69 WHIP. He is the difference between an Oakland fan base making its peace with a rebuilding year and an Oakland fan base thinking the sneaky genius Billy Beane just may have come up with yet another recipe for a run at the division title.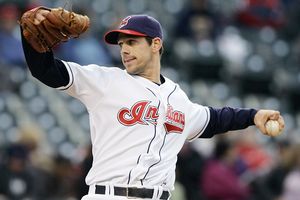 AP Photo/Amy Sancetta
Cliff Lee has absolutely stymied hitters thus far this season.
Cliff Lee, SP, Cleveland Indians
You've seen the historically good numbers, I trust (6-0, 0.81 ERA, 39 SO, 2 BB), but I hesitated to put him on this list for two reasons. No. 1: I think there's a good chance he's going to be good all year, and 2007 was an injurious outlier. No. 2: I don't want to jinx him by talking about how crazy good he is right now. So pretend I didn't say that last part, about the crazy goodness. Just know that I'm enjoying the Cliff Lee experience right now, as I'm sure Drew Carey is too.
Jair Jurrjens, SP, Atlanta Braves
This guy won't be unheralded for long. He's for real. But at age 22, posting a 2.84 ERA and a 1.08 WHIP through seven starts, he has arrived early. And forget tone-setting, his ability to anchor a staff suffering the loss of John Smoltz and the apparent decline of Tom Glavine has made a material difference for a team competing to keep pace with the Phils, Mets and Marlins.
Eric Neel is a senior writer for ESPN.com and ESPN The Magazine. You can reach him here.