LOS ANGELES -- As Arizona Cardinals quarterback Matt Leinart strapped his young son, Cole, into a car seat just outside The Standard hotel Tuesday afternoon, a handful of onlookers pulled out their cell phone cameras to record the moment. It was an innocent, off-the-radar scene: a young guy being a dad. The amateur photographers were most likely planning only to share the pictures with family and friends over e-mail.
But watching them watch Leinart you couldn't help but think of other less innocent moments when Leinart has been caught on camera and the pictures have spread like wildfire on the Internet. Watching them snap photos of his 21-month-old toddler you couldn't help but realize what Leinart and other professional athletes already know too well: In the age of cameras on phones, clips on YouTube and TMZ in prime time, there is no such thing as "off the radar."
"The paparazzi is everyone now," says Boston Celtics guard Ray Allen. "It used to be you knew when and where there would be cameras and who would have them. But those days are gone."
Big-time athletes have had publicists and agents, and have traveled with small (or sometimes large) entourages, for years now. They have long been wary of intrusions on their space and time, and have presented themselves to the public in scripted moments and controlled environments. At a pre-ESPY Awards party at the Playboy Mansion on Monday night, famous guests walked a blue carpet giving interviews and posing for pictures in the time-honored way: answering quick-hit questions about how much fun they're having this week with big stagey smiles. But inside the party, where the bar was open, the buffet was steaming and the music was pounding, most elite athletes still hesitated to let their guards down.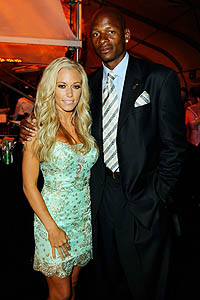 Michael Caulfield/WireImage
Smile, Ray Allen, this photo could soon appear on a blog near you.
"Look at me man, I'm drinking Monster [energy drink] all night," said Portland Trail Blazers center Greg Oden. "Any time you're out you're out on a limb. I just don't want to risk it." A few too many drinks, a dip in the grotto at Hef's -- tonight's letting loose could be tomorrow's Deadspin lede. "Someone could take a picture of you and me talking right now and it could be on the Internet in two minutes," said Denver Nuggets forward Carmelo Anthony on the red carpet at the ESPYS Wednesday. "The technology is stacked against us."
Some athletes talk about managing the space around them, keeping boundaries by surrounding themselves with trusted friends and advisers and not letting fans with cameras get close. "Sometimes trouble comes to you and you have to throw up a wall," says Minnesota Vikings running back Adrian Peterson. "You gotta mark that difference between inside and out."
Others talk about managing their behavior, always keeping in mind that someone may be watching. "It's tough," says a wised-up Brady Quinn (a recent party-picture favorite of various stargazing Web sites). "You have to be thinking about it all the time, knowing everyone is judging you. You have to watch where you are. You have to not drink in public."
They all talk about feeling vulnerable to the reach of technology and the sometimes overzealous interest of fans. Eli Manning had security workers prohibit cameras of all kinds at a pre-ESPYS party he hosted Tuesday night. Allen tells the story of a guy who grabbed him by the elbow recently and tried to pull him into a chair for a picture. "I felt abused," he says. And Green Bay Packers quarterback Aaron Rodgers explains how a player's visit to a Green Bay watering hole can result in phone calls and e-mails to local radio stations and to the Packers' front office.
In a town where the local citizenry literally has an ownership stake in the franchise, Rodgers tries to remember fans who cross boundaries are most often expressing their enthusiasm for the team. "They're invested," he says. "We try to remember what the team means to them." But Allen says trying to make sense of why people do what they do with their cell phones and cameras isn't how he wants to spend his time and energy. "Knowing that it's out there is enough," he says. "It keeps you focused on your family, on your boundaries. You make time for autographs but don't do pictures. You control your access."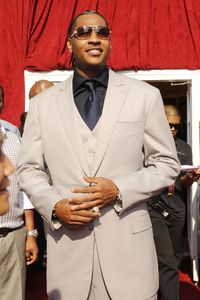 Kevin Mazur/WireImage.com
Athletes like Carmelo Anthony are all smiles on the red carpet.
Control your access. But that's easier said than done. There's a kind of lingering na´vete in the sports world about exactly how vulnerable high-profile figures are to the whims of a teched-up hoi polloi. Florida Gators quarterback and Heisman Trophy winner Tim Tebow says he acknowledges the risks of living a very public life in a football-crazed part of the country, but still talks hopefully, almost sweetly, about the "opportunity to have such a great influence on people, on millions of kids, for good." Minnesota Timberwolves guard Rashad McCants clings to a free-spirited playa's bravado: "I'm the kind of person who doesn't want to hold back my steps. You only live once. I want to take as many steps as possible while I'm here." And San Diego Chargers linebacker Shawne Merriman wants to ignore the spying cameras. "It's part of this life. You have to expect it," he says. "You just have to live. Have fun, be yourself."
If there is some wishful thinking in their sentiments, there is also some philosophy behind them. There is, after all, only so much a person can hope to control when in the spotlight. At a certain point perhaps you have to give up the expectation that you can influence the way people see you and the things they say about you. "Listen," says New York Giants running back Brandon Jacobs, "I sometimes think if somebody does something with a picture of me or says something about me that I should be able to hit them in their mouth, but that's not how this works. This is America. People can say and do what they want."
Maybe, strange as it sounds, that's the idea savvy athletes will take refuge in as their world becomes more and more available to fans with gadgets: You can do what you want. You can drink too much. You can party with coeds. You can rap about Kobe's backside. Or you can go another way.
Baltimore Ravens linebacker Ray Lewis sat and talked quietly with three friends on a couch in the backyard at the Playboy mansion Monday night. A couple of Hef's girls bounced in the grotto off in the distance. "This life is not that complicated," he insisted. No doubt with the memory of his own well-documented mistakes still somewhere in his mind, he put some large measure of responsibility back on the athletes themselves. "There are really big questions you need to ask yourself: Who are you when the lights are off? Make a decision about who you are as a man, whether people are around or not."
Additional reporting by Mary Buckheit.
Eric Neel is a senior writer for ESPN.com. He recently wrote the E-ticket piece, "Making Time Stand Still," the story of terminal cancer patients and how the nuns who care for them find joy in baseball.