By Eric Neel
Page 2
EDITOR'S NOTE: Our very own Eric Neel has arrived in St. Louis. And throughout the weekend, he'll be posting frequent updates on the sights and sounds from behind the scenes at the Final Four. This is his Friday blog.
MONDAY'S MATCHUP | SATURDAY'S BLOG
ST. LOUIS, Friday, April 1, 5:00 PM CST:
I said earlier that there were a few more Illinois fans than fans of the other schools. Scratch that. The ratio is about 50-to-1. The Illinois practice session was like a pep rally. The band was leading the wave around the arena. The crowd was cheering every, and I mean every made bucket. It was crazy and, truth be told, a bit embarrassing. Act like you been there, folks, even if it's been a while.
I know the school, the state, and everyone living and dead who's ever driven through the state of Illinois is anxious to make good on the wasted promise of Kennies Battle and Norman. But seriously, you've got talent. Come with a little more swagger and a little less pep, would ya please?
*****
In the bad omens department, the Illini, like the Spartans before them, held a casual dunk competition toward the end of the practice. Only difference was, they were clanging and fumbling all over the place. It was like watching Chris Andersen at All-Star Weekend, only without the entertaining hair.
There are two theories here: Theory One is that they've gotten the ugly out of their systems and they will rain down graceful breakaway dunk after graceful breakaway dunk on Louisville tomorrow. Theory Two is that they're tighter than tics. I'm leaning toward Theory One, mostly because head coach Bruce Weber was laughing through the whole sad set of dunks.
*****
Sartorial Splendor Award for today goes to the legendary Dick Enberg. You know him in the conservative blue blazers and you know him in the plaid coats and pants on the old "Sports Challenge" show. But do you know him in a charcoal turtleneck and slick black leather jacket? The man was ready to go clubbing. Women in their fifties were throwing themselves at him as he made his way out of the arena. I didn't actually see any panties in the air, but I wouldn't be surprised if someone told me they did.
*****
A certain very highly regarded basketball writer who asked to remain off the record offers this quick-hit assessment of the weekend: "Carolina is the best team, but that doesn't mean anything in this kind of thing. Which is, of course, what makes it such a great weekend."
The writer also suggests the Tar Heels' Marvin Williams is a top-five lock in the upcoming NBA draft: "I don't see how he goes any lower than third, I really don't."
What's his take on Louisville (my pick to win the weekend)? He was most impressed with the way they rallied against West Virginia in the second half. A lot of people give Pitino the credit for changing the game plan midstream, but the writer says we ought to be paying attention to a group of kids who could make the adjustment, steady their nerves, and execute at such a high level under such pressure.
*****
Roy Williams ran the Carolina practice pretty hard. Lots of "Go! Go! Go!" during the drills and scrimmage.
Of the four teams, his crew practiced the hardest today, busting through screens, making quick dive-downs and pop-outs. It was an aggressive session.
All of which is to say, when Roy tells us how loose he is, and how he's not trying to throw a monkey off his back and jump up and down on its chest, don't believe a word he says.
ST. LOUIS, Friday, April 1, 3:05 PM CST:
In the moments before the Edward Jones Dome opens for public practice sessions, it's got the feel of the Spectrum before the Rocky-Apollo fight, like you can feel the noise, like you know it's coming. Still, when I'm sitting in a seat somewhere down near press row, in the quiet, the rumble of feet coming down the aisles surprises me. Hundreds of fans in colors are streaming down the aisles, looking to get a good seat for the practice sessions. There's more orange than anything. Illinois is close by, and the Illini faithful are hungry. But you see red, green and blue, too.
There's not much to see in these things. Shooting drills, layup lines, maybe a few minutes of scrimmage. But you've got to give the people something, some outlet for the energy they've got bottled up.
Michigan State gets that; the Spartans brought the band.
"Jungle Boogie" takes everybody's edge off, puts a little shake in everybody's rumpah.
*****
Met up with Grinnell College coach David Arsenault here. He's the guy who designed the highest-scoring offense in all of basketball, complete with dozens of 3s and dizzying lineup changes. (I wrote about it in ESPN The Magazine last year. You can find the piece here. And ESPN broadcast a Grinnell game earlier this season.) Great guy. Innovative, having fun. His kids love to play for him.
He tells me the International Basketball Association, an international pro league, is about to speed things up with some new rule changes, including a 16-second shot clock, limited ball contact by officials on inbounds plays and fewer timeouts.
I ask him -- given the way the fast, fun game is flourishing in the NBA these days, and the exposure his program has had of late -- whether he's getting calls for jobs at other levels.
There was a nibble from Youngstown State, but those folks seem to have backed off. "It's still a big risk in a lot of people's minds," he says, "to play as unconventionally as I like to play, to shoot so many 3s and surrender defensive control. People get uncomfortable with the idea when you take it as far as we do."
Arsenault says he'll be happy to stay put. His son David is coming to play at Grinnell; and thanks to the TV game, he's seen a bump in calls from other talented prospective players. So he figures his club will be as strong as it's ever been in the next few years.
If you find yourself in Iowa, check 'em out. If you find yourself anywhere else and you love fast-paced ball, make a special trip. It's worth it.
*****
How do you get to be a ball kid at the Final Four? Work hard and pray? Write a passionate letter of application? Win a radio contest?
Nah.
Nepotism.
Talked to three kids under the bucket this afternoon -- Jessie, Sam and Andrew. Every one of them is related to some muckety-muck on the competition committee or the National Association of Basketball Coaches.
Nobody ever said life was fair, I guess . . .
Cute kids, and well-mannered. But still, you had to resent 'em a little bit.
*****
Best part of the Hoop City fanfest dealio so far was a 3-on-3 tournament held this morning.
Coach Lamont Johnson from the Wohl Community Center over on MLK brought a bunch of hungry fifth-graders to the tourney.
"They told us you had to have a middle-school team; but I knew our kids could compete, so I brought 'em," he Johnson said.
He wasn't kidding. His kids were quick and had mad handle. Ten-year-old crossover moves are a thing to behold.
*****
Worst part of the Hoop City fanfest dealio?
Putt-putt golf?
Where am I?
Is this or is this not the Mecca of college basketball?
*****
Lorenzo Romar, fresh off the Washington Huskies run to the Sweet 16, was signing autographs for a line of fans 100 deep. (The man used to coach at Saint Louis U.) He had a previous radio engagement, so he had to step away. But he didn't bail. "I'll be right back," he said. "Don't go away." Ten minutes later, he was back – and signing for another 15 minutes.
That's good people.
I asked him later what difference the Huskies' strong last year-and-a-half is making in terms of recruiting against the Arizona and UCLA programs.
"It's meant people, players and their families, will listen to what we have to say. It's opened a door."
Will he look to put together running and shooting teams like he had this year in future seasons?
"We're going to press and run no matter what. That's me. That's who I am," he said.
*****
Highlight of the Louisville practice was seeing Taquan Dean up close. He's got that thing, that basketball thing that says "player." It's in the feet (quick, light steps) and in the hands -- seemingly always connected to the ball, almost organically.
He moves in space well. His body isn't hurried, but it's decisive.
*****
Pitino, by the way, looks very stiff, even during what's essentially a show practice. Arms folded, face frozen.
He's trying to get his guys to "concentrate on defense, concentrate on defense," and I'm like, Yeah, Rick, right after they stop geeking out about being at the Final Four open practice, they'll get right on that.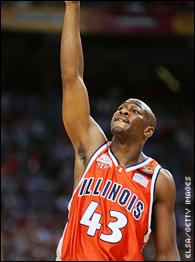 How can you root against Roger Powell, Jr., and his higher calling?
But then later, he's loose and candid and entertaining at the post-practice press conference, at one point wishing that Bruce Weber's voice would give out so he couldn't talk to his players, and in another moment reflecting honestly about how much more fun he is having this time than the first time he came to the Final Four because that first time came on the heels of the death of his infant son, back in 1987, when he was with Providence.
He was totally believable. And he seemed in-the-moment, comfortable, ready for game time.
*****
Jim Nantz, by the way, is the king. He sits behind the press table at midcourt and receives visitors.
I swear, he's just a white cat away from being Brando doing Don Corleone.
*****
Pitino's vote on the upcoming NBA age limit is in.
"Youth in the NBA is eventually going to kill the NBA, and I understand why guys come out, and if I had their talent, I'd come out. But I think these, beyond the LeBrons and Kobes of the world, these kids are costing themselves some money in the long term, spending their early days on the IR and the bench."
*****
Highlight of Michigan State's workout comes with about 10 minutes left when Tom Izzo lets the kids go on an impromptu dunk contest.
Maurice Ager brings even the Illinois faithful to their feet with a reverse-spin 360, and Shannon Brown does a little Baby Jordan-tribute thing, between the legs.
The fans love it. The players love it.
And to his credit, Izzo gets that.
_________________
ST. LOUIS, Thursday, March 31, 11:00 PM CST:
I'm thinking about my mom and about Rocket Rod Foster tonight.
When I was 12, UCLA made this crazy run to the 1980 Final Four. The Bruins were eventually eviscerated by Darrell Griffith in the title game. But I couldn't see most of it because NBC, in all of its infinite wisdom, was showing games on tape delay starting at 11:30 at night or some such way-past-my-bedtime madness.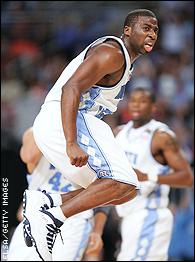 You can't NOT watch Raymond Felton's magic.
It was torture to miss the games. But my mom, a UCLA alum and a big part of the inspiration for my own love of the Bruins, wouldn't let me miss them entirely. These were the days before everyone had VCRs, so she stayed up, after working all day, to watch the games. Then she recounted them for me over breakfast, working off of notes, describing key plays, big swings, the Clark Kent hair curl in the middle of Kiki Vandeweghe's forehead.
She loved Rocket Rod most of all. "He's such a whip," she'd say. I remember after the regional finals, she brought home some blue-and-gold wristbands for me and told me to push them up my forearm the way he did. Her stories, those wristbands, they made me feel connected to what was going on.
It's 25 years later, and now I'm at the Final Four, and for the next few days I'm going to try to do something like what my mom did then. I'm going to try to recount a bit of the feel of the thing, give you ways to connect. You've got the game action on TiVo and the breakdowns from Katz and Co. I'll focus on the flavor.
Let the blog begin ...
*****
I had a chance to introduce myself to former Cal head coach Lou Campanelli at the San Francisco airport Thursday afternoon. He was sitting next to me, reading John Feinstein's "The Last Amateurs" (his book about Patriot League hoops). Lou said he figured it was a nice, grounding antidote to the big business that Final Four weekend has become.
Campanelli has always been a champion of the little guy. He was the head man at James Madison (where, in 1982, his boys almost beat the Jordan-Perkins-Worthy Tar Heels in the second round of the tournament) in the early '80s, and he coached Cal to its first tourney berth and win (over Indiana) in 30 years in 1990.
"I always figured it wasn't enough just to make it in against the big teams," he said. "I figured you had to win at least one game, just to get the feel of it, just to know what it was to say, 'You don't scare us. We can play with you. We don't give a *&$% who you are.'"
I asked him whether it's easier now, with most big-time programs losing their best players after a year or two, for the mid- and low-major schools to make some noise in the tournament, the way Bucknell and Vermont did this year. "Yes and no," he said. "When we recruited, we used to hope to find a few guys off the radar, guys those big programs never recruited because they'd just never heard of them. But now, with the camps, and the scouting being so sophisticated, and so much being on TV and the Internet, there are no real 'hidden' gems anymore. To me, the real advantage the Bucknells and Vermonts have now is that their guys play together for three or four years, and they know their roles, and they can all shoot -- the key at that level is to recruit shooters -- and they play a disciplined style. But more than that, they're good, you know? They can play. It's just that they're never on TV. They never get any coverage. So the kids who play for the Kansases and Syracuses of the world, they just don't know to take them seriously when they face them."
*****
After the arch, the thing that strikes you about St. Louis is how absurdly friendly everyone is. I was at the rental car counter tonight, and my customer service representative says, three times, that he hopes I have "just a lovely, lovely weekend." And as I'm walking away from the counter, he says, "and I just have to say, that's a very cool jacket you're wearing."
If I'd been in L.A., I'd have thought he was hitting on me. But in St. Louis, in all the Midwest, this is just what you do. You shower people with praise and kindness. It's charming in a, you know, Blue Velvet-y, what-really-lurks-behind-the-smile sort of way.
He's right about the jacket, though: It once belonged to Cosmo Kramer. No joke.
*****
Driving into downtown from the airport, you travel on a stretch of I-70 known as The Mark McGwire Highway. Don't worry, I pulled over and painted an asterisk on the highway marker.
*****
Everywhere you look in the city there's a "2005 NCAA Final Four, St. Louis" logo looking back at you. Banners from the ceilings, laminates on the floors, signs on the roofs of cabs, you name it. My favorites are the posters covering boarded-up shop windows downtown. Nothing says Final Four Fever like an abandoned building, baby.
*****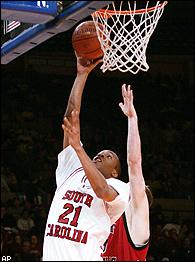 No one will be talking about Tarence Kinsey and the NIT once the Final Four gets rolling.
Except for the shouts that went up in the bars when Tarence Kinsey won the NIT title game with a last-second 3, St. Louis was a quiet town tonight. The fans are still arriving, getting settled, getting a good night's rest in preparation for the opening of the Hoop City interactive venue.
The streets and restaurants are full of coaches, though, from high school to D-I. This is their national convention. They come here looking for jobs, looking to blow off steam, looking to catch up and talk shop.
And most remarkably, they come here looking almost identical to one another. Seriously, what's with the standard-issue sweat suit thing? You can spot a basketball coach at a quarter-mile.
But you never see just one. They're traveling in packs, looking like some army of Foot-Lockered Agent Smiths. Mix it up, fellas. Throw in some street shoes, maybe a button-down shirt or something. I mean, the sweats at practice, sure. But on the planes, at the hotels, walking down the street, in the bars and restaurants? It's so pervasive here I felt self-conscious wearing jeans. I tried to crash a party tonight, and the guy at the door looked me up and down and said, without so much as asking for a credential, "I'm sorry, you're not a coach. I can't let you in."
*****
Favorite perk so far: Individually wrapped Life Savers scattered about the information tables in the lobby of my hotel. "Every time it rains, it rains pennies from heaven ... "
*****
All right, more soon. Big day ahead on Friday: open practices, Hoop City, Globetrotters vs. College All-Stars.
Wear your sweats. And be nice.
Eric Neel is a columnist for Page 2.