Commentary
Dayton Dragons set pro sellout record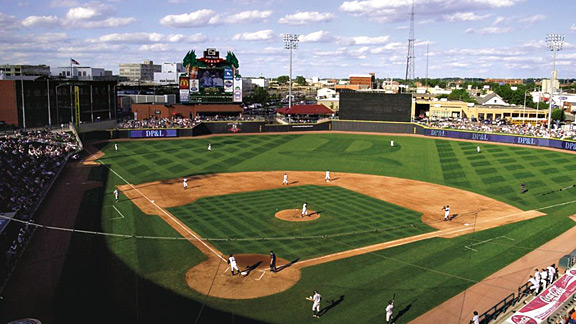 Courtesy of Dayton DragonsEvery seat at Fifth Third Field in Dayton, Ohio, is spoken for. But lawn tickets are often available.
[Editor's note: This story has been updated to reflect the Dayton Dragons officially setting the professional sports record for consecutive sellouts on July 9, 2011.]
The Philadelphia Phillies and New York Yankees have already drawn more than 2 million fans to their home games this season.
The 2011 attendance figures of the Minnesota Twins and San Francisco Giants sit above 99 percent of stadium capacity. The Boston Red Sox have sold out every home game since May 15, 2003.
Nevertheless, the toughest ticket in baseball just might be the Dayton Dragons of the Class A Midwest League.
Don't laugh. The Dragons enjoyed consecutive sellout No. 815 when they defeated South Bend 9-1 in front of an overflow crowd of 8,688 at Fifth Third Field on Saturday. That eclipsed the previous professional sports record, set by the NBA's Portland Trail Blazers, who recorded 814 sellouts in a row from April 9, 1977, to Nov. 16, 1995.
In fact, the Dragons have sold out every single home game since the team relocated to Ohio from Rockford, Ill., prior to the 2000 season.
STREAKING IN DAYTON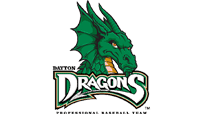 Venue: Fifth Third Field, Dayton, Ohio
Streak began: April 27, 2000
Sellout threshold: 7,230 seats
Capacity: About 8,200*
*Approximately 1,000 lawn tickets
can be made available per game
How did they do it? With a sophisticated, efficient approach to ticket sales, a keen awareness of entertainment value and an unwavering emphasis on customer service.
It also doesn't hurt that the Dragons are affiliated with the nearby Cincinnati Reds, who have long boasted a loyal fan base in Dayton. Current and former Reds such as Joey Votto, Adam Dunn, Johnny Cueto, Austin Kearns and Jay Bruce all honed their skills as members of the Dragons early in their careers, even if youngsters might be more likely to remember the Dragons' four mascots and characters.
It all adds up to an atmosphere that inspires fans to come back through the turnstiles over and over again.
"It's a situation where the planets completely aligned for Dayton," said Dragons president Bob Murphy. "It's a great sports town. ... I think being in the Reds' backyard and the great tradition of that franchise has created true baseball fans here. Also, our ownership group, Mandalay Baseball, gives us great resources to do things a lot of other teams don't get to do."
Playing in a packed venue is also a treat for players and coaches. Sure, they still ride buses to Lansing, Mich., Fort Wayne, Ind., Peoria, Ill., and Cedar Rapids, Iowa, but they can enjoy a taste of major league electricity at home games.
"For the kids to have an opportunity to play in this type of atmosphere at the A-ball level is a beautiful thing," said Dragons manager Delino DeShields, who played 13 seasons in the major leagues. "The enthusiasm that the fans here in Dayton have for this team is something special."
[+] Enlarge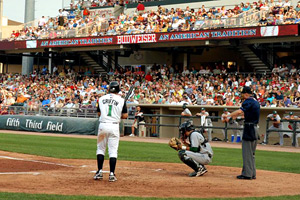 Courtesy of Dayton DragonsGo ahead and try to spot an empty seat in Dayton.
One man stands as a link between the two longest sellout streaks in history. Jon Spoelstra is a former executive with Mandalay Sports, which runs the NBA's Golden State Warriors and six minor league baseball teams, including the Dragons. Spoelstra worked in the front office of the Blazers during their streak and was one of the architects of the Dragons' franchise and its business model. He's also worked for the Buffalo Braves, Denver Nuggets and New Jersey Nets, although some people now know him better as the father of Miami Heat coach Erik Spoelstra.
"It was mentioned to me that nobody in the history of minor league baseball had ever sold every ticket to every game for an entire season," Spoelstra said. "I said if we did the same thing we did in the NBA, but we applied it to minor league baseball, why couldn't we sell every ticket to every game for an entire season? That sort of became our mantra, and if you do it the right way, you'll almost automatically sell every ticket to every game for the second and third seasons."
Spoelstra definitely knows what he's talking about. In addition to his lengthy résumé, he has authored several books on sports management, including "How to Sell the Last Seat in the House," an instructional manual that offers detailed strategy for successful team ticket sales. Spoelstra estimates he's played a role in more sellouts than anyone in the history of sports administration. His expertise is so respected that the Blazers traded one week of his consulting services to the Indiana Pacers in 1982 for guard Don Buse. Seriously.
OTHER RECORD STREAKS
The longest sellout streaks in the history of the four major sports:
| Team | League | Number | Dates |
| --- | --- | --- | --- |
| Portland Trail Blazers | NBA | 814 | April 9, 1977 to Nov. 16, 1995 |
| Boston Red Sox | MLB | 672* | May 15, 2003 to present |
| Colorado Avalanche | NHL | 487 | Nov. 9, 1995 to Oct. 14, 2006 |
| Washington Redskins | NFL | 343* | Sept. 11, 1966 to present |
* Through July 7, 2011
Spoelstra said part of the Dragons' strategy was to focus on selling partial-season ticket plans rather than full-season tickets. On the surface, that tack might seem counterintuitive. But the Dragons set an initial goal of renewing 90-plus percent of ticket accounts, and it's actually much easier to renew four customers with 17-game plans who attended every game than one customer with a full 70-game plan who has a drawer full of unused tickets at the end of the season. Consequently, the Dragons have consistently renewed their ticket accounts in the 92-94 percent range annually.
"Most teams try to get people to buy up -- to buy more," Spoelstra said. "That's really a recipe for disaster in the renewal business. You might be able to sell up one year, because there's excitement about the team coming to town. ... But then reality sets in at renewal time, and you can lose those people altogether."
[+] Enlarge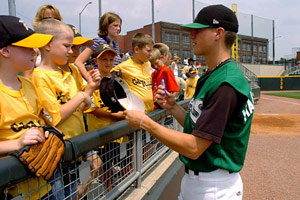 Courtesy of Dayton DragonsThe Dragons go to great lengths to make sure fans enjoy themselves during every trip to the ballpark.
The Dragons also cater to groups and offer single-game buying opportunities to fans on their season-ticket waiting list. All these factors mean the team isn't at the mercy of the weather or the day of the week to attract fans to games, unlike many minor league clubs.
Murphy said the team is selective about giveaways and sponsorships and only stages promotions with genuine entertainment value for fans. The team isn't willing to risk damaging its reputation for quality by overextending its brand.
"We like to say we're not going to step over twenties to pick up quarters," Murphy said.
True to that statement, the Dragons cap ticket sales for their general-admission lawn area at around 1,000 per game and never offer standing-room tickets. That means existing ticketholders won't be inconvenienced by long lines at concession stands or restrooms.
Ultimately, the buzz created by 7,500 to 8,000 satisfied customers in a cozy, state-of-the-art ballpark creates an atmosphere that DeShields doesn't take for granted. After all, he began his major league career by playing four seasons in Montreal.
"We had some games where we had 50,000 in Olympic Stadium," DeShields said. "But then, there might be others where we might have 8,000. Some of the crowds we have here have definitely been bigger than some of the crowds we had in Montreal."
Some minor league sports teams have a dubious history of handing out free tickets -- known as papering the house -- to inflate attendance numbers. So the question must be asked: Have the Dragons ever given away tickets to keep the streak alive?
"Absolutely not," insists Murphy. "That's probably the quickest and fastest way to cut your throat and lose value in tickets."
It's also not necessary in a city that cherishes its team or with a franchise constantly striving to maintain that affection.
Thomas Neumann is an editor for Page 2