Just about any college basketball coach will tell you that recruiting is the key to success.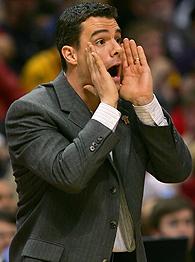 Lisa Blumenfeld/Getty Images
Tony Bennett picked up where his father left off at Washington State, and the Cougars are dancing for the first time in 13 years.
Even the best coaches can watch hours of film, design countless plays, scream, coax, exhort and motivate players, but it means little without the talent to execute their designs. Almost every team works diligently, so programs ultimately distinguish themselves on the recruiting trail.
Recruiting is especially significant to a program struggling to escape the depths of losing, whether it's a downtrodden giant trying to rebuild or a fledgling trying to find its footing at the Division I level.
Several schools in this year's NCAA Tournament field have reinvented their images and built their programs from square one. At the top of the list are Washington State, Texas A&M and Albany.
But recruiting successfully is more easily said than done when you represent a program best known for losing -- or worse, unknown entirely. You need a completely different approach than the teams you recruit against.
"We try to find the hidden gems -- the kids that fit our system," said Washington State coach Tony Bennett, who was a Cougars assistant before succeeding his father, Dick, this season. "We try to find them early in the process and just be real with them."
And maybe, just maybe, you land that pivotal player who makes it easier to recruit others. Winning becomes realistic. Recruiting becomes easier. Winning becomes a reality.
RECENT HISTORY
Washington State


• 2002-03 (7-20, 2-16)
• 2003-04 (13-16, 7-11)
• 2004-05 (12-16, 7-11)
• 2005-06 (11-17, 4-14)
• 2006-07 (25-7, 13-5)*


Albany


• 2002-03 (7-21, 3-13)
• 2003-04 (5-23, 3-15)
• 2004-05 (13-15, 9-9)
• 2005-06 (21-11, 13-3)*
• 2006-07 (23-9, 13-3)*


Texas A&M


• 2002-03 (14-14, 6-10)
• 2003-04 (7-21, 0-16)
• 2004-05 (21-10, 8-8)
• 2005-06 (22-9, 10-6)*
• 2006-07 (25-6, 13-3)*

*NCAA Tournament berth
For Washington State, that player was junior guard Derrick Low, who committed to the Cougars during Dick Bennett's first season in Pullman. Tony Bennett said Low felt comfortable with the relationships the new coach established at Washington State, and liked the chance to play right away. It must have been a solid sales pitch because Low, unafraid of potential culture shock, committed out of Honolulu before ever visiting Pullman.
Bennett said his father deserves most of the credit for turning around the Cougars. Dick Bennett built once-lowly Wisconsin-Green Bay into an NCAA Tournament team -- with Tony playing point guard -- and coached the University of Wisconsin to the Final Four in 2000. A big part of the strategy to rebuild Washington State was to "get a team we could lose with first," Tony Bennett said.
Translation: Recruit mentally tough players who wouldn't be discouraged by starting from scratch in the rugged Pac-10.
The plan came to fruition this year, as Washington State enjoyed its first winning season since 1995-96 and earned its first NCAA tourney bid since 1993-94 under Kelvin Sampson.
For Albany, the challenge was even bigger. It was a Division III program until 1995 and competed in Division II until 1999. Albany then played two seasons as a Division I independent before gaining admittance to the America East Conference.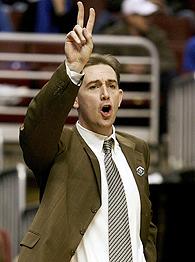 Jim McIsaac/Getty Images
What have Will Brown and Albany gotten themselves into? Two NCAA Tournaments, that's what.
After going 90-10 in the junior college ranks, Will Brown became Albany's interim head coach -- the program's fourth coach in six years -- in December 2001 and had the interim tag removed after that season. Now, the Great Danes, who won only 37 games in their first five Division I seasons, are headed to the tournament for the second consecutive year.
"We basically started from scratch," Brown said. "Plenty of times I wondered what I had gotten myself into."
The turning points came with a home victory over America East heavyweight Vermont in Brown's first season and the recruiting of guard Jamar Wilson. Brown sold Wilson, now a senior, on becoming the face of Albany basketball and putting his stamp on an emerging program.
"The young man was crazy enough to believe the sales pitch," Brown said.
Behind Wilson, a two-time America East Player of the Year, Albany had a chance to become the first No. 16 seed to topple a No. 1 by taking a 12-point, second-half lead before losing to Connecticut in last season's tournament. The Great Danes got back to the Big Dance with their first-ever win at Vermont on Saturday, earning a No. 13 seed.
Texas A&M coach Billy Gillispie quickly rebuilt a proud Texas-El Paso program before taking over an Aggies team in 2004 that had just completed its 10th consecutive nonwinning season (7-21, 0-16 Big 12).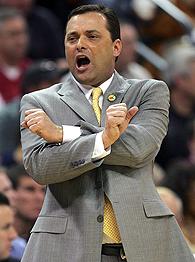 Ronald Martinez/Getty Images
Texas A&M boasts a cool 51-6 home record under Billy Gillispie.
He subsequently led the Aggies to 20-plus wins in three consecutive seasons for the first time in school history. Texas A&M, with more than 40,000 students and a large fan base, went from slumbering giant to Big 12 bully almost overnight.
"You have to evaluate if you have a chance to win," Gillispie said. "Can you establish a home-court advantage? I thought there was no doubt that we could."
Gillispie and his staff were immediately able to do both. The Aggies are 68-25 overall and 51-6 at home under Gillispie. Texas A&M reached the NIT in 2005 and earned its first NCAA berth in 20 seasons in 2006. This year marks the first time in school history that the Aggies have reached the NCAA Tournament in consecutive seasons.
Although the Aggies struggled before Gillispie's arrival despite the presence of young players such as Antoine Wright and Acie Law IV, Gillispie said coaches can sometimes get too much credit for turning around a program.
"The success we've had has been because of the players," Gillispie said. "[Continued success] is gonna be based on how we recruit."
Exactly.
More rags-to-riches stories

Here are other notable turnaround programs represented in this year's NCAA Tournament. Note that a couple mediocre seasons doesn't get you on this list. These are programs that were truly at rock bottom until they were rebuilt from square one. (Memo to USC, Wisconsin, Purdue, et al: You weren't bad enough for long enough, and that's a good thing.)
BRIGHAM YOUNG


Tough times: The Cougars went 1-25 in 1996-97.
Now: Former head coach Steve Cleveland got the program into the NIT in his third season and into the NCAA Tournament in his fourth season. BYU also reached the NCAAs in 2003 and '04 under Cleveland. Now in his second season at the helm, former assistant Dave Rose has the Cougars as a No. 8 seed in this year's Big Dance.
HOLY CROSS

Tough times: The Crusaders won 22 total games in the three seasons prior to the hiring of Ralph Willard in 1999.
Now: Willard has guided his alma mater to five 20-win seasons and four NCAA Tournament berths in eight seasons at the helm in Worcester.
JACKSON STATE


Tough times: Jackson State had five consecutive losing campaigns prior to the 2006-07 season.
Now: Under coach Tevester Anderson, who took over for the 2003-04 season, the Tigers (21-13, 12-6) won the regular-season and tournament championships in the SWAC this season to earn their first NCAA appearance in seven years.
NEW MEXICO STATE


Tough times:The Aggies had three consecutive losing seasons -- including 6-24 overall and 1-14 in the Sun Belt just two seasons ago -- before hiring 13-year NBA veteran Reggie Theus as coach.
Now: In addition to a new coach, NMSU joined a new conference, the WAC, and improved by 10 games in 2005-06. After improving by another nine games this season, the Aggies earned their first NCAA berth since 1999 and their highest seed since '94.
NORTH TEXAS


Tough times: The Mean Green had five consecutive losing seasons prior to the hiring of coach Johnny Jones in 2001.
Now: Under Jones, North Texas went 23-10 this season and won the Sun Belt Conference tournament as a No. 5 seed to reach its first NCAA Tournament since debuting in the Big Dance in 1988.
TEXAS TECH


Tough times: The Red Raiders failed to win more than 13 games in any of the four seasons previous to the hiring of Bob Knight.
Now: In six seasons under Knight, the Red Raiders have failed to win at least 21 games just once, going 121-73 overall with four NCAA Tournament appearances.
VIRGINIA TECH


Tough times: The Hokies had just one winning record (16-15 in 1999-2000) in the seven seasons prior to the hiring of Seth Greenberg.
Now: Greenberg is 66-55 in four seasons at Virginia Tech, leading the Hokies to the NCAA Tournament for the first time since 1996. He also took the team to the NIT in 2005.
Thomas Neumann is an editor for Page 2. Sound off to Page 2 here.