We don't know about you, but Page 2 is so excited about the "Duel in Dallas," Sunday's big game between the undefeated Cowboys and Patriots, that it physically hurts.
These regular-season games take on a life of their own in the media, generating round-the-clock coverage and mythical titles like "Romp in the Swamp," "The Fray in L.A." and "The Rumpus in Columbus."
Here goes, in descending order beginning with the most hyped, with a rating from one to five of how close the game came to fulfilling the hype. Note: This doesn't include postseason games -- because they're always overhyped.
1. Heat at Lakers, Dec. 25, 2004
Hype: After a well-documented, messy parting of the ways between Shaquille O'Neal and the Lakers, the NBA made this grudge match its regular-season centerpiece on Christmas Day. The hype began churning as soon as the NBA scheduled was released over the summer.
Rating:
Verdict: Despite going into overtime, this one didn't quite live up to the hype. How could it? Dwyane Wade and Eddie Jones led Miami with four points each in overtime. Shaq had 24 points and 11 rebounds but fouled out with 2:15 left in regulation. Bryant scored 42 points but missed a 3-pointer at the final buzzer and Miami won 104-102.
Quotable: Said Bryant: "I had a pretty good look, but I didn't get the balance I would have liked on the shot." … Said O'Neal: "I knew that it wasn't going to go in. It's called Shaq O'Neal fate."
2. Cowboys at Eagles, Oct. 8, 2006
Hype: After an infamous divorce from the Eagles and an "accidental overdose," Terrell Owens mad his much-anticipated return to Philadelphia as a Cowboy. Both teams and the media circled this game on their calendars as soon as the schedule was released in April.
Rating:
Verdict: After tremendous build-up, the game was a letdown -- except for Eagles fans. Owens caught just three passes and was plenty frustrated with Drew Bledsoe and his three interceptions. Donovan McNabb stole the show with 18-of-33 passing for 354 yards and two touchdowns as the Eagles won 38-24.
Quotable: Said Owens: "It's frustrating. Opportunities were there and we didn't make them. I'm a competitor. I do not like to lose. Maybe I need to work harder."
3. Michigan at Ohio State football, Nov. 18, 2006
Hype: ESPN branded this matchup "The Game of the Century" and ran a countdown clock for days leading up to the national broadcast on ABC. It was the first No. 1 versus No. 2 matchup in the history of this bitter rivalry, and the winner earned a trip to the BCS Championship Game. Michigan was also playing with heavy hearts just a day after the death of legendary coach Bo Schembechler.
Rating:
Verdict: The game actually surpassed the hype as the top-ranked Buckeyes escaped with a 42-39 win. The offenses dominated, as Troy Smith threw for 316 yards and four touchdowns and Mike Hart rumbled for 142 yards and three TDs. Of course, both teams were then embarrassed in the postseason by speedier opponents -- Ohio State by Florida in the BCS title game and Michigan by USC in the Rose Bowl.
Quotable: Said Smith, who clinched the Heisman Trophy with his performance: "This is The Ohio State University-Michigan game. It's the biggest game in college football. And today the best team won."
4. Red Sox at Yankees, April 3, 2005
Hype: Boston and New York had played each other in two of the most memorable playoff series ever in 2003 and '04, and for the first time in 86 years, the Red Sox could call themselves defending world champions heading into 2005. So it must have been pure coincidence that MLB had these teams renew acquaintances to open the season. Both teams sent new acquisitions to the mound: David Wells for Boston and Randy Johnson for New York.
Rating:
Verdict: It wasn't close. The Yanks roughed up Wells for four early runs and added a Hideki Matsui homer in the eighth en route to a lopsided victory.
Quotable: "I was pretty excited to go out there," said the always-eloquent Johnson, who earned the victory with six solid innings.
5. Colts at Giants, Sept. 10, 2006
Hype: Billed as the "Manning Bowl," the Peyton-Eli matchup was the first time in NFL history that two brothers opposed one another as starting quarterbacks.
Rating:
Verdict: Both brothers put up solid numbers. Peyton was 25-of-41 passing for 276 yards and a touchdown, and Eli went 20-of-34 for 247 yards and two touchdowns. But Eli committed two pivotal turnovers in the second half that changed the course of the game as Indianapolis won 26-21. Adam Vinatieri, with four field goals, arguably stole the show in his first game with the Colts.
Quotable: "He's every bit as good as he looked on TV," Peyton said of his brother. "He's going to be a great player in this league for a long time."
6. Nuggets at Cavaliers, Nov. 5, 2003
Hype: Not only was this LeBron James' first regular-season game at home for the Cavs, but the schedule-makers just happened to match him up against fellow rookie phenom Carmelo Anthony and the Nuggets.
Rating:
Verdict: Both players were earning their stripes at the NBA level, as James shot 3-of-11 from the field and Anthony was 6-of-17. Earl Boykins was the top scorer for the victorious Nuggets, so … we guess you could say this one didn't quite live up to the hype.
Quotable: Said a relieved Anthony: "I'm glad it's over. I don't got to hear about the matchup with me and LeBron until [another matchup] next month."
7. Colts at Patriots, Nov. 7, 2005
Hype: Of the many hyped meetings between these foes, we'll select the Monday night matchup two seasons ago when the 7-0 Colts visited the two-time defending champions. Peyton Manning was 0-7 in Foxborough prior to this game, and he badly wanted to prove he could topple the nemesis Pats.
Rating:
Verdict: It wasn't a close game, but there were plenty of offensive fireworks to keep up the entertainment value. Both Manning and Tom Brady threw for three touchdowns, but Manning had more help as Marvin Harrison, Reggie Wayne and Edgerrin James all had big games. The Colts didn't punt until the final two minutes, beating New England 40-21.
Quotable: Said Brady: "We got our butts kicked tonight."
8. USC at Notre Dame, Oct. 15, 2005
Hype: Reggie Bush, Matt Leinart and the No. 1 Trojans traveled to South Bend to take on Brady Quinn and the No. 9 Irish under first-year coach Charlie Weis.
Rating:
Verdict: USC survived a furious effort from the Irish to win its 28th consecutive game after the lead see-sawed the entire game. The victory came thanks to a questionable touchdown with three seconds left, when Bush appeared to illegally push Leinart into the end zone through a pile of Notre Dame defenders.
Quotable: Said Bush: "I used all 200 pounds of my body to push Matt in."
9. Lakers at Rockets, Jan. 17, 2003
Hype: This game offered the first matchup between Yao Ming and Shaquille O'Neal, and it came a week after O'Neal took some heat for comments about Yao that some perceived as racial in nature.
Rating:
Verdict: It may have surpassed the hype. Shaq had 31 points and 10 rebounds despite having his first three shots blocked by Yao, who had 10 points and 10 rebounds. Steve Francis scored 44 points and 11 assists as the Rockets won 108-104 in overtime.
Quotable: "How should I put it? We beat the Lakers today, but Shaq is still Shaq,'' Yao said. "He's like a truck.''
10. Louisville at Kentucky basketball, Dec. 29, 2001
Hype: Rick Pitino led the hated Cardinals into Rupp Arena in his first game at Kentucky since leaving the Wildcats to coach the Celtics in 1997.
Rating:
Verdict: Louisville was undermanned, and it showed against No. 6 Kentucky. Tayshaun Prince scored 18 points, and Keith Bogans had 17 as the Wildcats handled the Cardinals' press en route to an 82-62 victory. Chants of "Tub-by, Tub-by" rained down on Kentucky coach Tubby Smith in the final minutes.
Quotable: Said Smith: ''It makes you feel good to be wanted and it's good to know you're appreciated. … 'I know how much I love Kentucky and I think the feelings are mutual.''
Also receiving votes:

• Oklahoma at Nebraska football, Oct. 27, 2001: A memorable 63-yard touchdown catch by Eric Crouch highlighted Nebraska's victory in a matchup of the top two teams in the BCS standings at the time.
• Connecticut at Tennessee women's basketball, Jan. 5, 2002: The largest crowd to watch a women's basketball game to that point saw No. 1 UConn improve to 16-0 behind 32 points from Diana Taurasi.
• Duke at North Carolina basketball, March 6, 2005: Sean May had 26 points and 24 rebounds as the top-ranked Tar Heels edged past No. 7 Duke 75-73 before the largest crowd to that point at the Dean Dome. It was UNC's third win over Duke in a 16-game span.
• Ohio State at Florida basketball, Dec. 23, 2006: The defending champs, the No. 4 Gators provided a preview of the subsequent national title game by routing the No. 3 Buckeyes. Taurean Green scored 24 points for Florida, and Greg Oden was in foul trouble for Ohio State.
• Ohio State at Texas football, Sept. 9, 2006: Troy Smith and the top-ranked Buckeyes overwhelmed the defending national champions in the first regular-season No. 1-versus-No. 2 matchup since 1996.
• Pacers at Pistons, March 25, 2005: Indiana beat Detroit in the Pacers' first trip to Auburn Hills since the infamous brawl four months earlier. The tip-off was delayed 85 minutes because of a bomb threat.
• Mariners at Red Sox, April 11, 2007: Fenway Park was abuzz for the home debut of Daisuke Matsuzaka, who looked sharp in earning his first major league win six days earlier in Kansas City. But Seattle's Felix Hernandez seized the spotlight instead, taking a no-hitter into the eighth and finishing with a one-hit shutout.
• Yankees at Red Sox, March 7, 2004: We make a special mention here of the first spring training matchup between these teams after Aaron Boone's ALCS-winning homer the previous fall. Some tickets were resold for hundreds of dollars, and the Red Sox produced commemorative pins for an exhibition in Fort Myers, Fla., that fans playfully called "Game 8."
Thomas Neumann is an editor for Page 2. You can contact him here.

THE DUEL IN DALLAS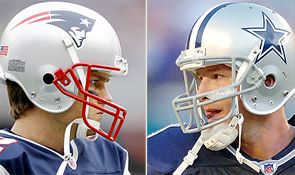 It's a battle of unbeatens ... and a potential preview of Super Bowl XLII. It's T.O. vs. Moss, Romo vs. Brady. It's 5-0 New England vs. 5-0 Dallas on Sunday at Texas Stadium (4:15 p.m. ET).
Commentary/features
•
Clayton's First and 10: Expect lots of offense
•
Garber: Moss and T.O. are two of a kind
•
Bendetson: Unsung Green gets job done for Pats
•
Sando: Brady, Moss among scheme-busters
|
List
•
Harasta: Sharing a moment with the Folk hero
•
Joyner: Cowboys defense passing the test

•
Wojciechowski: Mr. Belichick, meet Mr. Romo
•
Helyar: Romo's marketability a 'perfect storm'
•
Pasquarelli: Cowboy ugly win against Bills
•
Tafoya: Is Romo the next Brett Favre?

•
Power Rankings: Pats No. 1, Cowboys No. 3
•
Great Debate: Will Pats go 16-0 this season?
•
Hashmarks: Matt Mosley blogs on the big game
News
•
Cowboys' Phillips denies 'Spygate' comments
•
T.O. goes silent until after the game
Video
•
Belichick, Phillips sound off
•
Is T.O. nervous for the duel?
•
Werder: T.O. lets sign speak for itself
•
Nix: Brady, receivers keep improving
•
Parcells: What Romo, Dallas will face
•
Duel dialogue: Cowboys leaking oil?
•
EA Sports Madden Challenge: Dallas
Audio
•
Parcells, Keyshawn, Mort on Romo, more

•
Green: Game preview
•
Green: Debating which team is better
•
Tirico: Jerry Jones on QB Tony Romo

•
Mosley: Taking the temperature in Dallas

•
Mortensen: Romo will improve with age

•
Mosley: Bills wake-up call for Dallas

•
Clayton: Timeout rule needs a change

Scouts Inc.
•
Horton's Film Room: Romo's misreads
•
Pats will come hard after Romo
•
Take 2: Pats-Cowboys scouting report
•
Green: Cowboys should use more of Barber
•
Pats vs. Cowboys: Tale of the Tape
•
Green: The new Moss is same as old Moss
•
How to slow down the playmakers
•
Kretz: Newman gives Dallas options
•
Patriots-Cowboys scouting report
•
Kidd: Patriots key on Cowboys TE
•
Maalouf: Dallas special teams will struggle
•
Green: Romo can lead Dallas to Super Bowl
•
Horton: Here's why the Patriots could go 16-0
Zoom Gallery
•
Scouts Inc. on under-the-radar players
Simulations
•
EA simulation: Patriots 41, Cowboys 10
•
AccuScore: Moss makes major difference
SportsNation
•
Pats-'Boys: Who'll win? Who'll make the plays?
•
Rank the Patriots and Cowboys
Community
•
Post a comment on Dallas' Tony Romo
•
Join the conversation on Power Rankings
•
Readers discuss Cowboys' win in Buffalo
Animated Plays
The Cowboys could have their hands full with a defense that is the master of disguise. •
Patriots' games on defense
2007 Results
NEW ENGLAND (5-0)
•
Game 1:
Patriots 38, Jets 14
•
Game 2:
Patriots 38, Chargers 14
•
Game 3:
Patriots 38, Bills 7
•
Game 4:
Patriots 34, Bengals 14
•
Game 5:
Patriots 34, Browns 17
•
Patriots clubhouse page
DALLAS (5-0)
•
Game 1:
Cowboys 45, Giants 35
•
Game 2:
Cowboys 37, Dolphins 20
•
Game 3:
Cowboys 34, Bears 10
•
Game 4:
Cowboys 35, Rams 7
•
Game 5:
Cowboys 25, Bills 24
•
Cowboys clubhouse page
ESPN Top Headlines