Page 2 salutes Martin Brodeur breaking the record for career NHL victories by compiling the most underrated career records in professional sports:
Most NHL victories: Martin Brodeur, 552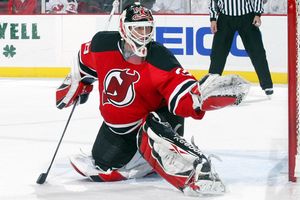 Andy Marlin/NHLI/Getty Images
Martin Brodeur stands alone atop the NHL victories list, and at age 36, he still has the opportunity to add to his record for seasons to come.
Brodeur's mark on sports history is fresh in our minds, but its significance is likely to slip largely under the radar. Even as Brodeur made history, many fans were consumed by their bracket selections on the eve of the NCAA tournament. Further, as a member of the Devils, he has played his entire career in the shadow of the high-profile Rangers. Brodeur has recorded 552 career wins in 987 games. The former record holder, Patrick Roy, earned 551 wins in 1,029 games. Those feats are approximately on par with each other when you factor in that Roy never had the chance to earn shootout victories, and Brodeur has 31 of them since the shootout was adopted prior to 2005-06.
Nevertheless, Brodeur has better career marks than Roy in career save percentage (.9136 to .9102) and goals-against average (2.20 to 2.54). A goalie in hockey is somewhat analogous to a pitcher in baseball, in that he can almost single-handedly win or lose games. However, a goalie never turns over a lead to a reliever, and while baseball teams typically carry 11 or 12 pitchers on a roster, a hockey team usually carries only two goalies. It's not difficult to argue that Brodeur is the most successful athlete ever to play arguably the most important position in sports.
Highest NHL save percentage: Dominik Hasek, .9223

Of course, most successful doesn't necessarily mean best. As good as Brodeur has been over the course of his career, Hasek stopped even more of the shots he faced. In fact, no goalie with at least 100 career games has turned away opposing shots at a higher rate. Want some perspective? Consider that Brodeur is No. 10 on this list. Roy ranks No. 21. We're not the only ones who flip over Hasek's skills.
Most NHL penalty minutes: Dave "Tiger" Williams, 3,966

To the casual hockey fan, penalty minutes might seem to measure a player only in a negative sense. On the contrary, PIMs often indicate an emotional leader who provides spirited play. Enforcers who protect their teams' stars inherently are PIM magnets. From a fan perspective, these players provide great entertainment, regardless of what uniform they're wearing. Surely, "Don Cherry" and Tiger would agree. Williams amassed his PIM total in 962 career games, an awesome rate of 4.12 minutes per game. Dale Hunter is No. 2 on the list at 3,565.
NBA field goal percentage: Artis Gilmore, .599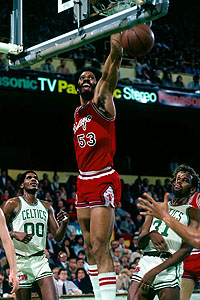 Dick Raphael/Getty Images
Artis Gilmore is the king
of high-percentage shots.
This record isn't as sexy as most career points or highest scoring average, but isn't efficient scoring a crucial factor in winning basketball games? No player with at least 2,000 career field goals has converted his attempts at a higher rate than the A-Train. Shaquille O'Neal is No. 2 on the list at .5817. Nevertheless, Shaq was the one who cashed in on the lucrative underwear market.
NBA minutes played: Kareem Abdul-Jabbar, 57,446

No NBA player has more career mileage on his wheels than Abdul-Jabbar. Robert Parish played in 51 more games, yet Kareem played nearly 13,000 more minutes. No NBA player has more air miles than Kareem, either. No. 2 on the list is Karl Malone with 54,852.
Most NFL yards per pass attempt:
Otto Graham, 9.0

Browns fans in the 1940s and '50s enjoyed an embarrassment of riches. With Graham under center for the franchise's first 10 seasons, the Browns made the postseason each year, winning all four All-America Football Conference championships and two NFL titles. Little did Cleveland know what the future held. Sid Luckman is No. 2 at 8.4 yards per attempt … Kyle Orton is tied for No. 212 at 5.8 yards per attempt.
Most NFL interceptions: Paul Krause, 81

Few fans outside Minnesota are familiar with Krause. He was named to eight Pro Bowls and reached the playoffs 10 times during a 16-year career. He led the league in interceptions only once -- with 12 as a rookie in 1964 -- but he was remarkably healthy, never missing more than one game in a season. Emlen Tunnell is No. 2 on this list with 79. Ronnie Lott checks in at sixth with 63. Eugene Robinson is tied for No. 10, having solicited intercepted 57 career passes.
Highest MLB on-base percentage: Ted Williams, .4817

Williams retired in 1960, back when it wasn't difficult to get a seat at Fenway. Babe Ruth is second on the list at .4740. Barry Bonds, at .4443, is the only player in the past 50 years within shouting distance.
Career MLB intentional walks:
Barry Bonds, 688

There is no better barometer for measuring the amount of fear a hitter induces in opponents … and no one is even close to Bonds in that regard. Hank Aaron, who played in 312 more games than Bonds, is No. 2 on the list with 293. In 2004 alone, Bonds was intentionally walked 120 times, a feat even more astonishing than his hat size. That's almost as many intentional walks as Mickey Mantle had in his entire career (126, although they weren't counted for Mantle's first few seasons).
Career MLB victories: Cy Young, 511

Many think Young's record was a product of a different era, when pitchers started more games, threw more innings and used exilirs that contained animal testosterone. But the nearest challenger to this record is Walter Johnson with 417. The closest anyone has come in the past half-century is Warren Spahn with 363. Young also holds major league records with 815 career starts and 749 complete games. Still, we argue he's underappreciated. After all, he never won a single Cy Young Award.
Thomas Neumann is an editor for Page 2. You can contact him here.