Commentary
John Lucas, Cavaliers fill up our tank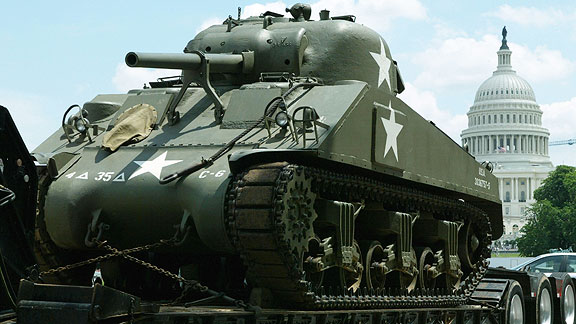 Alex Wong/Getty ImagesWho's the biggest tank in history? We'll let you decide from our list of worthy candidates below.
Former Cavaliers coach John Lucas recently alleged Cleveland tanked the 2002-03 season to improve its draft position to potentially acquire the No. 1 pick in order to select LeBron James.
Gordon Gund, the team's principal owner at that time, refuted the accusation. Still, if tanking was the plan, it worked perfectly.
Regardless, this story got us to thinking about other historical tanks, tankers and tankings, and the circumstances around them.
With that said, Page 2 proudly presents its gallery of tank jobs. Be sure to post any tanks we missed in the Conversation section below.
| Alleged tanker | Year(s) | The lowdown |
| --- | --- | --- |
| Cleveland Cavaliers | 2002-03 | How can Lucas be sure the Cavs weren't tanking to get him fired? |
| Chicago White Sox | 1919 | A group of players threw the World Series in exchange for payments from gamblers. Owner Charles Comiskey set the stage for mutiny by severely underpaying his players. |
| Brett Favre | 2002 | Favre has been accused of allowing the Giants' Michael Strahan to sack him in order for Strahan to break Mark Gastineau's single-season record. |
| Seemingly half the NBA | 2006-07 | College superstars Greg Oden and Kevin Durant had NBA teams drooling -- and some would say losing on purpose -- over the chance to draft them. Celtics coach Doc Rivers actually felt the need at one point to publicly deny his team was tanking. |
| Washington Generals | 1952-present | The Harlem Globetrotters' traditional foils have an all-time record of approximately 6-15,000. Come on -- even the Nets aren't that bad. |
| Derek Bell | 2002 | The Pirates outfielder threatened to begin "Operation Shutdown" if he wasn't guaranteed a starting spot. Of course, he hit .173 in 2001, so perhaps that operation was already under way. |
| Andre Agassi | 1996 | The tennis star wrote in his autobiography, "Open," that he lost to Michael Chang on purpose in the Australian Open semifinals to avoid playing Boris Becker in the final. |
| Denny McLain | 1968 | The Tigers right-hander, pitching in what would be his 31st win of the season, grooved a pitch to Mickey Mantle. The Yankees slugger hit career homer No. 535, passing Jimmie Foxx on the all-time list. |
| Randy Moss | 2006 | The star wide receiver, then with the Raiders, had his worst season as a pro and was shipped to the Patriots for a measley fourth-round pick. In 2007, he improved his production by 56 receptions, 940 yards and 20 touchdowns. |
| Gary Sheffield | 1991 | About his time with the Brewers, Sheffield said, "If the official scorer gave me an error, [and] I didn't think it was an error, I'd say, 'OK, here's a real error,' and I'd throw the next ball into the stands on purpose." Fortunately, the Brewers were the only team Sheffield left on bad terms. |
| Vince Carter | 2003-04 | Carter admitted he didn't play as hard as he could have toward the end of his time with the Raptors, the team that gave him a six-year, $94 million contract in 2001. |
| U. of Toledo | 2004-06 | Three Rockets football players and three basketball players allegedly were embroiled in a game-fixing scheme. Authorities became suspicious when people began betting on Toledo football and basketball. |
| Mike Tyson | 2005 | After his last fight, the former heavyweight champ said he wished "the public could get their money back," that he "didn't have it anymore" and that he was fighting only to "take care of my bills." |
| NFL Pro Bowl | 1951-present | Marshall Faulk (180 rushing yards in 1995) might have been the only player to actually try in the game's history. Still, we can't wait for this year's game (Jan. 31 at 7:20 p.m. ET on ESPN). Wink, wink. |
| Shaquille O'Neal | 2007-08 | We don't actually think Shaq jaked it to get out of Miami, but it's interesting how healthy he got soon after arriving in Phoenix. |
| Nelson Piquet Jr. | 2008 | The former Formula One driver deliberately crashed in the Singapore Grand Prix so teammate Fernando Alonso could win the race. Consider yourself warned, NASCAR drivers. |
| Nikolay Davydenko | 2007 | The Russian tennis pro was suspected of losing a match on purpose against then-No. 87 Martin Vassallo Arguello. British firm Betfair stopped taking bets when big money came in on Arguello even after Davydenko had won the first set. |
| Kimbo Slice | 2008 | Rumors still swirl that Slice's bout against Seth Petruzelli was fixed. We doubt it. If the fight was fixed, it would have been much better than this. |
| College basketball | 1951 | A game-fixing scandal involving City College of New York, Manhattan College, New York University and Long Island University threatened to ruin college hoops nearly 50 years before players began wielding Samurai swords. |
| UNLV basketball | 1991 | The Runnin' Rebels entered their national semifinal against Duke 34-0, but the Blue Devils squeaked out a 79-77 win en route to the national title. Come on, what would make you think that game wasn't legitimate? |
| Crash Davis | 1988 | The Durham Bulls catcher famously tipped a pitch to an opponent, leading to a long home run and knocking arrogant pitching prospect Nuke LaLoosh down a couple of notches. |
| Joey Turner | 1976 | The Yankees pitcher deliberately allowed 5-foot, 205-pound Bad News Bears catcher Engleberg (just one name, like Pelé and Sting) to circle the bases in the championship game. Now, a word from Chico's Bail Bonds … |
| Kobe Bryant | 2006 | We suspect he might have tanked that playoff game against the Suns because he couldn't stand looking at that stupid part in Smush Parker's head. |
| Florida Gators | 1971 | In 1971, the entire Florida defense flopped to the field, allowing Miami to score a late touchdown in a 45-16 Gators victory. This gave Florida one final possession, allowing quarterback John Reaves to eclipse Jim Plunkett's NCAA career passing yardage record. |
| San Antonio Spurs | 1996-97 | With prized Wake Forest forward Tim Duncan becoming available in the subsequent draft, David Robinson conveniently played just six games due to injury. The team won 39 fewer games than the previous season, and its leading scorer was 37-year-old Dominique Wilkins. Hmmm. |
| Boston Celtics | 1996-97 | Also possibly pursuing Duncan, the Celts won just 15 games under coach M.L. Carr. Antoine Walker, 20, led the team in scoring and rebounding. But if Boston was trying to win, why did Alton Lister and Frank Brickowski start just two games each? |
| Jessica Biel | 2000 | The starlet posed seminude for Gear magazine in a successful attempt to get out of the contract binding her to "7th Heaven." |
| Point shavers | 1978, '85, '94, '95 | Boston College, Tulane, Arizona State and Northwestern all were victimized by wise guys trying to beat the spread. |
| Jay Leno | 2009-10 | Not ready for prime time, eh? |
| Kevin Garnett | 2007 | Timberwolves owner Glen Taylor suggested Garnett "tanked it" by missing his last five games with the franchise. |
| Lane Kiffin | 2008 | If a 76-yard field goal attempt doesn't qualify as trying to get fired, we don't know what does. |
| Nykesha Sales | 1998 | The injured Connecticut women's basketball forward sunk an orchestrated layup to become the Huskies' all-time scoring leader. |
| Cricket | 2000 | South Africa captain Hansie Cronje was implicated in a match-fixing scandal and suffered an untimely death two years later. |
| Michael Dukakis | 1988 | Just an excuse to link to this photo. |
| Obi-Wan Kenobi | 1977 | Took one for the team so the Millennium Falcon could escape. |
Special thanks to Jim Caple, DJ Gallo, LZ Granderson, Jerry Greene, Greg Hardy, Scoop Jackson, Bomani Jones, Jemele Hill, Lynn Hoppes, Patrick Hruby, Paul Lukas, Cam Martin, Toby Mergler, Mike Philbrick, Kurt Snibbe and Hampton Stevens for contributing to the delinquency of this article.