Commentary
Bret Bielema scores at will on Page 2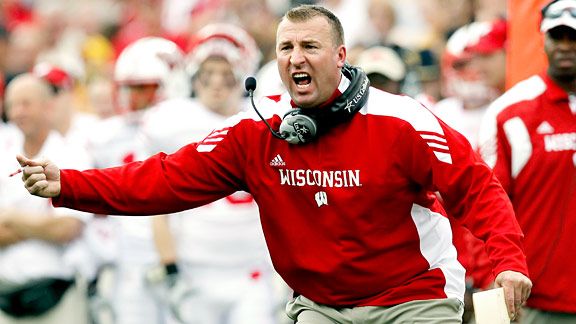 AP Photo/Charlie NeibergallBret Bielema and the Badgers are likely headed for a rosy New Year's Day in sunny Pasadena, Calif.
Wisconsin football coach Bret Bielema is under the microscope.
Currently sitting at No. 5 in the BCS standings, his Badgers have scored 201 points in their past three games. Critics accuse Bielema of poor sportsmanship. They say he's pulverizing opponents long after the outcome of games has been determined. Never mind that the BCS process inherently places a premium on "style points."
So naturally, when Bielema visited ESPN headquarters Thursday, Page 2 wanted to ask him about his Iowa Hawkeyes tattoo, Bruce Springsteen and Bucky Badger. Here's what transpired:
Page 2: A lot has been written about the fact that you played and coached at Iowa and even have a big Hawkeye tattoo on your left calf. Will it always be a little bit weird to lead the visiting team into Kinnick Stadium?
Bielema: It is, but it kind of diminishes every trip I go there. When I first went there, I'd recruited players that were playing [for Iowa]. So, it was kind of a unique perspective to recruit a kid and now be playing against him. ... It kind of gets less [weird] with time, but it's always going to hold a special place because I have so many great memories there as a player and coach.
[+] Enlarge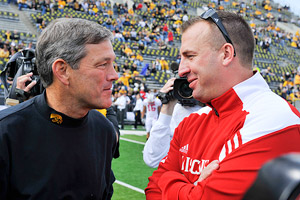 David Purdy/Getty ImagesBielema chats with former boss Kirk Ferentz prior
to Wisconsin's 31-30 victory at Iowa on Oct. 23.
Let's suppose Wisconsin winds up playing Stanford in the Rose Bowl. That would be a terrific matchup. But do you worry about what might happen when the Wisconsin band and the Stanford band -- two groups with a history of off-field issues -- lock horns?
Yes, our band has quite a history. There was a point in time in Wisconsin football when people used to just go to watch the band. Hopefully, we're past that day now, but I think a Stanford matchup would be one that would be a lot of fun for a lot of people.
You listen to "My Hometown" by Bruce Springsteen before each game. What are your top three Springsteen songs?
Yeah, I'm a big Bruce fan. "My Hometown." "Born in the U.S.A." "Santa Claus Is Coming to Town" is a rendition he only does during the holidays, and I saw him do it live in St. Louis and it was pretty special.
Your mother successfully fought breast cancer twice. Can you talk about your connection to the push to find a cure for cancer?
She's a 20-year survivor, and when I first took over as a head coach, I got involved with three charities, the American Family Children's Hospital, Big Brothers Big Sisters and, of course, [Susan G.] Komen [for the Cure] breast cancer awareness and survival. We also do Football 101 for Women [which benefits Susan G. Komen for the Cure], where we have an event set up and they actually get lectures from our coaches, see the equipment our players use on a daily basis and take them on the field for skills and drills. It's a pretty neat thing to see 300 women of all ages, all body types and all athletic levels out there doing drills on the field.
You played arena football for the Milwaukee Mustangs. Is there a tougher way to make a living in professional sports?
I'll never forget this. As a [graduate assistant at Iowa], we computed it and we were actually making 18 cents an hour for what we were doing. I was making $6,000 for the year. That's what you got, and you had to pay your schooling out of that. So Coach [Hayden] Fry came to me and said Lou Saban was starting an arena team in Milwaukee and would be interested in if I wanted to play, and they were going to pay $1,000 a week. So I could double my salary in six weeks. ... It is a rough league. I actually tore my ACL in the first live game that I played in. I actually only played in four games -- three preseason and then tore my ACL in the first game. But I ended up getting rich out of that because I had a $30,000 settlement from workman's comp that I thought was a big deal back then.
As a single guy, how do you maintain a social life considering the demands of your job?
I think the part that's helped me in my career is that I've never had that element to deal with. I've made decisions based solely for me and my situation. I don't have to take family into consideration. I've got 120 kids that need attention every day.
It seems as if you wear a windbreaker for every game -- even if it's 100 degrees. Are you superstitious?
Yes. Extremely. Actually, it started when I was an assistant at Iowa, my first year [1996]. We were a pretty good football team, and we won our first two games. Then, we went to play a game at Tulsa -- a game we should've won -- and ended up getting beat. The reason I devised in my head was that I hadn't worn the windbreaker that day. I put it on that next game, and we had a heck of a year. When I took over as a head coach, I was going to ditch the windbreaker, but someone very important in my life said to me, "It's part of who you are; it's your identity." And I've stuck with it ever since.
[+] Enlarge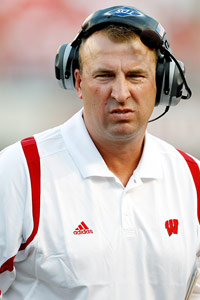 Scott Boehm/Getty ImagesBielema survived a scare against Northern Illinois despite eschewing the windbreaker on Sept. 5, 2009.
You coached under Barry Alvarez, Bill Snyder, Kirk Ferentz and Hayden Fry. Can you share one superstition of each of them?
With Coach Fry, we always had McDonald's shakes with a Hershey's candy bar every Friday night. I couldn't figure out for the life of me why we'd be putting that in our bodies, but that's the way it always was. After him, I went to work for Kirk, and he doesn't have any superstitions. ... With Coach Snyder, if a game kicked off after a certain time, we could have beef. But if it was earlier than, 2 o'clock, I guess, we had to have chicken the night before. I always thought that was very strange. And then Coach Alvarez, he's got a million of them. We'd walk a certain way. ... He went to go open a door this year, but he backed away from it and looked at me and I just knew, so I'd hold the door open. His are kind of ongoing.
Not counting Wisconsin or Iowa, which school has the best gameday college football atmosphere in the nation?
Playing at Texas [while an assistant at Kansas State] was pretty special. I think, within [the Big Ten], it would probably be a toss-up between ... oh, I don't wanna say that, because it will just piss someone off. Texas is an easy answer, and it's correct. It's an incredible environment. Kansas State, if you've ever been there, is small but it's incredibly loud. We beat USC my first year there [2002]. We beat them like yard dogs, and actually before the game, they lined up Harley-Davidsons, and they raced like 100 Harley-Davidsons around the stadium. They do that once a year, and they did it for USC. I remember the USC coaches saying, "Hey, what's going on in there?" It's pretty cool.
You grew up on a large hog farm in rural Illinois. Are there any parallels whatsoever that can be drawn between hog farming and college football?
Yeah. Hard work pays off. ... That's the one thing I always preach in our program. We're not necessarily going to be more athletic than the other team, but we can outwork them, and we can be tougher than they are. I think that came from growing up on a farm.
We're not really interested in whether Wisconsin tries to run up the score. But considering that Bucky Badger has to do all those push-ups, are you worried about killing the guy inside that costume?
Actually, we've got a nice rotation set up now. It's not just one guy. I did see a stat somewhere that [Bucky] had done about 2,800 this season. That's pretty good.
Last question: Suppose Bruce Springsteen is playing the halftime show at your bowl game. How difficult would the decision be to either stay out there and watch him play or go in to address your team?
It would be an easy one. I'd go in with the guys. ... But I've seen him in concert numerous times, and I think he's a great entertainer.
Thomas Neumann is an editor for Page 2.