Commentary
Franco Harris: Page 2's Immaculate Q&A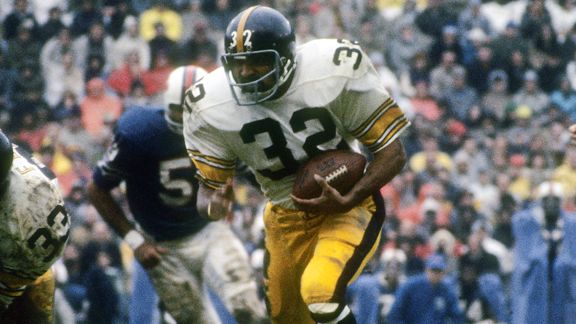 Focus on Sport/Getty ImagesFranco Harris rumbles for a few of his 12,120 career rushing yards in a 1972 game against the Bills.
The name Franco Harris is synonymous with the Pittsburgh Steelers.
He's the franchise's career leader in touchdowns and rushing yardage and was named to nine Pro Bowls in 11 seasons as a Steeler. Most importantly, he was a key figure in Pittsburgh's first four Super Bowl teams, winning MVP honors in the team's first championship appearance.
Harris is one of nine Steelers players from the team's 1970s dynasty enshrined in the Pro Football Hall of Fame, and he's the only player from the 1972 draft class to be so honored.
So when Page 2 secured an interview with Harris, we naturally wanted to ask him if Terry Bradshaw actually could spell "cat" if we spotted him the "C" and the "A."
Harris recently visited the ESPN campus for the first time since 1979, and Page 2 caught up with him to talk about Bradshaw, the Immaculate Reception, his interest in politics and his new line of fitness products.
Here's what transpired:
[+] Enlarge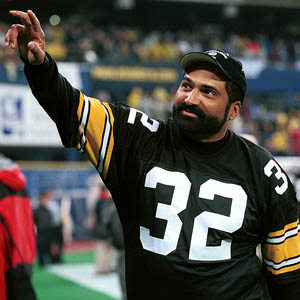 Al Messerschmidt/Getty ImagesHarris salutes Steelers fans after the final game at Pittsburgh's Three Rivers Stadium on Dec. 16, 2000.
How many times have you been asked if Frenchy Fuqua illegally touched the ball on the Immaculate Reception?
I'm trying to think how many times Frenchy has been asked, and Frenchy keeps telling people that he's going to tell the story. But that's been about 10 times now, and he always changes the date. So we're still waiting for Frenchy to let it out, but he hasn't yet. He's keeping it mum.
During the hustle and bustle of that play, you're probably just reacting. Do you even know for sure whether he touched it?
In a lot of situations you don't [have time to] think. You just react. ... I never have given an answer on the play, and neither has Frenchy. And I think both of us are trying to see who can hold out the longest.
How did you come to acquire the chunk of turf from Three Rivers Stadium where you made the Immaculate Reception?
Back then, we weren't really big on memorabilia, but during the offseason I saw in the paper that they were gonna change the turf at Three Rivers Stadium. So I said, "Hmmm, I should go and get that area where I caught the ball." ... I went to the stadium, and the crew had stopped working. They were shredding [the turf]. Back then, I guess people didn't think about selling it. It just so happened that they were on break and had just stopped before the area where I needed to get the turf. If I had been a few hours later, that would have been totally shredded. So they cut out the area for me, and now that turf is in the Heinz History Center sports museum in Pittsburgh.
So you donated it to them?
To let them use it for a certain period of time.
You're not letting go of that for good, huh?
I don't know if any other piece of that turf was saved, as far as I know. That was the original turf at Three Rivers Stadium. ... To me, that's a pretty important piece of history.
[+] Enlarge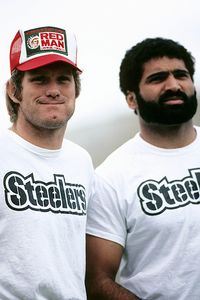 Al Messerschmidt/Getty ImagesTerry Bradshaw proves that the trucker hat truly makes the man.
How big of a knucklehead is Terry Bradshaw? Or is it just an act?
That's Terry. What he does is natural, and to me, that's what makes it so good and genuine. I love it because it's natural, and he's perfected that into a profession and has one again gone to the top of his profession.
Prior to the Steelers, you were a standout at Penn State. Can you tell us what Joe Paterno was like as a wild, young man?
Oh ... what was Joe like as a wild, young man? OK. Uhhh ... Hmmm ...
Gotcha on that one, huh?
Yeah, you got me on that one, and I'm trying to think ... hmmm ... I would say that being from an Italian family, I'm sure [his upbringing] was a little strict. He went to Brown. I mean, how wild can you get at Brown? ... I think maybe his wildness has really come out in his old age.
You served as an elector at the 2008 Democratic National Convention. Are there any similarities whatsoever between a political convention and an NFL locker room?
I would put it this way: With an NFL locker room after a big game, it's like a celebration. And I have to admit being there as an elector was a great feeling, and also being a part of Super Bowl teams in the locker room at that time. I really do savor those significant moments. I would say that the energy [at a convention] whether it's before the announcement that someone won is like the excitement going into a game. Then once it's over, the feeling that you're part of something and helped make something happen ... [is like] the jubilation after a game. So I can see a lot of similarities.
How did you become involved in politics?
My first political involvement was with Sen. John Heinz running for Senate in Pennsylvania asking me to do a commercial for him and to support him. I have no interest in running myself, but I've found that I've really enjoyed that competitive spirit during an election. Even though I'm not tied to any politician with business or anything, I really enjoy the competitiveness of an election. Then sometimes also, the policies that you back are a big issue. Sometimes, you're really for someone or against someone. That can be a motivating factor.
[+] Enlarge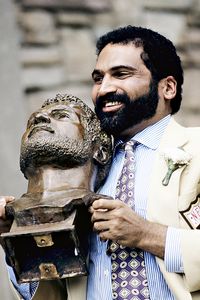 Al Messerschmidt/Getty ImagesHarris wears the famed yellow blazer at his induction to the Pro Football Hall of Fame in 1990.
You were inducted into the Pro Football Hall of Fame in 1990. Have you ever worn that stylish yellow blazer out on the town outside of Canton, Ohio?
I try not to. I tell ya ... it's hard to match your tie and your shirt. It's a little bit easier with Pittsburgh with the black and gold thing. But if you get away from the black, it's like, "OK, what do you put with the color of this jacket?"
How's the doughnut business treating you these days?
The doughnut business has really been good. A few years ago, we went into retail. We're in Pittsburgh and Chicago. On our Super Donut box, I've put a player on the front of the box and honor the player for the difference he or she is making in the community. We call it our Most Valuable Person. ... Our goal is to expand into other cities, and once again, honor players for what they do off the field.
Your most recent business venture is the SilverSport company. What kinds of fitness products do you sell?
SilverSport is a sports and fitness line that utilizes the additive we call TerraSilver, which is a nanosilver. Silver gives anti-odor and anti-microbial protection to our products. It gives you an extra layer of protection. We feel confident that when you walk into a [gym] and you lay your SilverMat or your Silver Towel down, that you won't be taking any bacteria with you. It's real innovative technology that we have here. We're trying to keep sports clean -- that's our motto.
Where is your favorite place to vacation?
Every year, I go to Hawaii. I love Hawaii, and I've been going there for 30 years. ... After my rookie season, this one travel agency said, "Franco, we'd like you to host a tour to Hawaii. You and a guest can fly for free and stay for free." I said, "Absolutely!" That was January or February of '73, and I've been going just about every year afterward. Back then, they had what they called "Superteams" in Hawaii, a competition between the two Super Bowl teams and the two World Series teams. I met people through that, so I have lots of friends there. Since then I've been going back every year -- sometimes twice a year.
What are your memories of that famous "Superteams" tug-of-war with the Vikings?
That was one of the most exhausting, toughest things I ever done. Looking back at that competition, I feel so bad because I feel like I blew it for our team. In the 400 relay, we won that hands down, but when I handed the baton off, I kind of interfered with a runner on the other team, and they disqualified us. We had them beat by such a long shot. ... But it's probably good that it did happen because it all came down to that tug-of-war that will live forever. Now, I'm not happy we ended up losing that, but it really was an epic battle.
When you joined the Seahawks in 1984, how motivated were you to break the NFL career rushing record?
[+] Enlarge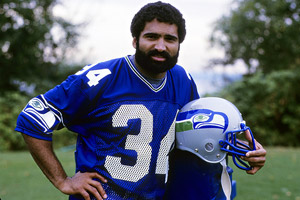 Getty ImagesHarris ended his playing career with the Seahawks
in 1984 after a salary dispute with the Steelers.
One of the things that I probably regret the most about my whole career, was that when I [signed with] Seattle, I just couldn't picture myself breaking Jim Brown's record in a Seattle uniform. Seattle is great. The people were fantastic. The organization was great, And you know what? I was in good shape physically, but mentally I just couldn't see it. So unfortunately, it didn't happen. But looking back, I'm saying, "Franco, come on." Like I wish I would have approached it a little different and said, "Goodbye," and break it in a Seattle uniform. That was a tough mental adjustment at that time.
Which Super Bowl victory do you cherish the most and why?
There's no easy answer to that one, because the first one is always special, but the game of Super Bowl XIII, to me, was so exciting.
What goes through your mind when you walk past a statue of yourself in the Pittsburgh airport?
It feels a little strange. It was only supposed to be there for six weeks or something, I think. Now it's been there for years. I hear that a lot of people stop to take a picture with it. Some people try to knock the ball out of my hands. It just reflects on that great decade that we had. That decade changed Pittsburgh, changed what the Steelers were all about and really set a new level of football. A lot of times, teams are now measured by the Pittsburgh Steelers.
Thomas Neumann is an editor for Page 2.