Commentary
Coolest Name in the NCAA tournament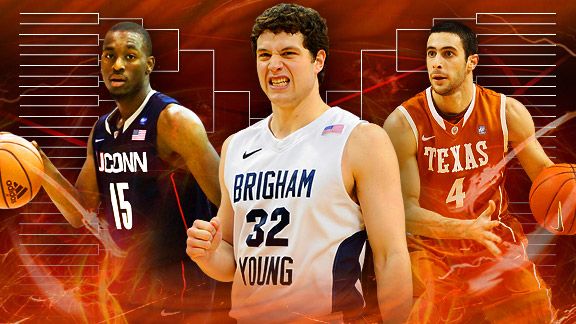 ESPN.com Illustration
"What's in a name? That which we call a rose
By any other name would smell as sweet."
-- William Shakespeare, "Romeo and Juliet"
That might be just fine in the world of romance. But did Shakespeare ever hear of Jalen Rose or Derrick Rose? Probably not, because if the Bard were a basketball fan, he likely would have focused the plot of "Romeo and Juliet" upon the Shammgod and Boumtje-Boumtje families instead of the Montagues and Capulets.
Because those names are much cooler and a lot more fun to say.
Since that reasoning almost makes sense, Page 2 is entrusting you, dear readers, with selecting the coolest player name in the 2011 NCAA men's basketball tournament.
Our criteria for the best name is similar to how Supreme Court Justice Potter Stewart described obscenity in 1964 -- you know it when you see it. A great basketball name should be fun to say, fun to spell or cool and unusual.
We've selected our 64 favorite player names from this year's NCAA tournament field -- feel free to blame the selection committee if your school got snubbed. Follow the results through each round of the bracket as the tournament progresses.
Editor's note: Voting in our bracket was completed on April 4. Scroll down to see how the bracket results played out.
• Click here to read Page 2's interview with the bracket champion
First round
Dallas Comegys region
First round
Second round

(1) Jimmer Fredette, Brigham Young

(16) Brady Morningstar, Kansas




(1) vs. (16) winner

(8) vs. (9) winner




(8) Vander Blue, Marquette

(9) Keaton Nankivil, Wisconsin




(5) Aziz N'Diaye, Washington

(12) Flip Pressey, Missouri




(5) vs. (12) winner

(4) vs. (13) winner




(4) Dalton Pepper, West Virginia

(13) Kyryl Natyazhko, Arizona




(6) Enosch Wolf, Connecticut

(11) Will Yeguete, Florida




(6) vs. (11) winner

(3) vs. (14) winner




(3) Scoop Jardine, Syracuse

(14) Mason Plumlee, Duke




(7) Ovie Soko, Alabama-Birmingham

(10) Crandall Head, Illinois




(7) vs. (10) winner

(2) vs. (15) winner




(2) Robinson Odoch Opong, Long Island

(15) Hippolyte Tsafack, Memphis



God Shammgod region
First round
Second round

(1) Fab Melo, Syracuse

(16) Chrishawn Hopkins, Butler




(1) vs. (16) winner

(8) vs. (9) winner




(8) Talib Zanna, Pittsburgh

(9) A.J. Yawn, Florida State




(5) Booker Hucks, Long Island

(12) Mehdi Cheriet, San Diego State




(5) vs. (12) winner

(4) vs. (13) winner




(4) Lazeric Jones, UCLA

(13) Scootie Randall, Temple




(6) Probese Leo, Bucknell

(11) Milade Lola-Charles, Hampton




(6) vs. (11) winner

(3) vs. (14) winner




(3) Dogus Balbay, Texas

(14) Miles Plumlee, Duke




(7) DeAndre Liggins, Kentucky

(10) Dakotah Euton, Akron




(7) vs. (10) winner

(2) vs. (15) winner




(2) Cashmere Wright, Cincinnati

(15) Francis-Cedric Martel, Richmond



Uwe Blab region
First round
Second round

(1) Rashad Whack, George Mason

(16) Cameron Rundles, Wofford




(1) vs. (16) winner

(8) vs. (9) winner




(8) Shabazz Napier, Connecticut

(9) Tu Holloway, Xavier




(5) Wquinton Smith, Wisconsin

(12) Juvonte Reddic, Virginia Commonwealth




(5) vs. (12) winner

(4) vs. (13) winner




(4) Dallas Lauderdale, Ohio State

(13) Deividas Dulkys, Florida State




(6) Festus Ezeli, Vanderbilt

(11) Demontez Stitt, Clemson




(6) vs. (11) winner

(3) vs. (14) winner




(3) Kemba Walker, Connecticut

(14) Mathis Monninghoff, Gonzaga




(7) Emmanuel Okoroba, Hampton

(10) Martavious Irving, Kansas State




(7) vs. (10) winner

(2) vs. (15) winner




(2) Gus Leeper, Arkansas-Little Rock

(15) Elisha Justice, Louisville



Ruben Boumtje-Boumtje region
First round
Second round

(1) Skylar McBee, Tennessee

(16) Will Brew, UC Santa Barbara




(1) vs. (16) winner

(8) vs. (9) winner




(8) Brice Massamba, Nevada-Las Vegas

(9) Mouphtaou Yarou, Villanova




(5) Xzaivier James, Northern Colorado

(12) Kaylim Noel, Alabama State




(5) vs. (12) winner

(4) vs. (13) winner




(4) Chauncey Gilliam, Akron

(13) Trian Iliadis, Old Dominion




(6) Jon Nwannunu, North Carolina-Asheville

(11) Tre'Von Willis, Nevada-Las Vegas




(6) vs. (11) winner

(3) vs. (14) winner




(3) Ian Hummer, Princeton

(14) Eso Akunne, Michigan




(7) Blaise Ffrench, Saint Peter's

(10) Mike Broghammer, Notre Dame




(7) vs. (10) winner

(2) vs. (15) winner




(2) Brockeith Pane, Utah State

(15) Bubba Day, Purdue



First-round results (winners in bold):
Dallas Comegys region (14,050 votes)
God Shammgod region (8,673 votes)
(1) Jimmer Fredette, Brigham Young, 78.3%
(16) Brady Morningstar, Kansas, 21.7%
(1) Fab Melo, Syracuse, 92.1%
(16) Chrishawn Hopkins, Butler, 7.9%
(8) Vander Blue, Marquette, 84.7%
(9) Keaton Nankivil, Wisconsin, 15.3%
(8) Talib Zanna, Pittsburgh, 43.6%
(9) A.J. Yawn, Florida State, 56.4%
(5) Aziz N'Diaye, Washington, 39.2%
(12) Flip Pressey, Missouri, 60.8%
(5) Booker Hucks, Long Island, 73.4%
(12) Mehdi Cheriet, San Diego State, 26.6%
(4) Dalton Pepper, West Virginia, 71.4%
(13) Kyryl Natyazhko, Arizona, 28.6%
(4) Lazeric Jones, UCLA, 33.6%
(13) Scootie Randall, Temple, 66.4%
(6) Enosch Wolf, Connecticut, 75.0%
(11) Will Yeguete, Florida, 25.0%
(6) Probese Leo, Bucknell, 64.3%
(11) Milade Lola-Charles, Hampton, 35.7%
(3) Scoop Jardine, Syracuse, 90.5%
(14) Mason Plumlee, Duke, 9.5%
(3) Dogus Balbay, Texas, 80.1%
(14) Miles Plumlee, Duke, 19.9%
(7) Ovie Soko, Alabama-Birmingham, 46.9%
(10) Crandall Head, Illinois, 53.1%
(7) DeAndre Liggins, Kentucky, 38.2%
(10) Dakotah Euton, Akron, 61.8%
(2) Robinson Odoch Opong, LIU, 50.7%
(15) Hippolyte Tsafack, Memphis, 49.3%
(2) Cashmere Wright, Cincinnati, 85.5%
(15) Francis-Cedric Martel, Richmond, 14.5%
Uwe Blab region (7,361 votes)
Ruben Boumtje-Boumtje region (9,268 votes)
(1) Rashad Whack, George Mason, 87.9%
(16) Cameron Rundles, Wofford, 12.1%
(1) Skylar McBee, Tennessee, 65.7%
(16) Will Brew, UC Santa Barbara, 34.3%
(8) Shabazz Napier, Connecticut, 69.9%
(9) Tu Holloway, Xavier, 31.1%
(8) Brice Massamba, Nevada-Las Vegas 43.7%
(9) Mouphtaou Yarou, Villanova, 56.3%
(5) Wquinton Smith, Wisconsin, 54.1%
(12) Juvonte Reddic, VCU, 45.9%
(5) Xzaivier James, Northern Colorado, 66.5%
(12) Kaylim Noel, Alabama State, 33.5%
(4) Dallas Lauderdale, Ohio State, 55.8%
(13) Deividas Dulkys, Florida State, 44.2%
(4) Chauncey Gilliam, Akron, 36.1%
(13) Trian Iliadis, Old Dominion, 63.9%
(6) Festus Ezeli, Vanderbilt, 71.8%
(11) Demontez Stitt, Clemson, 28.2%
(6) Jon Nwannunu, UNC-Asheville, 58.0%
(11) Tre'Von Willis, Nevada-Las Vegas, 42.0%
(3) Kemba Walker, Connecticut, 60.6%
(14) Mathis Monninghoff, Gonzaga 39.4%
(3) Ian Hummer, Princeton, 52.7%
(14) Eso Akunne, Michigan, 47.3%
(7) Emmanuel Okoroba, Hampton, 37.4%
(10) Martavious Irving, Kansas State, 62.6%
(7) Blaise Ffrench, Saint Peter's, 57.5%
(10) Mike Broghammer, Notre Dame, 42.5%
(2) Gus Leeper, Arkansas-Little Rock, 70.5%
(15) Elisha Justice, Louisville, 29.5%
(2) Brockeith Pane, Utah State, 27.5%
(15) Bubba Day, Purdue, 72.5%
---
Second round
Dallas Comegys region
God Shammgod region
Uwe Blab region
Ruben Boumtje-Boumtje region
Second-round results (winners in bold):
Dallas Comegys Region (7,987 votes)
God Shammgod Region (7,987 votes)
(1) Jimmer Fredette, Brigham Young, 58.7%
(8) Vander Blue, Marquette, 41.3%
(1) Fab Melo, Syracuse, 81.6%
(9) A.J. Yawn, Florida State, 18.4%
(4) Dalton Pepper, West Virginia, 56.9%
(12) Flip Pressey, Missouri, 43.1%
(5) Booker Hucks, Long Island, 52.4%
(13) Scootie Randall, Temple, 47.6%
(3) Scoop Jardine, Syracuse, 73.6%
(6) Enosch Wolf, Connecticut, 26.4%
(3) Dogus Balbay, Texas, 58.1%
(6) Probese Leo, Bucknell, 41.9%
(2) Robinson Odoch Opong, Long Island, 61.9%
(10) Crandall Head, Illinois, 38.1%
(2) Cashmere Wright, Cincinnati, 77.5%
(10) Dakotah Euton, Akron, 22.5%
Uwe Blab region (5,857 votes)
Ruben Boumtje-Boumtje region (5,857 votes)
(1) Rashad Whack, George Mason, 46.8%
(8) Shabazz Napier, Connecticut, 53.2%
(1) Skylar McBee, Tennessee, 58.3%
(9) Mouphtaou Yarou, Villanova, 41.7%
(4) Dallas Lauderdale, Ohio State, 48.5%
(5) Wquinton Smith, Wisconsin, 51.5%
(5) Xzaivier James, No. Colorado, 57.2%
(13) Trian Iliadis, Old Dominion, 42.8%
(3) Kemba Walker, Connecticut, 38.2%
(6) Festus Ezeli, Vanderbilt, 61.8%
(3) Ian Hummer, Princeton, 50.8%
(6) Jon Nwannunu, UNC-Asheville 49.2%
(2) Gus Leeper, Ark.-Little Rock, 51.1%
(10) Martavious Irving, Kansas State, 48.9%
(7) Blaise Ffrench, Saint Peter's, 25.5%
(15) Bubba Day, Purdue, 74.5%
---
Sweet 16
Dallas Comegys region
God Shammgod region
Uwe Blab region
Ruben Boumtje-Boumtje region
Third-round results (winners in bold):
Dallas Comegys region (5,262 votes)
God Shammgod region (5,262 votes)
(1) Jimmer Fredette, Brigham Young, 57.3%
(4) Dalton Pepper, West Virginia, 42.7%
(1) Fab Melo, Syracuse, 66.2%
(5) Booker Hucks, Long Island, 33.8%
(2) Robinson Odoch Opong, Long Island, 31.8%
(3) Scoop Jardine, Syracuse, 68.2%
(2) Cashmere Wright, Cincinnati, 64.0%
(3) Dogus Balbay, Texas, 36.0%
Uwe Blab region (5,262 votes)
Ruben Boumtje-Boumtje region (5,262 votes)
(5) Wquinton Smith, Wisconsin, 19.3%
(8) Shabazz Napier, Connecticut, 80.7%
(1) Skylar McBee, Tennessee, 60.5%
(5) Xzaivier James, Northern Colorado, 39.5%
(2) Gus Leeper, Arkansas-Little Rock 37.9%
(6) Festus Ezeli, Vanderbilt, 62.1%
(3) Ian Hummer, Princeton, 18.9%
(15) Bubba Day, Purdue, 81.1%
---
Elite Eight
Regional finals
National semifinals

DALLAS COMEGYS REGION




(1) Jimmer Fredette, Brigham Young

(3) Scoop Jardine, Syracuse




Dallas Comegys region champion

vs.

God Shammgod region champion




GOD SHAMMGOD REGION




(1) Fab Melo, Syracuse

(2) Cashmere Wright, Cincinnati



Regional finals
National semifinals

UWE BLAB REGION




(6) Festus Ezeli, Vanderbilt

(8) Shabazz Napier, Connecticut




Uwe Blab region champion

vs.

Ruben Boumtje-Boumtje region champion




RUBEN BOUMTJE-BOUMTJE REGION




(1) Skylar McBee, Tennessee

(15) Bubba Day, Purdue



Fourth-round results (winners in bold):
Dallas Comegys region (9,638 votes)
God Shammgod region (9,638 votes)
(1) Jimmer Fredette, Brigham Young, 45.1%
(3) Scoop Jardine, Syracuse, 54.9%
(1) Fab Melo, Syracuse, 64.0%
(2) Cashmere Wright, Cincinnati, 36.0%
Uwe Blab region (9,638 votes)
Ruben Boumtje-Boumtje region (9,638 votes)
(6) Festus Ezeli, Vanderbilt, 37.3%
(8) Shabazz Napier, Connecticut, 62.7%
(1) Skylar McBee, Tennessee, 27.4%
(15) Bubba Day, Purdue, 72.6%
---
Final Four


National semifinals
National championship

DALLAS COMEGYS REGION CHAMP
(3) Scoop Jardine, Syracuse




GOD SHAMMGOD REGION CHAMP
(1) Fab Melo, Syracuse




Jardine/Melo winner

vs.

Napier/Day winner




UWE BLAB REGION CHAMP
(8) Shabazz Napier, Connecticut




RUBEN BOUMTJE-BOUMTJE REGION CHAMP
(15) Bubba Day, Purdue



Fifth-round results (winners in bold):
Semifinal No. 1 (9,748 votes)
Semifinal No. 2 (9,748 votes)
(3) Scoop Jardine, Syracuse, 50.9%
(1) Fab Melo, Syracuse, 49.1%
(8) Shabazz Napier, Connecticut, 33.3%
(15) Bubba Day, Purdue, 66.7%
---
National championship
National semifinals
National championship

DALLAS COMEGYS REGION CHAMP
(3) Scoop Jardine, Syracuse




GOD SHAMMGOD REGION CHAMP
(1) Fab Melo, Syracuse




DALLAS COMEGYS REGION CHAMP
(3) Scoop Jardine, Syracuse

vs.

RUBEN BOUMTJE-BOUMTJE REGION CHAMP
(15) Bubba Day, Purdue




UWE BLAB REGION CHAMP
(8) Shabazz Napier, Connecticut




RUBEN BOUMTJE-BOUMTJE REGION CHAMP
(15) Bubba Day, Purdue



Sixth-round results (winner in bold):
National championship (29,605 votes)
(15) Bubba Day, Purdue, 80.8% def. (3) Scoop Jardine, Syracuse, 19.2%