Single page view
By Rachel Nichols
Page 2
EDITOR'S NOTE: On occasion, we all need help. But where to turn? Fortunately, Rachel Nichols is here to bring us the special kind of advice that only the world's greatest athletes can dole out. Whether to take it or not ... well, that's up to you. Today's Ill-Advised experts: 1985 NCAA champions Ed Pinckney and Gary McLain, whose Villanova Wildcats beat Georgetown in the greatest upset in tournament history. Pinckney is now an assistant coach at Villanova; McLain is a motivational speaker. They gave their advice in separate conversations, but both are hoping to make it to St. Louis this weekend for celebrations honoring the game's 20-year anniversary.
RACHEL: We had so many people looking for help this week, we figured we'd bring in two guys to ignore their questions instead of the usual one. And not just any two guys. In honor of this being Final Four weekend, we're bringing out the vets.
You were on the only team to win the NCAA tournament as a No. 8 seed, plus you have that whole zany life experience thing now. So we figure you must give good advice.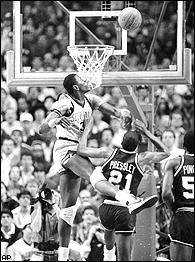 Villanova's upset over Georgetown in 1985 is one of the most famous games in NCAA history.
ED: Is that how it goes?
RACHEL: Well, that's what we're going to find out. What's the best advice you've got?
ED: Never look back.
RACHEL: Wow. This could be a very short column.
ED: Maybe it's more, don't regret when you look back. You can learn something good or bad out of every situation, so don't look back and get all upset about something that didn't go the way you wanted it to.
RACHEL: Easy for you. Not so easy for Patrick Ewing. What about you, Gary?
GARY: Always represent your name and your family with truth and honor, and know that no matter what you go through, you can hold your head up.
RACHEL: Hold 'em high. OK, let's get to the bag-o-mail. First up is Chris Caldwell from Pullman, Wash. Chris writes, "As a Washington State guy, it was to my dismay I discovered my cousin's 9-year-old son has his bedroom painted in Washington Husky colors with the logo and everything. This is unacceptable. As a concerned relative, should I have an intervention? Or maybe just sneak in in the dead of night and repaint the room Cougar crimson and gray?"
GARY: If he decides to sneak in in the middle of the night, I think he should wear a bulletproof vest. Washington's a tough part of the country, and nowadays the kids are carrying early.
ED: No, he's got to let that kid celebrate being a Husky. A harmless celebration like that, you can't prevent. You've got to let that kid just live how he wants.
RACHEL: Well, what if you had cousins raising their kids as Penn fans?
ED: If I had a cousin that was a Penn fan, I'd be a little disappointed, but let's be honest, that's harmless. It's Penn. Now if he was a St. Joe's fan, I'd have an issue.
RACHEL: Ah, so then it's flak-jacket time. OK, now that you've dispatched the 9-year-old, what can you guys do for little Kevin in St. Cloud, Minn.? At least, I hope he's little. He writes, "My dad has started coaching our Little League team and he's terrible. All the kids hate him. The other day he actually got hit in the head with a ball. I'm not sure it was an accident. How can I break it to him, he's got to step down?"