GARY:
In a serious situation like that, the best thing is to be direct. You just say – You. Have. No. Skills. Or better yet, go down to Marshalls or Ross to get him a skirt to cheerlead in.
ED: Just send him back to where he was standing, line him up and hit him with some more balls.
RACHEL: Have you ever coached your kids?
ED: One summer, I coached my son's team. My son never came out of the game, I'll tell you that. The other parents hated me for that one. I had fun doing it, but I'd never do it again.
GARY: That's a no-win, being your kid's coach. Plus you can get hit in the head.
RACHEL: What about being a bracket coach? Ben Stoker in Middletown, N.J. writes, "By some gross twist of fate, I seem to be winning our office pool. Suddenly, senior vice presidents are coming up to chat with me, and a few of the cute girls now ask me questions about college basketball. The problem is, I'm a total fraud and picked my bracket pretty much at random – but I don't want to give up the attention I'm getting. What are some handy phrases I can toss around to keep impressing everyone?"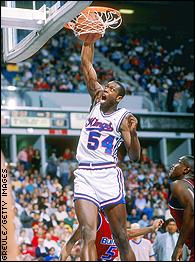 Ed Pinckney went on to play in the NBA, but he'll always be remembered for his college days.
ED: Just place a call and then say to someone, "Oh, I'm sorry. I must have hit the wrong number on my speed dial. I was punching up Joe Lunardi." Either that. or, "My cousin Rashad McCants tells me Carolina is the way to go this year."
GARY: Hey, I can't answer this question. That's flat-out lying, and I just can't imagine participating in that sort of thing. I mean, really.
RACHEL: You're all about the truth?
GARY: Sure. Right. Definitely.
RACHEL: Well, do people ask you guys for college basketball expertise all the time?
ED: Pretty much always, but after a while I try to turn the conversation around to talk about them.
RACHEL: Then you can definitely help Troy Percy in Dallas. He writes, "I was a star running back in high school who helped win our state championship. But that was 17 years ago, and it's STILL the first thing people in our town like to talk about when I haven't seen them in a while. Help me – what other topics of conversation can I bring up when this happens?"
ED: Print out some shirts. Get some hats and shirts with all his accomplishments on the front. Just a list. Then on the back, they should say, "Next Question."
RACHEL: The new chic look at cocktail parties?
ED: I bet he'd be a lot happier.
RACHEL: Maybe. What about Leon from Dalton, Ga. He asks, "What's the best thing to spend your cash on, basketball shoes or jerseys?"
GARY: Always spend it on the shoes. A woman always looks at the shoes first.
ED: Jerseys. They have a longer-lasting life than some sort of Nike Pump or Pro-Keds or whatever. Get a Jerry Rice jersey, or something like that.
GARY: Oh, come on. Ed's a big man, and you know with big men you're getting misinformation about style. You've got to go with the point guard on this one. It's the shoes.
RACHEL: A debate for the ages, I'm sure. But what about the socks? Karen in Bluefield, W.V. writes, "I have a pair of really lucky socks. I wore them for every game West Virginia played, and our boys kept winning, but my roommate stole them before last Saturday's game because he's from Kentucky and wanted Louisville to win. Sure enough, look what happened. By stealing my socks, he stole our chance to go to the Final Four. What could I do to him for revenge?"