Commentary
Athletes love the free swag at ESPYS
Originally Published:
July 14, 2010
By
Chris Palmer
| ESPN The Magazine
The first thing you notice is the air-conditioning. When you step off the elevator on the second floor of the spanking new W Hotel in Hollywood, it rushes at you like a defensive end in a contract year. Welcome to the ESPYS swag suite. This is ground zero for free stuff. And if you don't have a purple AND a white wristband, guess who doesn't get in?
[+] Enlarge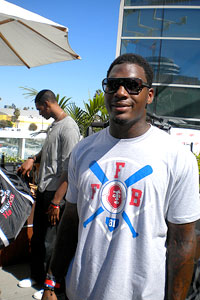 Chris Palmer/ESPN The Mag Cowboys tight end Martellus Bennett enjoys the pre-ESPYS festivities as Heat forward Chris Bosh hangs out in the background.
On the eve of the ESPYS, the long corridor is teeming with athletes and plenty of energy. Free stuff is the name of the game and the A-listers are out in force to collect bags of swag they've earned for becoming, well, A-listers.
First up was newly minted Knick Amar'e Stoudemire, who spent about 45 minutes hopping from one of the dozen gift suites to another.
Stoudemire, dressed casually in a blue Knicks T-shirt (with old school logo), white linen pants and navy blue Chuck Taylors, drifted from suite to suite checking out the merchandise like an old swag pro.
"This kind of thing is always fun," Stoudemire said. "Getting free stuff is definitely cool."
After perusing shaving gels in the Gillette suite, Stoudemire swung buy the Rafaello & Co. jewelry suite where a table displays several hundred thousand dollars worth of gaudy bling. The centerpiece is a watch encrusted with more than 200 diamonds and valued at more than $1 million. The jeweler tells Stoudemire that it's one of only two in the world. This one was purchased by Cash Money CEO Baby. The other belongs to Elton John.
"I don't care how much money I have, I would never in a million years buy something like that," Stoudemire says. "But with all those diamonds you would never need to know what time it is."
Across the hall, "The Blind Side" star Quinton Aaron, all 400-some teddy bear pounds of him, checked out pants in the Dockers suite but was out of luck when the biggest size they had available was a 36x34. (The kid is about 6-foot-9.) "Yeah, if you haven't noticed I'm a pretty big guy," he joked. "No problem," said a Dockers spokesperson, "We can custom make him some pants if he wants."
"It's great to come to these events and meet all the athletes," said Aaron, who portrayed real-life Baltimore Ravens offensive tackle Michael Oher in the Oscar-nominated flick.
Out in the hallway, ESPN's own dancing queen, Erin Andrews, shimmered in a summery sleeveless yellow top as she chatted with Olympic speed skater Apolo Anton Ohno, who picked up a bag of hair product and tried on several bow ties.
But nobody was loving the swag more than head coach Sean Payton of the Super Bowl-champion New Orleans Saints, who stopped by the Bed Head suite for a quick haircut.
"He basically asked for a 'number one,'" says a hair stylist who trimmed Payton's already close-cropped dome. "Couldn't have been nicer." Payton then made his way to the Dockers suite where he picked up a pair of brown relaxed-fit khakis. "Perfect for a coach," said a woman who helped him select a pair.
(An addendum to Payton's day: he later introduced Outkast's Big Boi before his performance to a rousing ovation at a pre-ESPYS party at Hollywood club Boulevard 3.)
The biggest hit on gifting row was the Skullcandy suite, where players picked up tricked-out headphones with subwoofers built into the ear pieces. Former Nebraska defensive tackle Ndamukong Suh bobbed his head approvingly when he listened to a Jay-Z track through the colorful ear throbbers.
"Man, that's what's up," he said with a smile, as he put a brand new pair in his gift bag.
At the end of the gifting hallway was a lounge with several flat-screen TVs and a seemingly unlimited supply of Fatburger hamburgers, served hot, that more than a few athletes enjoyed.
Former Lakers guard Jordan Farmar walked in carrying a giant gear bag of free goodies and talked excitedly about signing with the New Jersey Nets.
"I'm ready to start a new chapter in my life," Farmar said. "It's time to show people what I can do with the ball in my hands."
He balked when asked who would win a seven-game series between the Lakers and Heat. "I think the Nets are going to win the championship this year," he said. At least he's optimistic.
After chowing down a burger or two, athletes had the option of stepping outside to the rooftop patio where they could battle one another in EA Sports NCAA Football 11 and order Hennessey from a fully stocked bar. Most ballers agreed that Henny and the heat didn't mix and opted for water instead.
Aaron made his way outside for a bit and sipped a Pepsi beneath the hot California sun as he wiped sweat from his forehead. Nearby, Chris Bosh, who left with no swag, checked his watch and looked like he had somewhere to go. On his way out, he passed Farmar and nodded knowingly. One had a bag of swag and a championship ring. The other had neither.