Commentary
'Professor' hoping to make it as actor
Updated:
January 26, 2011, 12:07 PM ET
By
Chris Palmer
| ESPN the Magazine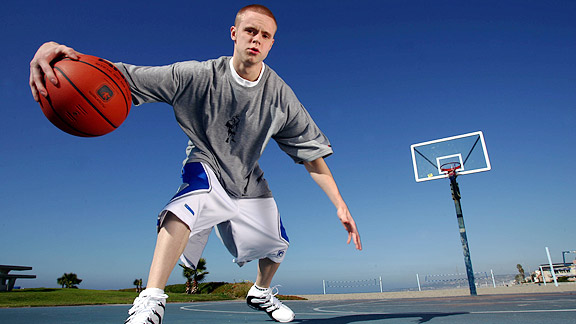 Donald Miralle/Getty ImagesGrayson "The Professor" Boucher is trying to balance basketball and a movie career.
When the doctors told him what was wrong with him, he couldn't believe it. But he didn't doubt it either.
After all, he could barely stand or keep food down. His diarrhea had orderlies carrying him to the bathroom every 15 minutes. In between the vomiting, that is. The medicine that doctors administered caused him to temporarily lose his hearing.
So this is what it's like to have malaria?
In late December, Grayson Boucher, better known to hoop fans as streetball star "Professor," was laid up in a hospital in Angola with a disease that kills nearly 3 million people a year. He contracted it from a mosquito while giving a basketball clinic earlier in the week.
"I started recording video diaries on my phone because I thought I was going to die," Boucher said.
He eventually pulled through in about 10 days and made it home for Christmas.
When he left small-town Keizer, Ore., in 2003 to join the And1 streetball team, he never imagined himself in such a predicament. He also never imagined he would become the biggest streetball star in the world, but thanks to his slick ball handling and ESPN's roundball reality show in the mid-2000s, that's just what he became.
Kind of sums up his life of late, the whole never imagining thing, so it's only fitting that he didn't see his next career path coming either: acting.
"It's something I never thought about before," says Boucher, 26. "It was just never available to me. Now I know it's something I want to do."
The confirmation was landing his first acting job in "Ball Don't Lie," about a young ballplayer in the foster care system who ends up on the streets of Venice, which debuted at the Tribeca Film Festival in 2008.
Since then he's relocated to Los Angeles to be closer to the business.
But like many actors starting out, Boucher is not immune to the exhaustive, sometimes withering process of gaining a foothold in Hollywood. "Ball Don't Lie" failed to get theatrical distribution and is in a holding pattern until its producers can strike a distribution deal. He auditioned several times for a role in the sports movie "Hurricane Season" but lost out. Another project with Chris Brown was foiled by Brown's assault charges against his then-girlfriend, singer Rihanna.
On a recent sunny afternoon at a Beverly Hills steakhouse, Boucher sat down in front of a plate of ribs and talked about his acting experience and where he hopes it can take him.
So how did the "Ball Don't Lie" offer come about?
After an And1 game in 2004 the director Brin Hill handed me a script as I was walking off the court. I thought he was a fan running onto the floor. He offered me the role right there on the spot. I thought he was crazy at first. I had never read a script before but I went home and read it. I loved the story but was actually more in love with the opportunity.
[+] Enlarge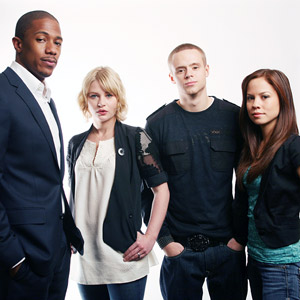 Scott Gries/Getty ImagesActors Nick Cannon, Emilie de Ravin, Grayson Boucher and Kim Hidalgo of the film 'Ball Don't Lie' pose for a portrait.
Did you actually have to audition?
I had to audition a couple different times but it was mainly for the investors because they wanted other actors for the role.
Like who?
They were really into Justin Timberlake. Some of the investors wanted Frankie Muniz from "Malcolm in the Middle." But Brin is a basketball guy, so he was looking for a baller to play the role.
How comfortable were you reading in front of people?
I wasn't too nervous. I was reading with potential actors for the female lead. I was thinking they can't expect me to be a pro but I just wanted to do the best I can.
What kind of direction did Hill give you during filming?
He basically told me to approach it like I would basketball. Over-prepare for everything so there's nothing you can't do. I took acting lessons for six month, so I felt I could handle whatever situation the script called for.
What's the most difficult thing about acting?
Summoning all kinds of different emotions was the toughest. I'm kind of a monotone guy so I had to break out of that and show emotions that I don't normally show. I had to be in love with a girl and make it seem real even though I barely knew her. There was a scene where I had to cry and the director told me to think of a memory that would help put me in that emotional state. It actually got to the point where I could cry on cue.
How do you think you did?
For a first-timer I thought I did a great job. I don't think people will say it was Oscar worthy but I think they'll say I was solid.
Do you like watching yourself on screen?
When the film premiered at Tribeca I was super nervous to watch it with an audience for the first time. I was actually sweating in my seat. But I don't mind it now. I've actually seen the movie about 30 times.
Who are your favorite actors?
I like to watch Leonardo DiCaprio, Nic Cage and Denzel Washington. Those are guys whose movies I pretty much always check out.
As an actor are you more interested in comedy or drama?
Definitely drama. Comedy is much harder. If you're not already doing stand up or don't have that comedic timing it probably won't work. Drama is more my speed.
So what's your Hollywood plan going forward?
I'm just taking meetings and going on auditions. It's a tough path to go because you're competing with so many other people who come to L.A. every day to pursue that dream. A lot of them are trained as actors and they're pretty versatile. They're going hard because they're just trying to survive until they make it.
So are you still hooping now?
I'm still playing with And1 doing mostly international games. We have a good group of guys and we travel to just about every continent. I'm gone about two weeks out of every month. The international audiences just go crazy for streetball. Japan is usually the best. They're smart fans who know all the moves and they bring a lot of enthusiasm.
What was it like in the early days of streetball when you started playing with And1?
It was like I was riding a big wave. I never could have imagined it in my wildest dreams. I played JV my junior year, one year of varsity and walked on to a JUCO but didn't get much playing time. Then all of a sudden by winning the And1 contest in 2003 everyone knew who I was and I'm on TV and people are asking me for my autograph. It was like my life changed overnight. My only hope going in was that maybe I could play on ESPN once or twice. I wasn't even thinking about getting a contract and playing all over the world.
"Ball Don't Lie" aside, how long before we see you on the big screen?
Hopefully soon. I have a manager that I'm working with and trying to get my name out there. Since I'm traveling overseas for streetball games so often I have to hustle when I come back to L.A. to make my contacts and meet people in the industry.
As far as I know chances of getting malaria in Hollywood are pretty small.
Let's hope.
Chris Palmer is a writer for ESPN the Magazine and a frequent contributor to ESPN.com Page 2. He can be reached on Twitter.