By Marcus Parker
Special to Page 2
Let me start with a confession that my email address has probably already given away. Yes, I am her brother.
I took great issue with your statement that her participation undermined the credibility of the contest. In fairness, I will admit that my initial reaction was, "I hope they didn't just give it to her," when I was told over the phone that she won. Yet, in watching the contest, I truly feel she deserved to win.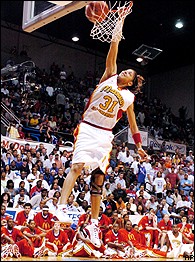 Candace Parker became the first female to win the slam dunk contest at the McDonald's High School All-America game.
Is she a more capable dunker than the other contestants? No. She's the third best dunker in our house!!! But on a knee eight months removed from a surgeon's knife and one month (!) from being unable to dunk at all, she had the ... well, if you think she's trying to be like a guy then this will really make you angry. She had the b---- to compete in a dunk contest against guys that few NBA players could match.
She was in over her head. But she won by choosing dunks that were within her reach, while the guys attempted dunks that were over their heads ... and around their backs ... and between their legs, and ... you get the point. Even if you don't like this story being billed as evidence of the closing gap between men and women in sport, you must be able to appreciate that it is an amazing story in a Buster Douglas vs. Mike Tyson or Villanova vs. Georgetown sort of way. It deserves all the hype that it has received.
The fact that she is a girl did have a "Spud Webb effect" on the judges. She did benefit from the other contestants missing their dunks. I'll even admit that I wish they would quit replaying the baseline angle of the "Dee Brown dunk," because it makes it obvious that she peeked. (Sorry, Can. I know you were runnin' outta dunks and had never tried that one before.) But do not claim that this was "handed" to her. She won it.
The fact that she entered the final round of competition in fourth place shows that the judges did not plan for the contest to be "tilted in her favor." The competition was taken as seriously as a slam-dunk contest should be -- at least, one in which Bryant Reeves is a judge. The only aspect of this media coverage that has been degrading to Candace has been your description of her dunks in your article. (Okay, maybe she dunked like the big, post-lockout Shawn Kemp, but definitely not Bird with a bad back!)
You ask, "Why can't we just celebrate Candace Parker's game?" But you would have never scrapped your column about Dwight Howard and written a story on Candace if she had not won the dunk contest. When she dunked in a game as a sophomore, attendance at games doubled. The gym was filled with newcomers who yelled "DUNK IT!" every time she got within 10 feet of the basket. Some of those people were still there her senior year -- not to see her dunk anymore, but to see her play.
That is why this publicity is good for women's basketball. Hopefully you will stay around, too, and "celebrate her game" with columns after this dunk hype subsides. She would much rather make headlines by helping Pat Summit win TITLE IX than be the poster child for it, anyway.