Commentary
The Super Bowl XLIV party report
Originally Published:
February 4, 2010
By
Jemele Hill
and
Laura Lane
| Page 2
MIAMI -- Guidos and Guidettes,
The economy has rebounded -- at least, that's what they've told us -- and the serious party-throwers who skipped the Super Bowl in Tampa last year are supposedly returning to Miami ready to restore their reputations.
Welcome to Super Bowl XLIV, otherwise known as Bringing The Party Back.
The Page 2 party team headed to South Beach cautiously optimistic that the 10th Super Bowl in Miami could live up to its legendary status -- so much so that we channeled our inner "Jersey Shore" to bring you this year's Super Bowl party report, especially because Miami is reportedly one of the locations being considered for Season 2 of the show.
With that said, the buzz on this year's parties was that they were going to be just as entertaining as Snooki looking for a man -- but obviously yielding much better results. They were going to be slicker than The Situation's hair, and all those who engaged in their daily GTL regimen would be rewarded.
We're rating this year's parties by the fist pump. As always, come Sunday, we'll rate the No. 1 party of Super Bowl week. Until then, check back here daily as we give you a special behind-the-scenes look at what's going down in Miami.
We guarantee it'll be a lot more interesting than talking about Dwight Freeney's ankle.
• Moves Magazine party (hosted by Ray Lewis and Ludacris)
Why that title: Moves Magazine is an exclusive, South Florida-based publication that caters to the rich, famous and athletically gifted.
Where and when: Gulfstream Park Racing and Casino in Hallandale Beach.
Performer: Melanie Fiona.
Celebrities we saw: Lawrence Taylor, Shannon Sharpe, Marcus Allen, Jared Fogle (of Subway fame), Donovan McNabb, Terrell Owens, Jerry Porter, Penny Hardaway, Deion Sanders, Marshall Faulk, Dennis Rodman and Albert Haynesworth.
[+] Enlarge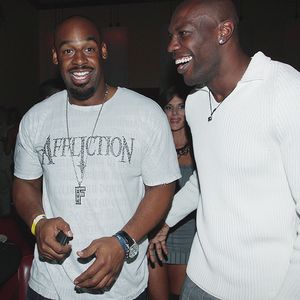 Johnny Nunez/WireImageYep, that really is Donovan and T.O., enjoying each other's company.
Celebrities who were confirmed, but we didn't spot: Ronnie Brown, Mitch Richmond, Vernon Davis, Jevon Kearse and Duane Starks. Ludacris was a no-show, but plenty of people seemed to be having a good time snagging the free liquor at his VIP table.
Overheard: It wasn't what we heard, so much as what we saw. At last year's Moves Super Bowl party, Donovan McNabb and Terrell Owens could not be more distant, but this year the two acted like long-lost brothers. McNabb and Owens hugged it out in the VIP room and chatted it up for quite some time, as other VIP'ers looked on in amazement. Don't know what was more awkward -- the crowd that surrounded McNabb and T.O's United Nations-like sitdown, or Jared from Subway hovering over those two like it was a $5 footlong commercial.
Food factor: Egg rolls, steak skewers and chicken fingers. The steak skewers were a bad idea because the steak wasn't exactly tender, and we're sure a few people walking around the party had beef remnants stuck in their teeth. Or was that just us?
Best party clothes: Shannon Sharpe looked snazzy in his corduroy blazer, which one partygoer said looked so soft "you could write your name in it." Purrrr.
Worst party clothes: The Moves party could have been renamed Cougartown. Spotted lots of "mature" women sporting poufs and wearing skintight dresses better suited for their daughters. We also spotted a couple wearing matching fedoras -- big mistake. And for the last time, body paint and form-fitting T-shirts are not for everyone.
What would The Situation say? He might have taken a lot of grenades, because there wasn't a lot of talent there, if you know what we mean. But Moves remains one of the most underrated parties at the Super Bowl. It reached shoulder-to-shoulder status within the first hour, and even as the time crept toward 2 a.m., athletes were still arriving. Nice touch to have a row of luxury cars -- from Bentleys to Lamborghinis -- lined up at the party entrance. We give it seven fist pumps.
• Playboy Golf VIP Players Party
Why that title: It's the pre-party for the Playboy Golf Super Scramble golf tournament at the Woodmont Country Club Thursday morning.
Where and when: At the Sagamore Hotel in Miami Beach.
Performer: No performers, just DJs.
Celebrities we saw: None. Some athletes floated in late.
Celebrities who were confirmed, but we didn't spot: Um, all of them. Including LeAnn Rimes, Eddie Cibriani, Akon, Nelly Furtado, Terrell Owens, Chad Ochocinco, Emmitt Smith, Tony Gonzalez, Clinton Portis, Daunte Culpepper, Michael Irvin, Warren Moon, Marcus Allen and Eric Dickerson.
Overheard: While waiting in line, the woman checking people in said to the silicone-clad gal in front of us, "You're hot. Are you playing in the golf tournament tomorrow, because you should. You're hot." Despite the meticulous credentialing process for both the pre-party and the golf tournament, the woman didn't even check our names -- she swiftly wrapped plastic bands around our wrists and promised there were lots of celebs inside. There were lots of scantily clad women who looked like they could've been bused in from either Vegas or the Jersey shore (possibly both), but there were no celebs. There were, however, lots of hopeful males hoping to get with a Guidette or two.
Food factor: No food.
Best party clothes: If you consider sequined minidresses and plastic 6-inch heels straight from a Guido and Guidette homecoming dance, then every woman there was a winner.
Worst party clothes: (See above)
What would The Situation say? The Situation would have had so many ladies to choose from, he wouldn't have known what to do with himself. You know how he accidentally invited two groups of girls over to the house on the same night in one episode and there was lots of drama? Something worse would have happened at this party. He also would have been fist-pumping on the dance floor, and sneaking a Guidette or two into the photo booth. He'd be vibing this bash.