Commentary
The Super Bowl XLIV party report
Originally Published:
February 7, 2010
By
Matthew Berry, Jemele Hill, Lynn Hoppes, Laura Lane, Carrie Stewart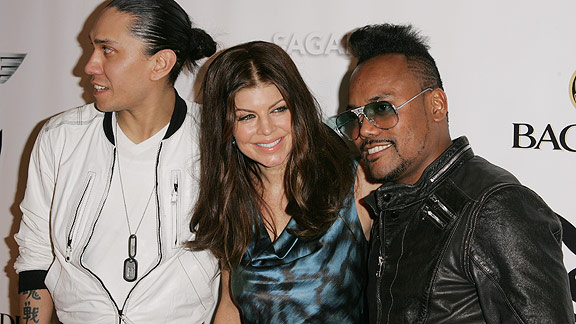 AP Photo/Carlo AllegriBlack Eyed Peas members Taboo, Fergie and apl.de.ap arrive for the Playboy party.
MIAMI -- Guidos and guidettes,
Our voices are raw. We now think champagne is one of the four major food groups. And after a week of partying, we've decided if this whole writing thing doesn't work out, we're going to become Victor Conte of plastic surgery.
It was a great week and we have lots of great fist-pump stories, most of which can't be repeated on this web site. It would have been impossible to attend every event, but we tried our best to do the Super Bowl XLIV party scene justice.
Now it's time to reveal the Page 2 party team's top three parties of the Super Bowl.
1. The Second Annual Big Game Big Give at Michael Bay's Home
2. CAA
3. Maxim's Big Game Blowout Party
Honorable mention: ESPN The Magazine's NEXT Party
We're fairly certain our process was better than the BCS'.
Before we get to our "Jersey Shore"-inspired recaps of the week's best Super Bowl parties, we chase down Mike the Situation to talk about partying on Super Bowl Sunday.
"The must-haves at a Super Bowl party: women, music and some chips and dips," Mike the Situation said. "If you have good people, they should have a good time no matter where they go."
And who does the Situation want to win?
"I'm a big fan of Reggie Bush's girl," he said, "so I'm going to go with the Saints."
• Playboy's Super Saturday Night Party
Why that title: After taking a year off from the Super Bowl party scene, Playboy returned.
Where: Sagamore Hotel, Miami Beach
Performers: The Black Eyed Peas, including Fergie, who performed three songs. Will.i.am DJed until the party shut down at 4 a.m.
Celebrities we saw: Jason Campbell, Isiah Thomas, Fonzworth Bentley, Dhani Jones, Darren McFadden and Tommy "Tiny" Lister, known to most people as "Deebo." We were so mesmerized by the Playboy mermaids that we missed the A-listers.
Celebrities who were confirmed, but we didn't spot: Laurence Fishburne, Sky Nellor, Holly Montag, Tony Gonzalez, Asher Roth and DJ Ross One.
Overheard: Since Dallas Cowboys running back Felix Jones couldn't get into the Playboy party, he chose to entertain himself by razzing Saints fans outside the Sagamore Hotel. As Saints fans walked past him, Jones yelled, "Who Dat!" and once they responded, he countered with "We Beat Dat."
Food factor: We saw servers carrying trays, but they were always empty. Must have been some sort of Jedi mind trick.
Best party clothes: Easily, the mermaids. Two women floated in the pool for several hours and managed to stay looking fabulous. We thought Hef having women dance in a human-sized martini glass was crazy, but he really outdid himself with this one.
Worst party clothes: Too many men in suits. This was a party, not a sales meeting.
What would The Situation say? I guess Playboy called itself taking the "high road" and decided not to stick to its usual game plan of busing in the best-looking women from the area. The Situation would not have been pleased with that, even though there were more than 40 bunnies, including 10 of the most recent Playmates, and several go-go dancers. The Black Eyed Peas and Fergie gave an electric performance that powered the party into the early-morning hours, but this was still tame compared to previous Playboy Super Bowl soirees. It was nice to see Playboy back in the mix, but we were expecting a little bit more. Still worth seven fist pumps.
• Maxim's Big Game Blowout Party
Why that title: Maxim had the largest turnout of the parties and the largest square footage as it went through a hotel, pool area and beach area.
Where: Raleigh Hotel, Miami Beach.
Performers: None, but super DJ Jermaine Dupri had the party rocking.
Celebrities we saw: Bow Wow, Nelly, Tom Arnold, Brody Jenner, Marlon Wayans, Keenen Ivory Wayans, Evander Holyfield, Lennox Lewis, Drew Lachey, Jerry Jones, Wade Phillips, All-American Rejects.
Celebrities who were confirmed, but we didn't spot: Cheryl Burke, Karina Smirnoff, Michael Phelps, Dennis Haysbert, Asher Roth, Daughtry and Gavin DeGraw.
Overheard: Green Bay Packers running back Ryan Grant couldn't get into the party. He thought someone had put him on a list and he could just show up. Nada. Not happening.
Food factor: Crab cakes were everywhere. No one wanted to eat. Everyone wanted to dance.
Best party clothes: Everyone was casual because it was partly on the beach. But the hottest look was women in tight black dresses taking off their shoes and dancing in the wading pool.
Worst party clothes: Too many men in suits. This was a party, not a sales meeting. Hey, didn't say that about the party above?
What would The Situation say? He would have been spending all night dancing and pumping his fists. Girls were plentiful, and the music was hopping. But not a lot of A-list celebrities, so Mike probably would have had a shot at more girls. Eight fist pumps.
• GQ's Big Pre-Game at the Bud Light Hotel
Why that title: Named after the magazine.
Where: The Miami Doubletree Surfcomber on South Beach, which changed its name to the Bud Light Hotel in honor of Super Bowl week.
Performer: T-Pain showed up unexpectedly and performed a set. Bravo.
Celebrities we saw: Warrick Dunn, T Pain, Chris Johnson, Percy Harvin and Steve Slaton.
Celebrities who were confirmed, but we didn't spot: Hines Ward, Leon Washington, Jim Kelly and Chris Long.
Overheard: A couple of partygoers overheard group of women who were, shall we say, surgically enhanced, playing "real" or "fake."
Food factor: None
Best party clothes: Hard not to love T Pain's dynamite platinum chain, which we're sure was worth the gross national product of Guam.
Worst party clothes: While you can't deny Chris Johnson's skills as a running back, the jeans he had on looked like they were bought in a resale shop. There's a big difference between vintage and homely.
What would The Situation say? The Situation would have very much enjoyed this male-to-female ratio, which was above-average by Super Bowl party standards. Even better, although the beverage of the title sponsor was pushed, partygoers still were able to enjoy a full, open bar. The crowd was manageable but still full, and although there wasn't a lot of dancing, the music was spectacular. GQ rebounded nicely from last year's substandard party to notch eight fist pumps.
• The Second Annual Big Game Big Give at Michael Bay's Home
Why that title?: The charity event before the Super Bowl benefits the Giving Back Fund and was hosted at Michael Bay's Miami Estate.
Where: Michael Bay's Miami Beach Estate
Performer: None.
Celebrities we saw: Michael Bay, Brad Penny, Ed Westwick, Jessica Szohr, Joanna Krupa, Chace Crawford, AnnaLynne McCord and Kellan Lutz.
Celebrities who were confirmed, but we didn't spot: Kristin Cavallari, Brandon Marshall, Maurice Jones-Drew and Jennifer Lopez.
Overheard: Chace Crawford was seen roaming the estate on a search for spicy chicken fingers. Ed Westwick admitted he didn't know he was going to a benefit but was happy to be there. The English-born Gossip Girl star also said the Super Bowl was his first American football game ever. Not a bad game to start with!
Food factor: Some of the best food we've had all weekend created by Jonathan Eismann's Pacific Time included pan-fried shrimp, tuna tartar, short ribs, raw salmon, stir-fried duck and spicy chicken fingers.
Best party clothes: It's really hard to choose because every person inside looked as though personal stylists had dressed him. From Michael Bay's perfectly casual yet sleek suit to Jessica Szohr's black and beige cocktail dress, props to everyone all around for knowing how to dress at an A-list bash.
Worst party clothes: This is the only party during all of Super Bowl week when every single person inside was dressed to perfection. However, Russell Simmons was wearing his signature baseball cap, and we still think he needs to retire that thing. It doesn't look good. It's not classy, and it's more annoying than rap stars who wear sunglasses indoors.
What would The Situation think? The gorgeous estate bordered a large pool that had a stone bridge in the center, which crossed over to the other side of the house. Transformers and Pearl Harbor director Michael Bay and the A-list celebrities were mingling around the house, chatting with partygoers, movie execs and other industry honchos. If The Situation was invited to this high-class affair (which would be highly unlikely), he most likely would not know what to do with himself without any fist-pumping quality music, trashy girls or strobe lights at this classy affair. However, he would have loved the gifting lounge, which handed out some Man Spanx and Hydroxycut. This event was one of the hardest tickets to get into and getting to mingle among Hollywood's elite in their own home made this a night that won't be forgotten. I'm going with 10 fist pumps. Nicely done, Mr. Bay. Nicely done.
• Axe Lounge at LIV at Fontainebleau
Why that title?: The club was sponsored by Axe all weekend, thus the name.
Where: The Fontainebleau Hotel Miami
Performer: Jennifer Lopez
Celebrities we saw: Jennifer Lopez, Chace Crawford, Jessica Alba, Stephanie Pratt, Audrina Patridge, Kristin Cavallari and Lauren Bosworth
Celebrities who were confirmed, but we didn't spot: Kim Kardashian
Overheard: "The Hills'" camera crew was at the club filming all the drama between "The Hills" girls. "Doesn't Audrina hate Kristin Cavallari?" one partygoer was overheard saying as people watched the ladies dance the night away together. "Reality TV is so fake!"
Food factor: None
Best party clothes: Jennifer Lopez's skintight sparkly catsuit. People had mixed feelings about how she looked in it after she wore it during her performance on New Year's Eve. But does J.Lo care? No way! Although she'd usually get points off for wearing the same thing twice, we've got to give the girl props for not caring what people think.
Worst party clothes: All the girls from "The Hills" had on incredibly short dresses and were dancing on a balcony. No more needs to be said.
What would The Situation think? Between the females in short dresses, the flashing lights and deafening club music, The Situation would have had the time of his life. That being said, Jennifer Lopez went on more than an hour late, there was no open bar and no food. This party would have been eight fist pumps because the party scored J.Lo as its main act, but without even some midnight snacks or free sponsored drinks, we're going to have to give this party six fist pumps.
• DirecTV Celebrity Beach Bowl
Why that title: For the past four years, DirecTV has hosted this ocean-side flag football game pitting two teams of athletes and Hollywood stars against each other.
Where: On the beach behind the Gansevoort Hotel, Miami Beach.
Performer: All-American Rejects
Celebrities we saw: Jennifer Lopez, Taylor Lautner, Mark Sanchez ("coach" of the winning team), Eli Manning ("coach" of the losing team), Warren Moon, Rich Gannon, Eddie George, Merril Hoge, Mark Schlereth, Desmond Howard, Daryl Johnston, Dan Patrick, Taylor Lautner, Chace Crawford, Marisa Miller, Ed Westwick, Kellan Lutz, Nancy O'Dell, Brian McKnight, Michael Clarke Duncan, The Wayans Brothers, Olivia Munn, Jessica Szohr.
Celebrities who were confirmed but weren't spotted by us: None -- they were all the main attraction.
Overheard: "I want to have ten thousand of your babies, Taylor!" was but one of the many bizarre proposals that emanated from a large contingent of tweens in the stands, creating an ear-piercing chorus that was like totally trying to get the attention of the "Twilight" saga star. Maybe a little more surprising is what we didn't hear: any mention of J.Lo in the play-by-play. After the megastar's much-hyped addition to the beach bowl's roster, we were looking forward to seeing a little less diva and a little more Bronx. To our disappointment, Lopez remained sidelined after her coin toss. What are the odds DirecTV didn't want the liability risk of a $27 million gluteal injury?
Food factor: It was BYOF&B for the fans in general admission seats, but those in the VIP bleachers were treated to everything from couscous to martinis -- ya know, the usual football game fare.
Best party clothes: After this week's party parades of miniskirts, push-up bras and painted-on bikinis, it's time we give the guys some props: The best garb at the Beach Bowl, therefore, had to be the red-and-blue swim trunks worn by a pair of shirtless lifeguards. The two human Ken dolls were privy to a bird's-eye view of the game from a lifeguard stand overlooking the field, and neither missed a moment of the action. We sure hope no one picked game time to drown.
Worst party clothes: Think about it: The event was on Miami Beach -- right in the middle of the day, right in the middle of the beach. There were so many candidates, it was hard to choose … until we spotted the guy in the American flag-themed Speedo. Dude, did you really think that all you had to do was put on a white T-shirt and no one would notice? That is just wrong for so many reasons.
What would The Situation say? With half the cast of "Gossip Girl", a 90210-er and two "Twilight" hotties on hand, The Situation wasn't coming anywhere near this event. The Situation doesn't roll with preppy poster boy dudes who grace the pages of Tiger Beat and have names like Kellan, Taylor and Chace. This event gets seven fist pumps. We docked it half a point for the couscous.
• ESPN The Magazine's NEXT Super Bowl party
Why that title? Named after the magazine's NEXT campaign, which focuses on the "next" generation of superstar athletes.
Where: Fontainebleau Hotel, Miami Beach, Friday. Those White House party crashers would have been out of luck at this joint. It had to be the most difficult party to get into. You had to know at least three somebodies to get in.
Performers: Keri Hilson and Ne-Yo commanded the stage, while Q-Tip commanded the DJ booth. And Nelly served as the party's VIP reporter.
Celebrities we saw: Matt Stafford, Robert Horry, Matt Light, India Arie, Ronnie Brown, Stephen Jackson, Ryan Grant, Jason Campbell, Mario Williams, Vernon Davis, Asante Samuel, Maurice Jones-Drew, Larry Fitzgerald, Donovan McNabb, Jermaine Dupri, Kevin Frazier, Terrell Owens, Jake Long, Marcus Allen, Charlie Batch, Keon Latimore, Ty Law, Osi Umenyiora, Roy Williams, LaMarr Woodley, Charles Oakley, Hines Ward, Ndamukong Suh, Jack Del Rio, Nick Lachey, Nene Leakes, Fred McGriff, Mitch Richmond, Deion Sanders, Isiah Thomas, Shawn Springs, Shante Broadus, Taboo and apl.de.ap from the Black Eyed Peas, Andre Berto, and of course, many of ESPN's on-air personalities. And that was just inside the party. Milling about in the lobby were Chris Brown and Usher. We weren't sure if they were arriving or leaving.
Celebrities who were confirmed, but we didn't spot: Hundreds were confirmed and in general, you couldn't go two steps without bumping into a professional athlete. We were expecting to see more non-athletes here, but they were at the Leather and Lace party and the Jay-Z concert.
Overheard: Lots of complaining about the length of time it took to get into this party. Even if you arrived when the doors opened, you still were forced to wait. The wait was somewhere from an hour to three hours just to get in, even if you had a pass. This was the longest entrance time for any party for the week. One partygoer observed, "I'd say the terror alert in here is definitely orange."
Food factor: Sliders and sushi.
Best party clothes: Larry Fitzgerald looked like a GQ model/investment banker with his light gray suit and designer frames.
Worst party clothes: And here we thought acid-wash jeans went out of style in the early 1980s. We spotted a pair and shockingly, that person also wasn't wearing jelly shoes and holding a Cabbage Patch kid.
What would The Situation say? This didn't quite live up to last year's Super Bowl party in Tampa -- c'mon, it's hard to redo epic -- but the Worldwide Leader in Sports turned into the Worldwide Leader in Boogie on Miami Beach. Past parties have featured a NASCAR garage and virtual games, but this time, ESPN dialed down the toys and went right to the heart of what makes a VIP Super Bowl party great: fantastic music, high energy and lots and lots of fabulous people. Q-Tip was outstanding and performers Keri Hilson and Ne-Yo were dazzling. We had to feel a little sorry for other parties competing. A solid 7½ fist pumps.
• Pepsi Refresh Project Launch Party
Why that title? This was a huge party for the Pepsi Refresh Project, which grants money for NFL player-sponsored charities. This year 500,000 fans voted for Drew Brees' idea and he was given the $100,000 Pepsi Refresh grant that will help New Orleans-based Hope Lodge provide rooms for cancer patients and their caregivers. $25,000 grants were awarded to Mark Sanchez's and DeMarcus Ware's ideas. Rihanna was there to host the event.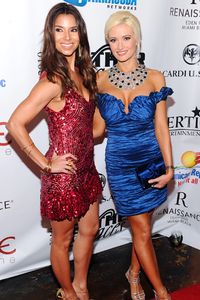 AP Photo/Evan AgostiniActress Roselyn Sanchez and TV personality Holly Madison arrive for the Leather and Lace party.
Where: At Fontainebleau Miami Beach LIV Nightclub
Performer: DJs Joel and Benji Madden
Celebrities we saw: Rihanna, Mark Sanchez, DeMarcus Ware, Joel Madden, Benji Madden, Deion Sanders, Lance Bass and Joe Mauer
Celebrities who were confirmed, but we didn't spot: None
Overheard: When a video was shown of Drew Brees, DeMarcus Ware and Mark Sanchez talking about their grant ideas, the Jets quarterback started laughing as he stroked his newly shaven face when he saw his former scruffy self on the big screen and leaned over to a friend to comment about his beard. Sanchez, Ware and Brees' wife, Brittany, waited outside Rihanna's dressing room to meet the singer before the presentation. "I'm a huge Rihanna fan," Brittany Brees was overheard saying.
Food factor: A surprisingly great assortment including braised beef, roasted pork, roasted chicken and deserts including mini cheesecakes and chocolate. The open bar wasn't restricted to certain sponsored brands, which is how the high-class parties do it.
Best party clothes: It isn't necessarily clothing, but after being reminded of what Sanchez looked like with his overgrown beard, we have to say that the clean-cut quarterback was looking sharp.
Worst party clothes: Rihanna's turquoise metallic embroidered strapless dress with a huge ruffle around the front looked like an '80s prom dress gone wrong.
What would The Situation think? It is well-known that many of the Super Bowl parties have an uneven female-to-male ratio, with the male demo dominating. This bash, however, had a surprisingly high number of young females, but because many of the ladies were fawning over the pro athletes at the party (and Rihanna), it would be highly unlikely that The Situation would have had the attention he's used to on "Jersey Shore." That being said, between the open bar, quality selection of food, exceptional music from the Madden bros and solid celeb turnout, this bash gets the best rating yet, with a stellar 9½ fist pumps. The reason it wasn't a perfect 10? There was a little sound system snafu when Rihanna went to give the presentation.
• Jaws' South Beach Cigar Party
Why that title: Named after ESPN NFL analyst Ron Jaworski, aka "Jaws." The proceeds from the silent auction generated monies for the United Way of Miami-Dade and the United Way Jaws Youth Fund.
Where: Hotel Victor, South Beach.
Performers: None. Unless, of course, you count the sports memorabilia up for auction.
Celebrities we saw: Bill Cowher, Donovan McNabb and several of ESPN's NFL analysts, including Tom Jackson and Mike Ditka.
Celebrities who were confirmed, but we didn't spot: It was a small event (about 250 people), but it was completely sold out.
Overheard: McNabb joking with a partygoer who asked him whether he thought he would still be a Philadelphia Eagle next season. In response, the easygoing McNabb tapped a couple of random partygoers on their shoulders and asked, "Hey where am I going to be next season? Minnesota? Arizona?" Nice to know McNabb has a sense of humor.
Food factor: The ceviche at this event was spectacular. Besides that, your normal cheese and fruit trays.
Best party clothes: Since it was a cigar party, we saw several nicely dressed gentlemen in suits.
Worst party clothes: This is one of the few parties we attended in which the fashion rules were obeyed.
What would The Situation say? This might have been a little too grown-up for The Situation. There were no scantily clad women, and certainly no poufs. But every year, the party team tries to attend an affair that goes against the norm -- typically it's Leigh Steinberg's Saturday afternoon party but somehow we weren't invited (hint!) -- and Jaws' event was certainly a welcome change. You could actually have a real conversation with the person next to you and there was very little texting. Also, the variety of cigars provided to each guest were top notch. We promise we're not biased because Jaworski is technically our colleague, but this was one of the most underrated events at the Super Bowl. Despite the haze of cigar smoke, this party was a real breath of fresh air. Seven fist pumps.
• CAA Sports party
Why that title: Creative Artists Agency (CAA) -- a longtime agengy of actors, directors, writers -- has built CAA Sports into a powerhouse.
Where: The W Hotel, Miami Beach.
Performers: None.
Celebrities we saw: Cameron Diaz, Tom Cruise, Katie Holmes, Jessica Alba, Derek Jeter, Alex Rodriguez, Eli Manning, Terrell Owens, Knowshown Moreno, Robert Horry, Carrie Underwood, Jamie Foxx, Gilbert Arenas and Kate Walsh.
Celebrities who were confirmed, but we didn't spot: Uh, this is CAA. They didn't release a list.
Overheard: Carrie was gracious, talking with fans, and Cameron and Alex were dancing mighty closely. That was in a private area called the "Wall". Even if you could get into the party and even if you were a client of CAA, it didn't mean easy access into this room. That's where the real party was.
Food factor: Crab cakes galore. And champagne bottles were everywhere.
Best party clothes: Casual atmosphere with people walking around without their shoes.
Worst party clothes: Prom dresses look great but they are horrible for dancing. Lots of moving parts that come free and smack others in faces.
What would The Situation say?This party is the real deal. Lots of A-listers. Lots of food. Lots of alcohol. If you wanted to be seen, you had to be here. It's the party everyone in town was talking about. Nine fist pumps.
• Jamie Foxx and Friends party at the Bud Light Hotel
Why that title: The comedian/entertainer hosted the party and performed.
Where: The Miami Doubletree Surfcomber on South Beach changed its name to the Bud Light Hotel in honor of Super Bowl week.
Performers: Usher and Jamie Foxx. The rain forced Usher to cancel his concert on Friday, so Foxx graciously allowed Usher to share the spotlight Saturday night.
Celebrities we saw: Hines Ward, Michael Strahan and Raja Bell. Several hundred people gathered between the two stages on the main lawn and that made it virtually impossible to spot celebs. We cruised past several of the VIP poolside cabanas but still didn't spot anyone.
Celebrities who were confirmed, but we didn't spot: Andy Roddick, Tracy McGrady.
Overheard: Foxx told the party throng several times his intention that night was to "Blame it on the alcohol." Given the way he was pouring shots of alcohol for himself and his friends, we believed him.
Food factor: None that we saw, but as you probably could guess, the Bud and Bud Light were free and plentiful.
Best party clothes: It was hard to best Foxx and Usher. Usher started his performance in a three-piece suit and stylish trench coat and changed his clothes at least twice before his set was over. Foxx was dapper in aviator sunglasses and what looked like a Members Only jacket. We're sure it wasn't, but even if it was, Foxx made it look cool.
Worst party clothes: Let's just say spandex isn't for everyone -- especially if you have a waistline that could span South Beach.
What would The Situation say? Had the entire Jersey Shore crew been there, it would have been doing some serious fist pumping. Usher and Foxx performed separately on different stages, then came together for an explosive performance to cap the night. Although this event had more of a concert feel, Foxx made it feel like a real party with his genuine interaction with the audience. He was truly the party's host, cracking jokes on people and dancing. We liked the fact that he didn't keep people waiting, and he also deserves credit for allowing Usher to perform. A lot of entertainers would have had too much ego for that. Seven-and-a-half fist pumps.
• New Tide plus Febreze Freshness Sport Launch Event
Why that title? The event was to celebrate Venus Williams teaming up with Tide.
Where: The Recreation Deck at The W South Beach.
Performer: Solange Knowles and Pete Wentz DJ'd
Celebrities we saw: Kellan Lutz, Terrell Owens, Venus Williams, Serena Williams, Pete Wentz, Kelly Rowland, Solange Knowles and Gabrielle Union.
Celebrities who were confirmed, but we didn't spot: None
Overheard: Owens showed up and played tennis with Charles Oakley before competing in a two-on-two basketball game and Twilight star Kellan Lutz challenged his agent to tennis. Meanwhile, Venus Williams was giving tennis tips in a skin-tight violet Herve Leger dress. "Well, you've got to be careful," she said. "I don't have the normal strappings that I usually have on the court but I'm staying conscious."
Food factor: Mini-burgers, mahi mahi sliders, bruschetta, cupcakes, key lime pie, skewers, dumplings and an open bar.
Best party clothes: Lutz was wearing a Help Haiti shirt and said he was going to a charity telethon later that night. We love celebs who give back!
Worst party clothes: Although Venus looked damn good in that Herve Leger dress, it would have been better suited for a red carpet Grammy party than a casual daytime event.
What would The Situation think? The Situation is all about getting in some GTL every day: gym, tanning, laundry. This daytime event would have been right up his alley. There was a basketball court, tennis court, football target practice, cocktails, hors doeuvres and music. He could get some color being out in the sun and get a little workout by playing basketball and tennis. We have to hand it to the people at Tide, when it comes to daytime parties, this event was done to perfection. Not only did all of the celebs they invited show up (which included an A-list franchise movie star and top pro athletes), but there was plenty of delicious food to go around, a perfect number of people, great music and lots of games to keep partygoers entertained. Best of all, there was no VIP area, so the celebs were mingling among the crowd, which made everyone feel more relaxed and, of course, like a very important person. Nine fist pumps for throwing the perfect daytime bash.
• EA Madden Bowl XVI
Why that title: Each year, EA Sports hosts the Madden championship to determine the best athlete/celebrity gamer.
Where: Clevelander Hotel, South Beach.
Performer: None.
Celebrities we saw: Chad Ochocinco, Jared Allen, Tony Gonzalez, Miles Austin, Chris Johnson, Patrick Willis, Percy Harvin, Eric Dickerson, Amani Toomer, Vernon Davis, Roy Williams, Tim Tebow, Warrick Dunn, Clinton Portis, Warren Moon, Vincent Jackson, Kelenna Azubuike, Richard Dent, Maurice Jones-Drew (who won the tournament), Knowshon Moreno, Kirk Morrison.
Celebrities who were confirmed but weren't spotted by us: The Game, Reggie Wayne.
Overheard: Lots of laughter when a woman in four-inch platforms slipped on the dance floor as she tried to execute a complex dance move.
Food factor: No food that we saw, although you could get food elsewhere inside the hotel.
Best party clothes: The smart partygoers showed up in jeans and a T-shirt. Shockingly, several attendees were overdressed.
Worst party clothes: So much to choose from. Was it the guy who wore a cranberry do-rag to match his cranberry shirt? Was it the woman who wore a sequined halter top and Daisy Dukes? Or was it the guy whose collared shirt was so tight you could see his heart beating?
What would The Situation say? He would have Jerry Springer'ed the organizers because it was like Alaska in there, meaning the guys seriously outnumbered the girls. But that's to be expected at an event that's built around video games. Still, the music was fabulous and the party offered three levels of fun, including a rooftop that was perfect for cigar smokers. Athletes can be wary about cutting loose, but this was one party that they seemed totally at ease. And how can you not love a party at which Tim Tebow shows up?
Anyway, we give this one 7½ fist pumps. Just as the Summer Olympics don't really begin until the track-and-field events start, the Super Bowl party scene doesn't really kick off until this party.
• Super Skins Kickoff party
Why that title: This was the pre-party for the Super Skins Celebrity Golf Classic event. Proceeds from the event benefit several charities, including the Nick Lachey Foundation and the Jimmie Johnson Foundation.
Where: At Hotel 944 at the Eden Roc Renaissance Miami.
Performer: Snoop Dogg, who, as Nick Lachey said to us, was the highlight of the night.
Celebrities we saw: Nick Lachey, Vanessa Minnillo, Drew Lachey, Jimmie Johnson, Eli Manning, Michael Strahan.
Celebrities who were confirmed but weren't spotted by us: Jerry Rice, Dhani Jones, Ken Griffey Jr., Jason Taylor, Joey Fatone, Jamie Moyer.
Overheard: NASCAR driver Jimmie Johnson made a brief appearance at the party. "We're racing this weekend and next weekend, so I literally flew in an hour ago and we're going to fly back [right after the party]," he told Page 2. What a great party! Last year, Lachey and Johnson made their bash a guys weekend, but this year they both brought their ladies. Johnson brought pregnant wife Chandra, and Lachey had girlfriend Vanessa Minnillo on his arm. She apparently took a long time to get ready, which was why Lachey was 90 minutes late to his own party.
Food factor: No food.
Best party clothes: Eli Manning's pastel linen suit jacket made it look like he was ready to play polo instead of rocking out to Snoop Dogg. But because he's Eli Manning, he can wear whatever he wants and still look good.
Worst party clothes: A man dressed like the Jose Cuervo pirate, fully decked out in a red coat and pirate hat. The tequila maker was a sponsor, and the publicist desperately wanted the pirate to take a picture with Nick Lachey and Jimmie Johnson. He got his wish.
What would The Situation say? There is no doubt The Situation would have used the open bar to his advantage. We can just hear it now: "Hey, can I buy you ladies a drink? This round's on me. But, um, only Jose Cuervo drinks." There was one grenade at the party who had a blond pouf that gave Snooki's famous 'do a run for its money in terms of height. Another tanned, dark-haired woman was running around the red carpet, telling people that she gets mistaken for Snooki all the time. Lets just say The Situation would have felt right at home. With the bonus surprise of Eli Manning and his family showing up, this party gets a solid eight fist pumps.
• Moves Magazine party (hosted by Ray Lewis and Ludacris)
Why that title: Moves Magazine is an exclusive, South Florida-based publication that caters to the rich, famous and athletically gifted.
Where: Gulfstream Park Racing and Casino in Hallandale Beach.
Performer: Melanie Fiona.
Celebrities we saw: Lawrence Taylor, Shannon Sharpe, Marcus Allen, Jared Fogle (of Subway fame), Donovan McNabb, Terrell Owens, Jerry Porter, Penny Hardaway, Deion Sanders, Marshall Faulk, Dennis Rodman and Albert Haynesworth.
Celebrities who were confirmed, but we didn't spot: Ronnie Brown, Mitch Richmond, Vernon Davis, Jevon Kearse and Duane Starks. Ludacris was a no-show, but plenty of people seemed to be having a good time snagging the free liquor at his VIP table.
Overheard: It wasn't what we heard, so much as what we saw. At last year's Moves Super Bowl party, Donovan McNabb and Terrell Owens could not be more distant, but this year the two acted like long-lost brothers. McNabb and Owens hugged it out in the VIP room and chatted it up for quite some time, as other VIP'ers looked on in amazement. Don't know what was more awkward -- the crowd that surrounded McNabb and T.O's United Nations-like sitdown, or Jared from Subway hovering over those two like it was a $5 footlong commercial.
Food factor: Egg rolls, steak skewers and chicken fingers. The steak skewers were a bad idea because the steak wasn't exactly tender, and we're sure a few people walking around the party had beef remnants stuck in their teeth. Or was that just us?
Best party clothes: Shannon Sharpe looked snazzy in his corduroy blazer, which one partygoer said looked so soft "you could write your name in it." Purrrr.
Worst party clothes: The Moves party could have been renamed Cougartown. Spotted lots of "mature" women sporting poufs and wearing skintight dresses better suited for their daughters. We also spotted a couple wearing matching fedoras -- big mistake. And for the last time, body paint and form-fitting T-shirts are not for everyone.
What would The Situation say? He might have taken a lot of grenades, because there wasn't a lot of talent there, if you know what we mean. But Moves remains one of the most underrated parties at the Super Bowl. It reached shoulder-to-shoulder status within the first hour, and even as the time crept toward 2 a.m., athletes were still arriving. Nice touch to have a row of luxury cars -- from Bentleys to Lamborghinis -- lined up at the party entrance. We give it seven fist pumps.
• Playboy Golf VIP Players Party
Why that title: It's the pre-party for the Playboy Golf Super Scramble golf tournament at the Woodmont Country Club Thursday morning.
Where and when: At the Sagamore Hotel in Miami Beach.
Performer: No performers, just DJs.
Celebrities we saw: None. Some athletes floated in late.
Celebrities who were confirmed, but we didn't spot: Um, all of them. Including LeAnn Rimes, Eddie Cibriani, Akon, Nelly Furtado, Terrell Owens, Chad Ochocinco, Emmitt Smith, Tony Gonzalez, Clinton Portis, Daunte Culpepper, Michael Irvin, Warren Moon, Marcus Allen and Eric Dickerson.
Overheard: While waiting in line, the woman checking people in said to the silicone-clad gal in front of us, "You're hot. Are you playing in the golf tournament tomorrow, because you should. You're hot." Despite the meticulous credentialing process for both the pre-party and the golf tournament, the woman didn't even check our names -- she swiftly wrapped plastic bands around our wrists and promised there were lots of celebs inside. There were lots of scantily clad women who looked like they could've been bused in from either Vegas or the Jersey shore (possibly both), but there were no celebs. There were, however, lots of hopeful males hoping to get with a Guidette or two.
Food factor: No food.
Best party clothes: If you consider sequined minidresses and plastic 6-inch heels straight from a Guido and Guidette homecoming dance, then every woman there was a winner.
Worst party clothes: (See above)
What would The Situation say? The Situation would have had so many ladies to choose from, he wouldn't have known what to do with himself. You know how he accidentally invited two groups of girls over to the house on the same night in one episode and there was lots of drama? Something worse would have happened at this party. He also would have been fist-pumping on the dance floor, and sneaking a Guidette or two into the photo booth. He'd be vibing this bash.