Party of Five gets its royal on
Originally Published:
April 27, 2011
Page 2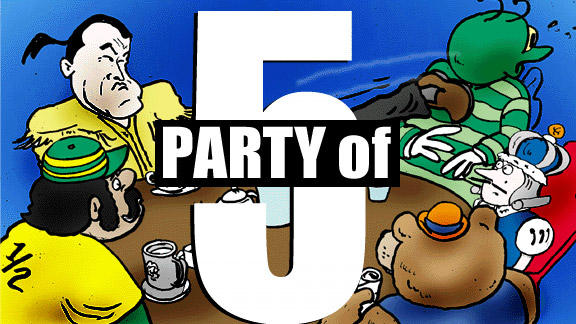 Kurt Snibbe/ESPN.comThere is no greater way to waste your precious time than with the Party of Five.
Welcome to another edition of Page 2's Party of Five, where five writers tackle five questions that the world needs answered right now.
(Or later, depending on how much time you have to kill.)
Today, we cover Tiger Woods' return to the Not-So-Gentle Strip, Lyoto Machida's brave repudiation of Miyagi Dojo fighting techniques, the Sacramento Kings not filing divorce papers because of love the economy stinks and their house is underwater, snarky college football billboards, snarkier royal matrimony predictions, and a cash 'n' football scandal that involves an SEC state ... but not an SEC team!>
Patrick Hruby: Something ridiculous happened in Florida?
DJ Gallo: I don't think this should be illegal. The risk of betting on 5-year-olds playing football is punishment enough. It's pretty tough to get someone to successfully shave points for you when he can't add or read.
Jim Caple: Like DJ said: They're just foolishly throwing their money away. Money their families need. Money that should be going to government-run lotteries and scratch-off games.
Hruby: Also, it's only going to get worse if the NFL can't get its labor-management dispute resolved. All those unspent gambling dollars will have to flow somewhere.
Mike Philbrick: I think we should try being a little more glass is half-full here. These guys are enthusiastically taking an interest in the lives of children! Just watch the video again and squint your eyes a little so you don't see the fights, weed, booze and money exchanging hands. Also, when anyone speaks, sing Whitney Houston's "Greatest Love Of All" as loudly as you can.
Thomas Neumann: Why do I have a sneaking suspicion that Luther Campbell is somehow behind all this?
---
Philbrick: Accepting any award and thanking God and not Tim Tebow.
Hruby: SEAL Team Six killing Osama Bin Laden with the help of a 1970 Cutlass, then crediting Charlie Sheen.
Philbrick: Machida is going to get a little visit from Law and Order. No, not the Columbia Pictures legal team for copyright infringement. I'm talking Chuck Norris' left and right legs. There's a code in the karate brotherhood. And this guy broke it.
Hruby: Karate brotherhood? Nobody cool does just karate anymore.
Gallo: Sure, it's a breach of the martial arts code, but Machida was doomed either way. "My finishing move? Where did I get that from? You know Ralph on 'Dancing With The Stars'? Yeah, I got it from him."
Philbrick: Right ... but two things: (a) You can't spell Macchio without macho; (b) Daniel LaRusso's kick to Johnny Lawrence's face set that hairstyle back 25 years. And then Justin Bieber and Tom Brady pulled it out of its shallow grave.
Neumann: Speaking of appearances, Seagal is looking a lot like the illegitimate offspring of Marlon Brando and Meatloaf.
Caple: Are you sure Seagal isn't just wearing one of those Eddie Murphy fat suits?
Hruby: He's just getting into character for "Lawman," the way Stallone did for "Copland." And by getting into character, I mean Krispy Kremes.
---
3. Translate the following statement from Sacramento Kings co-owner Joe Maloof: "We've always said we think Sacramento has the best NBA fans in the world. Their overwhelming show of support was incredible. But now they realize that we're giving them another opportunity and we're anxious to play basketball."
Gallo: "Attention, Sacramento fans: In lieu of cheering, just hand us cash."
Hruby: "Pony up, Sac-Town, or else we're moving to Texas to become a high school football team."
Caple: "Consider this your opportunity to come to The Palms -- where we will gladly accept any and all bets that the Kings will still be in Sacramento in two years.''
Philbrick: "It puts the money in the basket. It does as it's told or else it gets hosed again." By the way, this is way more effective when said in this voice.
Neumann: "We're staying at least one more season in Sacramento to enjoy the soothing ballads and positively irresistible melodies of hometown rockers Tesla."
Philbrick: Hold on there, Chief -- if you dare besmirch the genius behind this video, then I'm going Segal/LaRusso on you.
---
Gallo: Also from Tiger's Twitter: "We both walked away winners." That's right: Tiger is a winner again. Take that, Ian Poulter!
Hruby: This is definitely a new Tiger. The old one would have been hanging out with Hootie.
Neumann: Are these guys strictly charity event acquaintances? Or do you think they go out on the town together for chicken wraps?
Philbrick: So what if Tiger is back in Sin City hanging with well-known lady-killer John Mayer? I'm fine with it. Anything to keep Tiger from falling off the wagon and succumbing to his most self-destructive habit: hanging out backstage with Nickelback.
Caple: No big deal. Just so long as Zach Galifianakis (of "Hangover" fame) didn't wake up with Tiger in his hotel bathroom.
---
5. A billboard on Michigan's I-94 reading "Liar, Liar, Vest on Fire!" taunts Ohio State Jim Tressel's issues with the NCAA and truthiness. Suggested similar sports billboards?
Gallo: Billboards for any northbound Ohio roads that head into Michigan: "Only ___ more miles to easy wins!"
Neumann: "Welcome to Columbus -- Where everything except disbelief has been suspended."
Hruby: Before the entrance to Auburn's football stadium: "No-Interest Loans. Inquire Within!"
Philbrick: Outside I-85 in Atlanta, Ga.: "Welcome to Braves Country!*
*Under 17 Requires Accompanying Parent Or Adult Guardian."
Caple: Outside I-5 in Anaheim: "410 miles to Sacramento, proud home of the Triple-A River Cats.''
---
EXTRA CREDIT: Which celebrity couple will last longer -- William and Kate, or Jay Cutler and Kristin Cavallari?
Hruby: Better question -- which King will see his hairline last longer, William or LeBron James?
Neumann: Cutler and Cavallari. When in doubt, go with the deeper gene pool.
Caple: The Royals. Can't wait for their upcoming reality show: "William and Kate Plus Eighteen More Freeloading Windsors.''
Hruby: Freeloading? Wearing that many epaulets on a regular basis is hard work. You think Michael Jackson was stressed out over his music?
Gallo: I have no idea. But if I had to guess who had the best shot to make it through a whole playoff game, I'd go:
1. Kristin Cavallari
2. Kate Middleton
3. Prince William
4. Jay Cutler
Hruby: I think you're rating Cutler too high.
Philbrick: Editor's note: Mr. Philbrick attempted to research this question, but somewhere between a TMZ story on Cutallari and a report on royal wedding hats in The Sun he was literally bored to death.