Party of Five makes a regrettable wager
Originally Published:
June 14, 2011
Page 2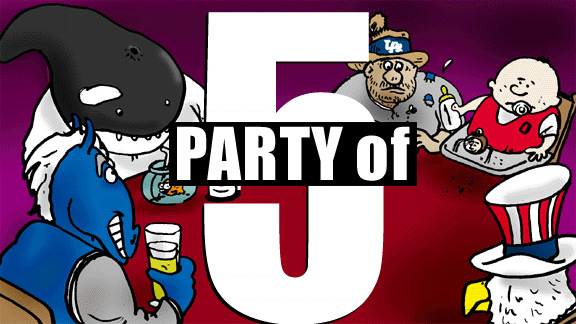 Kurt Snibbe/ESPN.com
Welcome to another edition of Page 2's Party of Five, where five writers tackle five questions the world needs answered right now.
(Or later, depending on how much time you have to kill.)
Today, we'll discuss Birdman's bad bet, Derek Jeter, the Dodgers, kids named "Tressel" and the Stanley Cup finals.
1. Rap mogul Brian "Baby" Williams, also known as "Birdman," reportedly lost a $2 million bet on the Miami Heat in the NBA Finals. What can we learn from this?
Michael Philbrick: I think we all know that anything involving a slam dunk and a Birdman just don't mix.
Dave Wilson: Well, Birdman reportedly just bought an $8 million Maybach Exelero to add to his $2.1 million Bugatti Veyron and $1.5 million Maybach Landaulet. So it just means he had too much money to begin with.
Jim Caple: Apparently, Birdman is also the financial adviser for the McCourts and Fred Wilpon.
Thomas Neumann: He made a rookie mistake betting big on the NBA Finals. Everyone knows the smart money in South Florida is wagered on youth football.
DJ Gallo: There's a rumor that Mark Cuban's bar tab was $200,000 Sunday night. So, I think the lesson is this: Try to be a mogul or billionaire, then you can just throw money around like it's nothing.
---
2. Derek Jeter could reach 3,000 hits this week. What's an appropriately grandiose way for the Yankees to celebrate the occasion?
Gallo: They should stop the game and announce Derek Jeter as "the first player in baseball history to reach 3,000 hits." Because, in Yankee world, if it hasn't been done by a Yankee before, it hasn't really been done.
Neumann: That's only half true. Former Yankees Dave Winfield, Rickey Henderson and Wade Boggs all eventually topped 3,000 hits. Although all three are Hall of Famers, none of them was good enough to accomplish the feat in a Yankees uniform.
Wilson: They shall present The Captain with a schooner appropriately named "The Captain" that he may always captain henceforth, from his captain's chair. "Captain America" will be renamed "Derek Jeter," and a special commemorative edition of Cap'n Crunch "Oops! All Baseballs" will be produced.
Philbrick: I think Jeter should be the one saying thanks by taking everyone out for a nice dinner.
Caple: They should have him greeted at first base by all 3,000 movie starlets he has slept with.
---
3. The Dodgers owe Manny Ramirez a payment of $8.33 million by June 30. What can the cash-strapped team do to pay him off?
Wilson: This is a weird, radical idea. But they could sell the Los Angeles Dodgers to a person who has the type of substantial monies to pay professional baseball players the salaries that they have been contractually given by the Los Angeles Dodgers.
Philbrick: There is a legal loophole here to get out of the payment plan that was cited in the state of California's McCourt v. McCourt. It involves an involuntary occurrence when encountering aforementioned fiduciary commitments, or, as it's more commonly known, "Franky Being Franky."
Gallo: Maybe they can trade his payments to the Mets for Bobby Bonilla's lower payments. Or what if the Mets and Dodgers bundle the bad contracts together, lie about their quality by saying they're for still-active players, then sell them to unsuspecting investors, eventually leading to an economic crisis? If the entire economy collapsed, I honestly can't say I'd be surprised to hear that the Mets and Dodgers were involved.
Caple: I like DJ's idea, but it's a little too complicated. They should just not pay Manny. There is at least a 60 percent chance he won't remember that they owe him money -- or, for that matter, that he ever played for them.
Neumann: 1) Maximize land use revenue by building a water treatment plant in part of the enormous Dodger Stadium parking lot. After all, "Chavez Latrine" has a nice ring to it.
2) Offer up Rafael Furcal as a baby sitter after Ramirez gives birth. This will give mom some needed "me time" to himself.
3) Have Frank and Jamie McCourt's ne'er-do-well sons mow Ramirez's lawn until the remainder of the debt is paid off.
---
4. If you named your child "Tressel," as 20 parents in Ohio did, what would you do now?
Wilson: I would petition my elected official to introduce legislation that automatically changes the first name "Tressel" legally to "Meyer."
Neumann: Many of the mothers of those children must be thinking about punching the fathers in the mouth for talking them into such a ridiculous idea. Which makes perfect sense when you figure that half of those women are probably named Woody. Now, if you'll excuse me, I think I hear little Ken-Yon Rambo Neumann crying upstairs.
Caple: Just have her go by her middle name, Brutus.
Philbrick: I would try to teach my kids a valuable lesson that it's never too late to do the right thing by getting legal proceedings in place to give them a proper name devoid of all this irrational behavior.
Gallo: I would do nothing. Because what's the point? A few years from now, it's likely the child will announce that he is vacating his name anyway. But if you're really set on the kid being named "Tressel," I suppose you could tattoo the name on his forehead.
---
5. Boston scored four goals in just over four minutes and routed Vancouver on Monday to force a Game 7 for the Stanley Cup. What would be the most entertaining way for this Bruins-Canucks series to end?
Philbrick: First of all, I do need it to end. I don't care if I'm from Boston, I don't like anything interrupting my "Friday Night Lights" schedule. So the most entertaining way would be anything involving a victory for the East Dillon Lions.
Caple: With goalie Roberto Luongo letting the Zamboni machine go between his legs.
Wilson: As Tim Thomas takes to the P.A. to lecture how his style would've allowed him to stop such heavy machinery with ease.
Neumann: This is a tough one. Vancouver fans already appear ready to riot, win or lose, but Boston fans seem to riot in earnest only after championships. So, at the risk of missing Zdeno Chara drinking from a clam chowder-filled Stanley Cup, I'm going to root for civic peace and a Canucks victory. After all, celebratory riots tend to do less damage than riots of angst -- the city of Detroit notwithstanding. … So, let's go with Alexandre Burrows distracting Tim Thomas by literally chewing through his pads and biting his ankles, which allows Ryan Kesler to go top shelf for the winning goal in the closing seconds.
Gallo: Vancouver scores a last-minute goal to take a 1-0 lead. Then, as the final horn sounds, Roberto Luongo stops a Bruins player on a breakaway by saving the puck off of his helmet. (Note: I would also accept Tim Thomas allowing an easy shot to trickle through his legs a la Bill Buckner. The goal here is exponential Boston fan pain. Deep down, that's what they want anyway.)