A look behind the curtain of Patriots espionage
Belichick Deflects Questions on Videotaping
As news continues to develop regarding allegations that the Patriots spied on the Jets during Sunday's game at the Meadowlands, Page 2 tapped into its extensive network of sources to reveal further details of New England's espionage.
• In a marketing coup through stadium sponsor Gillette, all Gillette razors sold nationwide are bugged and outfitted with GPS devices.
• Each one of Asante Samuel's dreadlocks is a stick of dynamite.
• Laurence Maroney's gold teeth come from his apprenticeship under Jaws.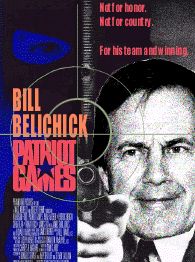 • Tom Brady can burn through locks with his smoldering eyes.
• The apostrophe in Donte' Stallworth's name is actually is a listening device.
• Vince Wilfork conceals a surveillance van underneath his jersey.
• Former wide receiver Reche Caldwell's eyeballs were actually surveillance cameras, but like his hands, they malfunctioned in the AFC Championship Game.
• Bill Belichick has hired Bill Belichick to maintain surveillance on Bill Belichick. (No one else can be trusted to handle such a sensitive assignment.)
• Belichick has the wives of 24 NFL coaches on his payroll.
• Defensive lineman Le Kevin Smith, offensive lineman Logan Mankins and wide receiver Jabar Gaffney are clearly using ridiculous aliases.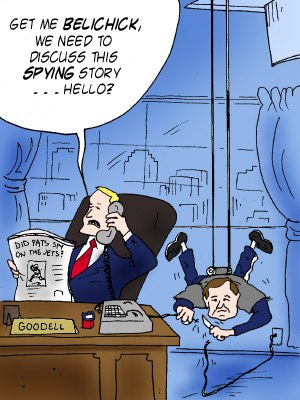 • Team bus equipped with smoke screen and oil slick devices.
• Adalius Thomas was signed from the Ravens to head New England's organized crime division.
• Ted Johnson knew too much, and we suspect Belichick had his memory erased.
• The entire Cincinnati Bengals' roster has been outfitted with tracking bracelets.
• An operative working inside the Dolphins organization executed Miami's trade for 37-year-old quarterback Trent Green.
• WR/DB/KR Troy Brown is a shape-shifter who can spy by becoming players on other teams.
• Tedy Bruschi is a superhero (but that's no secret).
• Wide receiver Wes Welker was signed primarily because he's able to fit in crawl spaces and doggie doors at opposing teams' headquarters.
Sound off to Page 2 here.