What baseball does better than any other sport is take us back to our childhoods. I'm not sure why, really, just that when I sniff the inside of a mitt, I immediately return to my days as a zero-tool (think Junior Ortiz without arms) little league catcher. It's a nostalgia thing. Life then might not have been better than life now, but it was significantly more carefree.
Of late, the man who has been doing it for me -- who has been reinvigorating my inner boy -- is Cincinnati Reds outfielder Josh Hamilton, a rookie unlike any you've ever heard of.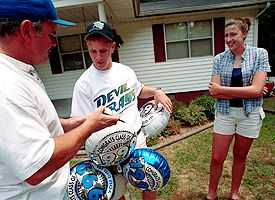 AP Photo/Karen Tam
Josh Hamilton seemed to be a picture of innocence after being selected No. 1 overall in the 1999 draft.
Back when I was a kid, I would religiously check the box scores to see how Ken Griffey, Sr., my idol, performed the day before. If he went 3-for-4 with two doubles, I was elated. If he struck out four times, I was bummed. If he sat on the bench, well, screw Billy Martin. How the hell could anyone play Steve Kemp over Griff?
When Senior retired 16 years ago, my box score scanning days ended. Out of habit, I'd still read the agate. But it was never with the same fanaticism.
Until now.
I first met Josh Hamilton eight years ago, when he was a senior at Athens Drive High School in Raleigh, N.C. At the time, Hamilton and pitcher Josh Beckett of Spring (Texas) High were the top two amateur ballplayers in the country -- a can't-lose choice for the Tampa Bay Devil Rays, who held the first pick in the upcoming June draft.
In Hamilton, I found what I'd long been looking for as a sports writer.
Here was a kid who appreciated everything he had, who loved the game, loved his parents, loved his teammates and took nothing for granted. Though clearly The Man at Athens Drive, Hamilton was as humble as the lowliest math team co-captain. He measured in at 6-foot-4 and 205 pounds, with dashing Justin Timberlake features, but refused to date extensively or attend the senior prom because, "I can't have anything bad happen to me now. There's too much on the line."
Just as impressive as his demeanor was his constellation of skills. Not only was Hamilton batting .556 with 11 home runs, but he was 7-1 with 83 strikeouts in 47 innings pitched. With a fastball that reached 97 mph, he easily could have been scouted as a pitcher, too.
"Josh is better at this game than anyone else I've seen in high school or college," John Thomas, the Athens Road varsity coach, told me. "Can you imagine someone so good at so much?"
Right then and there, I made up my mind: As the years passed, Josh Hamilton would be a guy I'd pay close attention to. After all, how many of us witness greatness at its blooming point?
Of course, by now you know what happened.
Over the ensuing seven years, Hamilton went from golden boy to addict.
He replaced Gatorade with crack and bowls of Wheaties with lines of coke.
From afar, I watched with profound sadness. This was Josh Hamilton -- the guaranteed future star. My guy.
In June 2002, I flew out to California to profile Hamilton, who was struggling with Single-A Bakersfield. We grabbed a bite to eat at a diner near the ballpark, and I was taken aback by a striking physical change.
Though Hamilton still maintained his boyish smile, coating his arms were layers of tattoos, one more intricate and odd than the next. It seemed so un-Josh -- at least the Josh I had briefly known. When I asked him about the artwork, Hamilton went quiet. "Yeah," he said. "It was a mistake."
What I didn't know then was the mistake was not the tattoos, but the drug activities at the tattoo parlors that grabbed Hamilton by the throat and refused to let go. By the time Hamilton finally cleaned himself up last year, he had missed nearly three full seasons due to suspensions related to his repeated usage.
And yet …
Despite nary a sliver of logic, I still hoped -- prayed -- that Hamilton would wind up in the majors; that the crack that had sapped him of money and will and pride had not killed his game, too.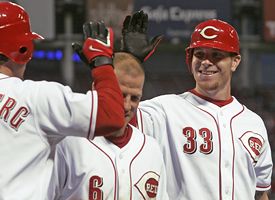 AP Photo/David Kohl
These days, Hamilton has us poring over box scores again, just like when we were kids.
So this spring, when the Cincinnati Reds acquired Hamilton in the Rule 5 draft and invited him to spring training, I went back in time to a boy, a newspaper and Ken Griffey, Sr. Each morning I would check the Reds' box scores, anxious to see if the ultimate underdog could somehow, some way survive. With each 2-for-3 game, my hope increased incrementally. With every 0-fer, I cringed. When Reds skipper Jerry Narron officially announced that Hamilton would open the year as his team's fourth outfielder, I nearly cried. I called up to my wife in the bedroom and screamed, "You're not gonna believe this! You're not gonna believe this!" (She was watching "The Real World: Denver," and didn't particularly care.) Now that Hamilton has learned to control his addiction, he is becoming the ballplayer everyone envisioned way back in the day. Entering Friday, Hamilton is hitting .333 with five home runs and 11 RBIs in 11 games. Most important, he is a story of hope and redemption and overcoming the odds; a role model for anyone who's ever had and lost a dream.
Dreams, like box scores, can be rediscovered.
Sometimes it just takes a little while.
Jeff Pearlman is a former Sports Illustrated senior writer and the author of "Love Me, Hate Me: Barry Bonds and the Making of an Antihero", now available in paperback. You can reach him at anngold22@yahoo.com.