Every kid has a Vince Carter.
Mine was Tony Campbell. Back in 1989, when Blumpy (as the portly guard was nicknamed) was averaging 23.2 points per game for the Minnesota Timberwolves, I convinced everyone I knew that -- were he not playing for a cruddy expansion team in a cruddy market -- Campbell would be the second coming of Andrew Toney. The guy was unstoppable. As stiffs like Randy Breuer and Gary Leonard did their best "Mr. Roboto" impersonations, Campbell darted left, darted right, hoisted 3s, hoisted 2s, slashed to the lane, slashed away from the lane.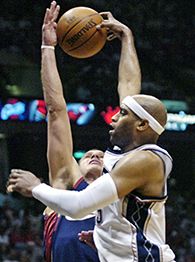 AP Photo/Bill Kostroun
Vince Carter hasn't been able to rise up and meet the challenge against the Cavs.
"Give Tony a chance with a good team," I declared, "and he's an All-Star."
In 1992, my prayers were answered. Campbell was traded to my hometown Knicks. "Now," I said, "watch the master at work."
The following year, New York went 60-22 and captured the Atlantic Division title.
Campbell played. On occasion. When the game was out of reach. When Bo Kimble was unavailable. Or every guard suffered the flu. Or if Pat Riley needed a laugh. Or if it was Watch A Knick Stink Night at Madison Square Garden.
To say Campbell was dreadful is an understatement, akin to saying "Justin Guarini hasn't quite hit it big." He averaged 7.7 points per game. He passed like Yinka Dare. "How's Tony Campbell doing?" became my friends' favorite mantra.
What could I say?
Now, here we are again. As the New Jersey Nets are on the verge of postseason elimination against Cleveland, I look at Vince Carter and I see Tony Campbell, Reggie Theus, Kelly Tripucka, Mike Woodson, Quintin Dailey and every other baller from my youth who wooed me with gaudy numbers and then crushed me with selfish/boneheaded/inane/immature play.
In every sport, there are those who thrive in larger-than-life moments, and those who light up Philips Arena in front of 3,200 fans in a mid-January scoring duel with Joe Johnson.
Vince Carter is the latter.
When the Nets stole Carter from the Toronto Raptors three years ago, I envisioned them morphing into an East Coast version of Showtime. With Jason Kidd running the point and the gravity-defying Carter and Richard Jefferson soaring along the wings, it'd be one alley-oop after another. Who needed Magic, Worthy and Michael Cooper? The Nets had J-Kidd, R.J. and Vinsanity. Let the good times roll.
It didn't take long to see, however, what many Toronto fans had known for years: Vinsanity was Vincrapity. In December when the games were meaningless, he would soar to the rim and dunk over the largest of goons. In May when the games were vital, he would launch countless jump shots, 70 percent of which clanged off the rim like ceramic plates on a tile kitchen floor.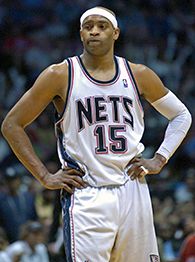 AP Photo/Bill Kostroun
A Hall of Famer? Don't think so.
On Monday night Carter shot 6-for-23 from the field and single-handedly cost New Jersey a chance at tying its series with Cleveland 2-2. Time and again, isolation plays were called for Carter, and all he could do was hoist up bricks. Then, with the Nets trailing by two in the final seconds, Kidd dished the rock to Carter, who promptly had the ball knocked away by Cavs guard Eric Snow.
Cleveland 87
New Jersey 85
Carter 0
Good night, Nets.
If anyone deserves a share of the blame, it's New Jersey coach Lawrence Frank -- who inherited a high-flying, faster-than-fast team that had recently appeared in two consecutive NBA Finals, and over time has turned it into Vince Carter and the Pips. With the NBA's best point guard on his roster, it's simply baffling that Frank has Kidd dribble up the court, pass the ball to Carter and stand back and watch. Not long ago, Kidd was making Tamar Slay and Brandon Armstrong look like legit NBA players. Now he's patio furniture.
If, one day, Hall of Fame voters look back on Carter's career and search for a defining, this-guy-is-in moment, they'll come up empty. The best they'll be able to do is search YouTube and watch Carter's slam over France's Frederic Weis in the 2000 Olympics -- a jarring dose of athleticism but, when push comes to shove, nothing beyond a cosmetic blip.
On the bright side for New Jersey, Carter is a soon-to-be free agent. And surely he'll be unable to resist the siren call of the Charlotte Bobcats, with whom he'll comfortably bob and weave amidst the 22-win tranquility of a half-vacant arena.
Who knows? Maybe the Nets can replace Carter with Gerald Wallace? After all, the ghost of Tony Campbell never dies. It merely haunts new generations of fans.
Pity them.
Jeff Pearlman is a former Sports Illustrated senior writer and the author of "Love Me, Hate Me: Barry Bonds and the Making of an Antihero", now available in paperback. You can reach him at anngold22@gmail.com.