When I was 2 or 3 months old, my mother dropped me down a flight of concrete stairs and into a bucket of boiling pork rinds.
When I was 6, I went through extensive electroshock treatment to rid myself of a lisp.
When I was 14, a softball slammed into my chest and stopped my heart for 48 seconds.
When I was 17, I saw my grandmother naked.
When I was 19, I smoked a cigarette laced with triclosan and perchlorate.
When I was 31, I paid $10 to see "From Justin to Kelly."
For the past year, the only CDs I've been permitted to listen to are Laurie Berkner's "Victor Vito" and the Wiggles' "Splish Splash Big Red Boat."
The point is, I have excuses. Lots of excuses.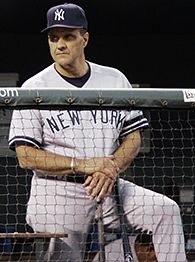 Brian Bahr/Getty Images
Don't look now, but Joe Torre
has piloted the Yankees right
back into the playoff race.
How else to explain my May 18 column entitled "It's time to let Joe Torre go" that appeared in this exact space? Surely, I was drugged.
Or poisoned.
Or drugged and poisoned.
Or maybe, just maybe, I was wrong.
Really, really wrong.
Too often we in the media are allowed to skate through life without suffering real consequences and/or admitting the errors of our ways. We label someone a bust based on a poor initial impression, and 14 years later Howard Johnson retires with 228 home runs and two All-Star Game appearances.
We say a player has faced too many setbacks to ever reach his goal, then we're amazed by Josh Hamilton's determination to overcome drug addiction. A New York City columnist writes a scathing piece beneath the headline "THE COWBOYS SHOULD BAN IRVIN NOW," then never acknowledges that Michael Irvin was found innocent of the 1996 rape allegations that evoked the story. A know-it-all bozo on ESPN.com's Page 2 opines that the Yankees should save their season by firing Joe Torre, then watches in amazement as New York's manager guides a severely flawed team back into the pennant race.
To get this out of the way (not that I have any reason to think he's reading my work): I would like to apologize to Joe Torre for a completely wrongheaded column that never should have been written. It was dumb. Beyond dumb. Looking back, I'm not quite sure what I was thinking, except that the Yankees -- 10½ games behind Boston at the time -- seemed to be sluggish, indifferent and in need of new guidance. Boy, was I off.
When I am not writing sports, I tend to spend much of my time these days bashing President Bush's decision to invade Iraq, often noting that, "Even I knew it was a bad idea." Well, here I am in my field of choice, eating the largest of humble pies. As soon as the Torre column hit the Web, one e-mail after another filled my inbox, nearly all of which preached patience and extolled the Yankees manager's endless virtues. In short, even they knew it was a bad idea.
Wrote Donald Taylor of Brooklyn, N.Y.: "You want to fire Joe Torre after two months? Are you crazy? I promise that in a few months you'll know the truth. And you'll feel stupid."
I sure do.
The harshest (and, in hindsight, most righteous) criticism came from a blog operated by Larry Bailey, a Denver native who devotes his (oft-hilarious) site to keeping the media in check. Wrote Bailey: "What Jeff Pearlman is trying to say is that it's Joe Torre's fault that George Steinbrenner is a raving lunatic and Brian Cashman is a blubbering bowl of wuss that won't stand up to him. Yes, that's right, Pearlman has the solution to the Yankees' early season struggles: fire Torre. The article is constructed entirely on anecdotal bull---- and contains no real analysis whatsoever."
At the time, I honestly believed what I was preaching. As a former baseball writer at Sports Illustrated, I'd closely monitored the Yankees through the years, from their startling rise in 1996 to the dramatic letdown in Arizona six seasons ago to the more recent crushers at the hands of lesser franchises like Anaheim, Florida and Detroit. I'd seen Torre at his best, allowing self-motivated veterans like Chili Davis and Tim Raines be themselves, and I'd seen Torre at (what I perceived to be) his worst earlier this season, sitting listlessly on the bench as losses mounted with staggering regularity.
Thing is, I failed to afford Torre the one thing he deserved: the benefit of the doubt. When you win and win and win, one poor start does not a nightmare make. From Vince Lombardi to Tom Landry to Davey Johnson to Phil Jackson, our sports are filled with excellent coaches who triumphed despite arduous rough patches. It's happened before. It'll happen again. It's happening now.
In New York. With the Yankees. Joe Torre's Yankees.
In the spirit of full disclosure, this columnist thing is trickier than I'd ever imagined. Initially, you write on topics near and dear to your soul -- a washed-up ballplayer's search for help; a WNBA veteran seeking redemption; the 20-year anniversary of a sporting event that stirred something within yourself. Then, unfortunately, you start to notice that readers almost never react to the pristinely positive. They want you to rile emotions and inspire dialogue and bring the heat. So you take an opinion you truly believe (and I did believe Torre deserved to go), toss in a few snarky lines and throw it out there.
The legitimately great columnists -- men and women like Joe Posnanski, Steve Rushin and Selena Roberts -- resist the siren's call, settling for depth and thought provocation over cheap thrills. They write from the heart, but keep the hammer in check until it's clearly required. From here on, I aspire to do the same. To be righteous. To think first, think second, think third and fourth and fifth and sixth -- then write later.
To do the right thing.
Again, Mr. Torre, I apologize.
Won't happen again.
Jeff Pearlman is a former Sports Illustrated senior writer and the author of "Love Me, Hate Me: Barry Bonds and the Making of an Antihero," now available in paperback. You can reach him at anngold22@gmail.com.