When the Phoenix Police Department confirmed the identity of a one-legged transvestite prostitute found strung out behind a Taco Bell trash bin Thursday, a city let out a collective gasp.
In the 11 years since he led the NFL with 110 catches and 1,500 receiving yards, then starred in the agent-client documentary "Jerry Maguire," Rod Tidwell, age 38, has suffered through one disastrous setback after another. Once the face and soul of the Arizona Cardinals, Tidwell gradually lost his career, his fortune, his family, and now, his dignity. "You just wish the best for him," former Cardinals receiver Rob Moore says. "Because I know his wife and kids are doing great."
• Dec. 27, 1996: Following a season in which he catches 84 passes for 934 yards and four touchdowns, Tidwell signs a "guaranteed" four-year, $11.2 million contract extension with Arizona. He learns of the deal during an appearance on "Up Close" with Roy Firestone, and celebrates afterward by agreeing to a new legal bond with Maguire that, unbeknownst to Tidwell, pays his agent 96 percent of all earnings. "Jerry," he says, "I'd trust you with my life. Take me to the next level, baby. Show me the love."
• Jan. 5, 1997: McDonald's debuts a series of commercials depicting Tidwell biting into the new six-layer burger, the McTid, then yelling, "Show me the six layers of all-beef goodness!" Last Chance for Animals (LCA), a national animal rights group based in Los Angeles, demands Tidwell apologize for endorsing a product that slays 12 cows (and 0.4 iguanas) per sandwich. The ads are pulled and Tidwell is released from his contract.
• Jan. 6, 1997: Tidwell is banned for life from a Phoenix-area McDonald's after stealing the last remaining "Rod Tidwell loves him some McTiddie!" poster.
• March 26, 1997: With Maguire's blessing, Tidwell and Arizona teammate Larry Centers open the Kwan Café, serving only foods that begin with the letter K. "The Kwan is all about peace, about love, about togetherness," Tidwell said at the restaurant's grand opening. "The letter K represents all those things and more." Writes Kristen Go of the Arizona Republic: "If you enjoy kale with ketchup or kumquat and kiwi with knockwurst on a kohirabi-flavored keiser and a side plate of kidney beans mixed with Kalamata olives, the Kwan Café is for you. If, on the other hand, you like to eat food with flavor, try McDonald's and the new McRobMoore." The Kwan Café closes after six weeks, costing Tidwell $650,000.
• April 5, 1997: While walking around Reid Park Zoo in Tucson with his kids, Tidwell tears his right and left ACLs, thus missing the entire '97 season. In his place, Rob Moore catches 97 passes for 1,584 yards and eight touchdowns, eclipsing Tidwell's team records.
• July 22, 1998: Tidwell reports to training camp, enthusiastically telling the media that he's in the best shape in his life and guaranteeing to "smoke all these fools!" Upon limping toward the space that used to be his locker, however, Tidwell finds that his equipment has been removed and replaced by that belonging to tight end Jarius Hayes. Tidwell storms into the media room, where he seeks out Arizona Republic writer Adrienne Lewin and unleashes a 25-minute expletive-laced tirade. Among other things, Tidwell calls Cardinals GM Dennis Wilburn, "a snake who couldn't carry my jock even if it was made of feathers," rips Moore as a "poor man's Herkie Walls," describes quarterback Stoney Case as a "little s---" and says, "the beautiful thing is that the Cardinals can kiss my big black ass, because all the money they owe me is guaranteed, and I'll be happy to sit home and collect every cent while watching 'Party of Five' and eating Ho Hos till the break of dawn."
• July 23, 1998: The Cardinals release Tidwell. Says Wilburn: "Won't miss that cocky jackass. It's like the Eagles sing, 'Some fine things have been laid upon your table. But you only want the ones that you can't get.'"
• July 27, 1998: The latest issue of Sports Illustrated includes a nightmarish "This Week's Sign of the Apocalypse" item: "According to the fine print of Rod Tidwell's contract with the Cardinals, all conditions are immediately voided if Tidwell evokes the name Herkie Walls in any way, shape or form."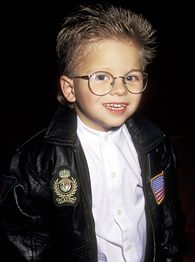 WireImage.com
"William McKinley upheld the gold standard … and you should've read the fine print in your contract, Rod."
• July 28, 1998: Tidwell calls Maguire's home phone number. Annoying kid answers, tells him the human foot has 26 separate bones, William McKinley upheld the gold standard, beer and snot don't mix and that Jerry and his mom have relocated to Yigo, where they sell face scrunchers, peddle Scientology literature and live off of Tidwell's past earnings.
• Aug. 17, 1998: Tidwell's wife Marci takes the couple's two children, Tyson and Katie, and moves in with Rob Moore.
• Sept. 3, 1998: Tidwell signs a one-year, $50,000 contract with the Hamilton Tiger-Cats of the Canadian Football League. During his introductory press conference, Tidwell is asked whether he's excited to be in the land of Celine Dion. "What the hell do you think?" he replies. "I'm a Sun Devil, baby. I'm here until the NFL comes to its senses and brings Rod back in the fold. I'm Jerry Rice, I'm Andre Rison, I'm Mike Irvin -- rolled into one. No offense, but f--- the CFL. … Next question."
• Sept. 4, 1998: Tidwell is released by the Hamilton Tiger-Cats.
• Sept. 27, 1998: Herkie Walls wins his defamation suit against Tidwell, earning $500,000 for Tidwell "destroying my good name. You don't f--- with Herkie. You just don't."
• June 12, 1999: Using all the money remaining in his savings account, Tidwell invests in a screen printing kiosk at the Desert Sky Mall in Phoenix. His business, "Show me … the T-shirt," only peddles garments devoted to Debbie Gibson's early work or catchphrases from the "Jerry Maguire" movie. In seven weeks of business, Tidwell sells six shirts reading, "You had me at hello," three celebrating "Foolish Beat," two reading, "You complete me" and one reading, "The Kwan." … By early August his space is filled by a Mr. Pretzel.
• April 15, 2000: Broke and unemployed, Tidwell sells his 12,500-square-foot mansion to pay child support to his ex-wife, Marci Tidwell-Moore. He moves into Room 243 of the La Quinta Inn on North Black Canyon Highway. In exchange for a $15-per-week room, Tidwell agrees to appear at the continental breakfast each morning and serve apple Danish in his shoulder pads and helmet.
• May 6, 2000: Gary Miller of Raleigh, N.C., is the first winner of La Quinta Inn's highly publicized "Have Rod Tidwell give you a two-hour foot massage" raffle. Coincidentally, Miller was recently inducted into the Guinness Book of World Records under the category "Most contagious case of oozing plantar warts."
• Dec. 8, 2001: Tidwell takes a leave from La Quinta to try out for the Las Vegas Outlaws of the new XFL. Coach Jim Criner agrees to sign Tidwell under two conditions:
(A) That he go by SHO ME $.
(B) That he accept a secondary role to No. 1 receiver Yo Murphy.
Tidwell angrily storms off and returns to La Quinta, where, in a pastry-filled press conference, he announces his retirement to the Przymylski family of Post Falls, Idaho.
• January 8, 2002: A Fox executive producer tracks down Tidwell and asks if he'd be interested in going three rounds with Mark Fidrych in a new upcoming show, "Celebrity Boxing." When told Fox will pay $700, plus a flight to Los Angeles, a giddy Tidwell yells, "Sign me up!"
• March 11, 2002: Mere hours before Tidwell is scheduled to fly to L.A., he receives a call from Fox's Ileana Pena. "I'm sorry," she tells him, "but we're going with Ickey Woods."
• June 12, 2002: A Phoenix radio station, KDUS, reports that a petition demanding the Cardinals retire Tidwell's No. 85 is making its way around the Internet. "A growing movement to support a legend," the station reports. "A city taking care of one of its own …"
• June 13, 2002: Having learned that the petition was written from the lobby kiosk of the La Quinta Inn on North Black Canyon Highway, KDUS apologizes.
• Nov. 8, 2002: Upon learning that the WB network is casting has-been celebrities for a new TV program entitled, "The Surreal Life," Tidwell hitches a ride to New York to meet with Cris Abrego, one of the show's creators. Blown away by Tidwell's stinky clothing and lack of integrity, Abrego agrees to place him in a house with Gabrielle Carteris, MC Hammer, Emmanuel Lewis, Jerri Manthey, Vince Neil and Brande Roderick. On the third day, Tidwell drinks six bottles of grape Mad Dog 20/20 and defecates in Hammer's parachute pants. He is kicked off the set and replaced by Corey Feldman.
• Feb. 19, 2004: Tidwell loses his right leg in a tragic bass fishing accident.
• Dec. 25, 2004: In a story appearing on Page 1A of the New York Times, writer Selena Roberts details the sad fall of Tidwell, the one-time NFL star who's now broke, hungry, missing a leg and living beneath Phoenix's Palmerston Bridge. "F--- Rob Moore, f--- Ickey Woods, f--- Gordon Lightfoot," Tidwell mumbles to Roberts. "I'm Rod Tidwell, and I'm making a galactic comeback on the Planet Kwantoo! Now pass me the ketjap manis!"
• Dec. 26, 2004: Upon learning of Tidwell's plight, Cardinals owner Bill Bidwell has a fruit basket delivered to Tidwell beneath the Palmerston Bridge. "Shucks," he says, "it's Christmastime."
• September 12, 2005: Tidwell spots a classified advertisement in USA Today that reads: "PROFESSIONAL ATHLETE NEEDED TO EMERGE FROM BAKED GOOD IN NEW YORK. PAY $200, FREE MEAL AND AIRFARE." The job involves jumping out of an inflatable cake at Mark Brykowytch's Bar Mitzvah while dressed in a pink bunny outfit. Mark's father, Marty Brykowytch, has spent the better part of a year planning his son's big day. Peyton Manning and Tom Brady decline. So do Mary Lou Retton, Cecil Fielder, Tim Teufel, Manute Bol, Henry Ellard, Hugh Millen, David Volek, Zane Smith, Priest Lauderdale, Ila Borders, Clayton Holmes, Claudell Washington, Spencer Dunkley and Herkie Walls. "My wife and I even wrote letters to O.J. Simpson and Mike Tyson," Brykowytch says. "But they were too expensive."
"Don't worry," Tidwell tells him. "Rod will do the cake."
• Sept. 26, 2005: Tidwell does the cake jump while screaming, "Show me the Hora!" Attendees love it. Says Aunt Barbara: "How did we get Hootie to agree to such a thing? And why does he smell so bad?"
• July 8, 2006: In a last-ditch effort to save his older brother, Tee Pee Tidwell visits Rod under the bridge and says, "We should start a pizza business!"
"OK," Rod says. "How?"
"The information superhighway," Tee Pee says. "It's gonna be huge."
Within weeks, Tee Pee has ghost authored his brother's own Myspace page. It has attracted at least 34 unique visitors.
• Feb. 17, 2007: Still living under a bridge, Tidwell has sold his jersey, cleats and Debbie Gibson CDs in exchange for food. With nowhere else to turn, he dons the pink bunny outfit and begins walking the streets of Phoenix. In his familiar high-pitched cackle, Tidwell shouts out, "Show me the money, sweet thing! Show me …"
• Aug. 27, 2007: Tidwell is found behind the trash bin, high, confused and clutching onto his most prized possession: a copy of the "Jerry Maguire" DVD. "I'm Rod Tidwell," he tells a police officer. "I air dry."
Jeff Pearlman is a former Sports Illustrated senior writer and the author of "Love Me, Hate Me: Barry Bonds and the Making of an Antihero," now available in paperback. You can reach him at anngold22@gmail.com.