Thirteen years ago, as he searched for a place to attend college, 18-year-old Lennie Friedman of West Milford, N.J., narrowed his choice to either Northwestern or Duke.
It was a toughie. Both universities boasted strong academics, breathtaking campuses and football teams that -- while hardly national powers -- played in top-notch conferences. Back and forth Friedman and his parents went, torn between two schools steeped in tradition.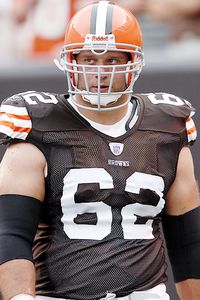 Thomas E. Witte/Getty Images
Lennie Friedman's upbringing defies most of the stereotypes
of prefessional athletes.
Northwestern?
Duke?
Northwestern?
Duke?
In the end, the decision came down to one thing: Duke head coach Fred Goldsmith.
"We honestly thought to ourselves, 'What other coach will make sure Lennie goes to shul on Rosh Hashanah," says Mike Friedman, his father. "I mean, how many Jews are coaching Division I college football?" Only after he committed to the Blue Devils did Lennie learn that Goldsmith was, of all things, a born-again Christian.
Oy.
"That," says Mike, "was a bit of a surprise."
Not that it really mattered. Now a Cleveland Browns offensive lineman in his ninth NFL season, the 31-year-old Friedman is to diversity what Gene Simmons is to groupies; what Meg Ryan is to inane romantic comedies; what Gaylord Perry is to goop.
Namely, he's seen it all.
Whereas most of his teammates have told the numbingly familiar stories of being reared in a (FILL IN THE BLANK WITH EITHER: A. COMFORTABLE MIDDLE-CLASS SETTING; B. TOUGH INNER-CITY; C. FARMING COMMUNITY IN THE MIDDLE OF NOWHERE) by a (FILL IN THE BLANK WITH EITHER: A. TWO LOVING PARENTS; B. A SINGLE-MOTHER WHO OFFERED TOUGH LOVE; C. A DRILL SEARGENT FATHER WHO DEMANDED GRIDIRON EXCELLENCE), Friedman is certainly the first player in NFL history to have spent his formative years roaming the hills of a summer camp for disadvantaged kids -- where he lived.
Not that the Friedmans were disadvantaged. They weren't. But as the parents of Lennie's friends worked as doctors and plumbers and teachers, Mike and Sandi Friedman ran Camp Vacamas, a 500-acre, nonprofit facility in the hills of northern New Jersey that has afforded thousands upon thousands of impoverished children the chance to spend their summers sleeping beneath the stars and roasting marshmallows and being reminded that where one comes from is not who one is.
Though West Milford's population is as white as the Yellowknife snow, Lennie was raised amidst an ever-rotating community of African-Americans, Hispanics, Asians and whites. There were Jews, Christians, Muslims and Hindus. Counselors and staffers came from Russian, Australia, England and Denmark. He still laughs when recalling the time he and a handful of bunkmates/New York City gang members went on a three-day overnight hike deep into the woods. "We were sleeping one night and a family of raccoons comes into our area to steal our food," he says. "Well, one of these tough kids gets up and starts praying to God to save him. I was laughing my head off, because we'd have a raccoon in our house and it was no biggie, but it also humanized things. We weren't as different as it seemed." Vacamas was the place where Friedman first kissed a girl ("I was 11," he says, "and we were sitting behind the baseball backstop."); where he learned how to cook and drive a car and play sports with heart and passion. Because few of his Vacamas peers could afford much beyond the latest Salvation Army fashions, Friedman understood not to judge by the price of one's LA Gears, but by the depth of one's goodness. "Most kids grow up in their small town and probably think that's what everyone looks like," says Friedman, who has two young children with his wife, Katie. "Thanks to my parents, I was taught that there was a lot more going on than my little sphere in West Milford."
Friedman credits Vacamas with more than merely an open mind. Because his parents were worried about their son's safety, they refused to allow Lennie to play Pop Warner before his 10th birthday. Upon finally signing up in August 1987, Lennie was promptly pounded into mulch by quicker, stronger, more experienced players. He returned to camp that first night determined to quit. "I hate football!" he complained to his parents. "I'm no good!"
At the time, Friedman's Vacamas counselor was Roger Smith, a standout tight end at Division II Millersville. "Before you give up," said Smith, "let's work on a few things." In the ensuing days, Smith tutored Friedman on footwork and pass catching; blocking schemes and comprehending football's intricacies. "He's the reason I stuck with it," says Lennie. "In a way I owe my football career to Vacamas."
Friedman went on to start for four years at Duke while earning his bachelor's degree in psychology. When he was selected by Denver in the second round of the 1999 draft, it wasn't a dream come true -- because the Friedmans never, ever thought the NFL a true dream. "I was just a good football player who wanted an education," Friedman says. "My aim wasn't that high."
By most measures, Friedman's career has been pedestrian. He's bounced from Denver to Washington to Chicago to Cleveland, starting 14 games for the Broncos in 2001 but otherwise primarily serving as a backup and on special teams. What he has accomplished, however, is no small feat. At the end of the season, when NFL players are allotted Super Bowl tickets, Friedman gives his to Vacamas, which auctions them off in a fundraiser. Three years ago, when Vacamas needed a new playground, Friedman convinced a company to donate the equipment. Whenever he walks around Cleveland's practice facility, Friedman can be spotted wearing one of his, oh, 50 Vacamas T-shirts -- a subtle way of promoting the place he loves even more than ice cream and chocolate and victorious Sundays on the gridiron.
"You're talking about a very special camp," he says. "It would be one thing if Vacamas just helped me. But there are so many kids out there who have benefited."
In a recent Sports Illustrated poll, 54 percent of NFL players said they'd allow their children to wear Michael Vick jerseys.
Personally, I'll take the Vacamas T-shirt instead.
Jeff Pearlman is a former Sports Illustrated senior writer and the author of "Love Me, Hate Me: Barry Bonds and the Making of an Antihero," now available in paperback. You can reach him at anngold22@gmail.com.