It seemed like a good idea at the time.
Really, it did.
For nine weeks I had trained religiously for the Philadelphia Marathon, cruising the dark streets of my upstate New York hometown -- all alone save for my Nike size 13s and the silver iPod Shuffle attached at my waist.
Each night, as my neighbors slept, I would run six- or eight- or 10- or 15- or 20-mile loops -- past the CVS, right on Elizabeth Lane, under the train tracks, back onto Main Street, a left on North Avenue, over the drunk guy, past Subway -- using the vocal powers of Talib Kweli and David Lee Roth and The Killers and Lita Ford (yes, Lita Ford) to carry me through. It was the first time in 11 tries that I had trained for a marathon utilizing music, and I fell in complete and total love. Shoot, I even compiled what I consider to be the ultimate 26-song running playlist.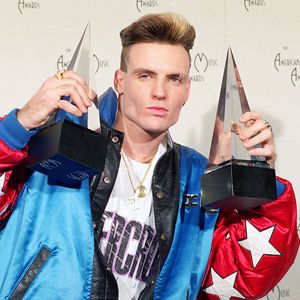 AP Photo/Reed Saxon
It's this man's fault that our humble correspondent didn't reach his PR at the Philadelphia Marathon.
Come Nov. 18, I was convinced I'd run the Philadelphia Marathon in record time. I'd smash my 3:11 PR (Chicago, 2004); maybe even overtake the elusive three-hour barrier.
Thanks to music, anything was possible …
Thanks to music, I'd soar like Superman on greenies …
Thanks to music, I'd never hit the wall …
Thanks to music, I'd … I'd … I'd …
Suck.
That's right. I sucked. Badly. When I finally crossed the finish line on a cold, windy day in the City of Brotherly Love, Green Day's "Geek Stink Breath" filled my ears, and torment ripped apart my heart. My official clocking was 3 hours, 41 minutes -- by far the worst running performance since placing 383rd of 420 in my debut race, the 1980 Lake Mahopac Elementary School 10K (In my own defense, I was only 8 at the time).
My wife blamed it on the weather. My mom blamed it on old age.
I blame it on the music.
I know … I know -- you're thinking, "No duh." Jefferson Starship? House of Pain? Vanilla Ice? Nelly? Josie and the Pussycats? How couldn't you blame it on the music?
That, however, is not quite what I mean.
By tuning into music and tuning out, well, Philadelphia, I lost sight -- and sound, and touch, and taste, and smell -- of everything that is truly great about the marathon experience. As the non-iPod-wearing runners burst down Ben Franklin Parkway to start the race, they were embraced by deafening cheers, by the "Rocky" theme, by signs and posters and high-fives and screams and shouts. I, meanwhile, was listening to Kiss' "Psycho Circus," head down. As the non-iPod-wearing runners turned onto Race Street, past the National Constitution Center and near the Liberty Bell and Independence Hall, they focused on some of the most beautiful and historic scenery that a city-based race has to offer. I, meanwhile, was listening to Jay-Z's "IZZO (H.O.V.A.)," head down. When we reached South Street, the non-iPod-wearing runners could absorb a greeting as loud and intensive as a date with Courtney Love. I, meanwhile, was listening to Bad Ronald's "Bad Idea," head down. From beginning to end, my Philadelphia Marathon was one long playlist -- peppy and uplifting, yes, but eminently forgettable.
Save for trotting 30 yards hand in hand with my giddy 4-year-old daughter at Mile 19, the muscle spasms that overwhelmed both of my hamstrings at the start of Mile 21 and the string of expletives I unleashed as I staggered across the finish line, the experience was no different than one long, uninspired training jaunt. Only later did I realize that throughout the entire event spectators had been hollering "Go Superman!" as I cruised by (I was wearing a blue Man of Steel running shirt). Only later did I realize that a group of young women were handing out cups of beer at Mile 17. Only later did I realize … everything. Sigh.
In the course of the past year, an increasing number of American marathons have considered moving to expel any runners caught listening to music. USA Track and Field, which provides insurance for thousands of national road races, bans the use of headphones and portable audio players, citing safety as the primary reason. Until Nov. 18, I found this to be reprehensible. What difference does it make whether someone listens to an iPod or radio or portable CD player? Why is it wrong to want music to carry one through a rough day on the open road? What's the big deal?
Now, I get it. When I hit up Shea Stadium for a Mets game, I am bombarded by a series of computer-generated chants and battle cries that numb my brain. When I watch Hawks-Nets at the Izod Center, my ears melt with every 100,000-decibel Hilary Duff musical bastardization blasted through the air. There's nary a silent moment at a Jets game … a Giants game … an Islanders game … a Rangers game.
Marathon running, however, is an ode to quiet strategy and reflection. You become one with your body. A quad quivers, you immediately notice. A nightmarish hill awaits a half-mile down the road, you mentally prepare. You get pumped when spectators scream and mellow when the world seems barren. In the end, you are your own master. No coach. No colleague. No rendition of Twister Sister's "I Wanna Rock" can suffer on your behalf.
Somehow, some way, an iPod does not merely cheapen the experience. It robs from it. Even the greatest marathoners of my lifetime -- the Alberto Salazars, the Rod Dixons, the Martin Lels, the Paul Tergats -- feel intensive pain upon reaching miles 20, 21, 22, 23, 24, 25, 26. Your legs freeze up. Yours arms stiffen. You want to walk, to crawl, to literally die. Why am I doing this? Never again! Never, ever, ever again! No way in hell.
Torture is rarely fun. But it's an integral part of the marathon. What better to bond the legions of runners who do this semi-regularly?
Black or white, Jew or gentile, a 6-minute miler or a 12-minute miler -- we can relate over the putrid hells of cramps and blisters; rain and snow.
But music … music softens things. It's a crutch, an enabler -- excellent for training, wrong for racing. At the end of the day, I wanted my iPod to make the Philadelphia Marathon just a wee bit easier. I craved the euphoria of a PR, sans the struggle.
Now, as I sit here at my kitchen table, sore, sad and defeated, I've learned my lesson the hard way.
Next time, the Rob Van Winkle stays home.
Jeff Pearlman is a former Sports Illustrated senior writer and the author of "Love Me, Hate Me: Barry Bonds and the Making of an Antihero," now available in paperback. You can reach him at anngold22@gmail.com.

Also See
ESPN Top Headlines