"I remember back in the early and mid '80s when the Mets were getting a bit "white" under Frank Cashen's rule. Personally, I did not like that, but compared to what Omar Minaya is doing today, that was nothing! Minaya is simply looking for the best Latin players available, not the best players available."
-- A recent blog posting by a Mets fan
During their club's 45 years of (largely mediocre) baseball, Mets fans have endured a lot. They've seen their first team lose 120 games. They've seen Tom Seaver traded for Pat Zachry, Doug Flynn, Steve Henderson and Dan Norman. They've seen Doug Sisk's sinker, and Lee Mazzilli's outfield defense, and John Pacella's ever-cascading cap.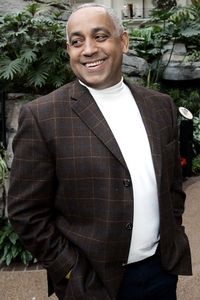 AP Photo/Mark Humphrey
Mets GM Omar Minaya denies he's been biased in signing so many Latin-American players.
They've seen Mets jerseys draped over the unworthy shoulders of George Foster, Gregg Jefferies, Vince Coleman and Bobby Bonilla. Just this past season they saw a listless, pride-starved club engage in the worst down-the-stretch collapse in the history of the sport.
In other words, Mets fans can handle a lot.
But can they handle Livan Hernandez?
OK, OK -- not Hernandez, per se. But what the portly right-hander stands for; what his potential free-agent signing (which appears likely) would stand for.
If one pays attention to the New York-based sports radio stations or the New York-obsessed baseball bloggers, it's only a matter of time before Mets general manager Omar Minaya officially petitions MLB to rename his ballclub "El Equipo de Latinos" (The Team of Latins), replaces french fries with platanos (plantains) at Shea Stadium's concession stands, and insists Mr. Met don a sombrero.
In his three-plus years as New York's GM, Minaya has earned rave reviews for his gutsy approach to building a team. He sees gold in other teams' manure (John Maine, Oliver Perez), life in the given-up-for-dead (Jose Valentin, Endy Chavez), and passion in the overlooked (Willie Randolph). When Minaya was hired, the Mets were coming off a dreadful 71-79 season. They haven't won fewer than 83 games since.
Minaya is, without question, the organization's best general manager since Frank Cashen.
Yet, despite the on-field success, an increasing number of Mets fans are griping about their team's continued (and apparently all-encompassing) determination to bring in as many Latin-American ballplayers as possible. Nearly five years ago, when Jose Reyes debuted as New York's spark plug of the future, fans were excited. When, nearly three years ago, the Mets added Carlos Beltran and Pedro Martinez, fans were elated. When, however, Minaya added Perez and Chavez and Valentin and Ambiorix Burgos and Orlando Hernandez and Eli Marrero and Julio Franco and Ricky Ledee and Jose Lima and Sandy Alomar Jr. and Jorge Julio and Duaner Sanchez and Geremi Gonzalez and Miguel Cairo and Jorge Sosa and Ramon Castro and Luis Castillo and Jose Offerman and Carlos Delgado and Ruben Gotay and Guillermo Mota and Moises Alou and ... well, the bloom is off the rose.
Wrote one blogger: "I've been a Mets fan since I saw them win in '69 and I have to say, I've never seen such blatant racism in baseball in the last 40 years."
Wrote another: "Minaya needs to be careful about signing too many Latino players. He has to make sure that he is not overdoing it. Latin players are great, but he does show a tendency to give too many of them chances at the expense of white players and black players."
For the record, I do not believe such sentiment to be true. Minaya is, first and foremost, a man who craves victory. He was as crushed by the Mets' recent meltdown as any player or coach in the New York clubhouse. Plus, the Mets were second in the NL in attendance in 2007 -- clearly there are plenty of fans who just want a good team.
Furthermore, Minaya has repeatedly insisted that ethnicity has zero to do with the makeup of his roster. (And I believe him.) "When you are a first, there will be some people that are uncomfortable with the fact that you are a first, and they will try to create non-baseball issues if they have the opportunity," Minaya told the Sacramento Bee last year. "I just see that as people that are uncomfortable with the fact that there's a Hispanic in a position of authority."
Yet oftentimes perception is stronger than reality. And in New York City, the perception of a Mets' Latino bias is strong. Really strong.
Just listen to Mets fans gripe on WFAN. Or, for that matter, sit in the Shea Stadium stands and listen to the crowd when the announcer bellows, "Now pitching, Ambiorix Burgos ..." Why, just last week I attended a reception where one man, knowing I'd written a book about the Mets, approached me and said, "I still love the team, and Livan Hernandez wouldn't hurt. But how about adding an American or two?"
As an unapologetic dyed-in-the-wool liberal, there's a part of me that feels the instinctive need to vehemently condemn such talk; to spout the ol' people-are-people, we-are-the-world, give-peace-a-chance mumbo jumbo. Yet, to be honest, I get it. Growing up in Mahopac, N.Y., I worshiped at the altar of Steve Ratzer and Ross Baumgarten -- Jewish ballplayers I could empathize with. As Redskins quarterback Doug Williams lit up the Denver Broncos in Super Bowl XXII, a nation of African-American fans went wild, knowing one of their own was making a mark. I've seen white New York Jets devotees fawn over wide receiver Wayne Chrebet, even though he was flanked by the far superior Keyshawn Johnson and Laveranues Coles. The Dodgers' Mexican fans bowed down to Fernando Valenzuela, and its Japanese fans hailed Hideo Nomo in much the same way.
In short, most of the time, we cheer for who we know; who we relate to; who we empathize with; who we ... look like. White Mets fans will support Livan Hernandez (even cherish him), but many of them will always -- always -- prefer a guy like Paul Lo Duca, the scrappy Italian boy with the swagger.
Is it righteous? Not especially. Is it open-minded? Hardly.
Is it human nature?
Si.
Jeff Pearlman is a former Sports Illustrated senior writer and the author of "Love Me, Hate Me: Barry Bonds and the Making of an Antihero," now available in paperback. You can reach him at anngold22@gmail.com.