SURPRISE, Ariz. -- Like the careers of so many once-upon-a-time phenoms, the clichéd superlatives that once accompanied Chris Shelton's name have dried up and withered away.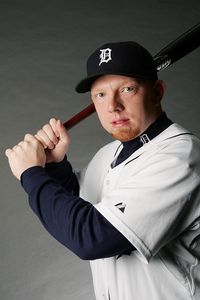 Elsa/Getty Images
Shelton, once a slugger for the Tigers, is now just trying to make a roster.
It was less than two years ago that Detroit Tigers manager Jim Leyland hailed Shelton as a "natural hitter"; that teammate Brandon Inge raved, "He's got talent like I've never seen!"; that the roly-poly bopper from nowhere (well, Salt Lake City) evoked comparisons to Babe Ruth; that the frantic pace of batting practice came to a standstill when Shelton sauntered into the cage and unleashed one monstrous blast after another; that Chris Shelton was, well, the future.
No, The Future.
On Tuesday morning, however, as Shelton sat in the busy Texas Rangers clubhouse, quietly reading through the Arizona Republic sports pages, the 27-year-old appeared significantly smaller and less significant than in bygone days -- more Joe Charboneau than Joe DiMaggio. Seemingly lost amid nameplates reading "Saltalamacchia" and "Blalock" and "Catalanotto," Shelton -- who burst upon the national scene in 2006 by hitting .471 with nine home runs and 17 RBIs in the season's first 13 games -- is a non-roster invitee hoping to somehow land a job on a team already full of corner infielders. "I feel like I'm the same player I was two years ago," he said in a delicate voice belying his 6-foot, 200-pound physique. "I know I can contribute to this team."
Shelton's optimism is understandable -- a surefire sign that spring training is upon us. Across the well-manicured pastures of Arizona and Florida, players with yesteryear résumés and declining skills are allowed to be little boys again; to believe in Ponce de Leon's Fountain of Youth. Here in Surprise, Angel Berroa -- the AL Rookie of the Year a mere five seasons ago -- is fighting to make the Royals as a non-roster backup infielder. In Jupiter, Fla., Juan Gonzalez -- last seen languishing with the independent-league Long Island Ducks -- hopes to turn back the clock to 1995. From Sal Fasano with the Blue Jays, to Chris Woodward with the Yankees, to Brian Shackelford with the Dodgers, to Keith Ginter with the Red Sox, to Rob Bell with the Nationals, men who should probably be hanging up their cleats are lured back by the hypnotic pop of ball meeting glove to don uncomfortably high uniform numbers and fight for survival.
Though the Rangers have assigned Shelton No. 16, his recent struggles scream No. 86 or No. 77 or No. 92. Such has been the case since July 31, 2006, when Tigers GM Dave Dombrowski summoned Shelton into a Tampa hotel room and said, quite simply, "We've acquired Sean Casey from Pittsburgh and we're sending you down to Triple-A." While the news hit Shelton like a Luis Resto blow to the gut, it was inevitable. Well aware of his power, opposing pitchers had been feeding Shelton a merciless buffet of curveballs and sliders, transforming the dead-fastball hitter into Fritzie Connally. In the 303 at-bats that followed his blistering start, he hit a paltry .244 with seven home runs and 28 RBIs.
Hence, as the Tigers roared toward the World Series, Shelton flailed away in Toledo, batting .266 with three homers in 28 games. Though the team allowed him to sit on the bench during the postseason, it was akin to asking Joan Rivers to grip a microphone and not speak. "I appreciated them having me there, and I felt like I was a part of the Tigers making it that far," he says. "But the frustration of not being able to contribute is unbearable."
A year ago Shelton returned to Lakeland, Fla., as a likely candidate for the Tigers' opening day roster, but Shane Spencer Disease continued to sap his strength, turning once epic home runs into popups and dribblers. No longer were players stopping to watch him take BP; no longer were fans calling him "Red Pop" or "Big Red" (in homage to his Howdy Doody-like hair). No longer did Chris Shelton matter.
When, following a season in which he batted .269 with 14 homers and 65 RBIs for Toledo, the Tigers dealt Shelton to Texas for someone named Freddy Guzman, the world yawned. The Detroit News, a paper that once trumpeted Shelton's heroics, placed the story on page 5D, a place normally reserved for high-school swimming and amateur boxing.
"Truthfully, when I learned of the trade I was thrilled," Shelton said. "All I wanted was a fresh start. A new start."
That's what they all want. The prospects who never panned out. The sluggers who've stopped slugging. The fireballers who've lost their fire. The speedsters minus speed.
One more chance. One more moment. One more dream.
One more spring.
Jeff Pearlman is a former Sports Illustrated senior writer and the author of "Love Me, Hate Me: Barry Bonds and the Making of an Antihero," now available in paperback. You can reach him at anngold22@gmail.com.