SURPRISE, Ariz. -- The Texas Rangers' clubhouse is, unlike 99.9 percent of American institutions, extremely diverse. Where else can you find a 30-something Nicaraguan splitting a bag of sunflower seeds with a 25-year-old Hawaiian? Where else can you find people of pink and brown and yellow and tan skin gathered in a circle guffawing about YouTube videos? Where else can you find someone like Josh Hamilton, a white recovering drug addict from North Carolina, spending much of his day alongside Milton Bradley, a loquacious African-American man from California?
Here, within the confines of these four walls, the general manager is a young New Yorker (30-year-old Jon Daniels), the manager is a middle-aged African-American (56-year-old Ron Washington) and the rising star is a young, heavily tattooed Floridian (22-year-old Jarrod Saltalamacchia).
Yet while ballplayers are bound both by their disparate backgrounds and an uncompromised love of the game, they are also united by one not-so-great characteristic: political indifference.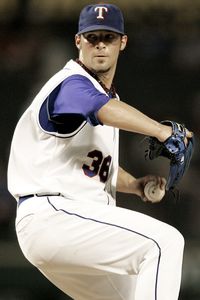 AP Photo/Tony Gutierrez
C.J. Wilson has no one to talk politics with on his team.
Yes, in this remarkable year of presidential politics -- when John McCain has risen from the dead, and Hillary Clinton and Barack Obama are engaged in a historic struggle for delegates; when dynamic figures like Rudy Giuliani and Ron Paul and John Edwards fell short but fought passionately -- baseball players kick back and, ahem, read their Maxims.
"It's frustrating," says C.J. Wilson, the 27-year-old Texas relief pitcher. "I'd say there are two reasons. One, there's a general lack of education among us. But two -- and most important -- you're talking about a population that makes a ton of money, so the ups and downs of the economy don't impact whether we're getting paid. Therefore, we often don't care."
In saying "we," Wilson is speaking about nearly every Ranger -- except himself. A free-thinking Californian with an appreciation for Obama, a dislike of Bush, a hatred of the Clintons, a detestation of SUVs, and a longing for a grass-roots political movement that would truly represent the needs of the people, Wilson stares blankly when asked who among his teammates he can talk with about Decision '08.
"No one," he says. "I keep it to myself."
While a few Rangers profess moderate interest ("Obama's inspired me," says outfielder Jason Ellison. "I have a 2-year-old daughter and I want her to grow up in a healthy country"), most merely shrug their shoulders or offer a half-hearted "I'm just focused on playing ball and helping the team win," when asked about the upcoming election. Some call themselves conservatives, others call themselves moderates, but few seem to actually know what the two terms mean. "It's not that complex," Wilson says. "Baseball players think about baseball."
Not that this is simply a Rangers phenomenon. Throughout spring training clubhouses in Arizona and Florida, politics fail to generate interest. Finding someone who has participated in a state primary or caucus is slightly harder than finding a cinematic role for Meeno Peluce. The majority of players are almost certainly not even registered to vote. On the morning following last Tuesday's highly publicized Wisconsin Democratic primary, nary a Ranger nor Kansas City Royal could be heard talking about the results. Heck, no one even seemed to know the event took place.
Indeed, a top 10 list of spring training topics discussed by ballplayers would look something like this:
1. Baseball
2. Free sunglasses
3. Breasts
4-5. Jesus/golf (tie)
6. Dinner options
7. The Kyle Kendrick YouTube video
8. Britney Spears
9. Strip clubs
10. More Jesus/golf (tie)
"Baseball players are inherently selfish," says Brian Johnson, the former major league catcher. "Everything is about 'me.' People want my autograph, people want to see me, people want to watch my games on TV. Everyone works around my schedule, even my wife and kids. So it's hard to have a global or national perspective when everything is about you."
What many ballplayers fail to understand is that, in terms of policy, they will be as impacted by this fall's election as anyone. While McCain plans on upholding the tax cuts enacted under George W. Bush, both Obama and Clinton want tax breaks to expire for Americans making more than $200,000 per year. (Read: baseball players.) Though McCain has said little about automobile emissions, Obama and Clinton have demanded drastic improvements in fuel efficiency standards. (The unofficial baseball player vehicle of choice? The mighty Hummer.)
The list goes on and on.
If there is hope for a change of thinking in athletes, it comes in the form of those retirees primed for political runs. Former Mets ace Al Leiter often discussed delving into the political arena, and Johnson hasn't ruled out a governmental future in his home state of Michigan. Certainly men like Wilson and Curt Schilling are candidates to one day wind up in Washington. And there's always Charles Barkley, a fiscally conservative, socially liberal native Alabaman who recently told CNN that he would vie for the governorship of his home state in 2014.
Until then, please pass the Maxim. I hear Avril Lavigne's on the cover.
Jeff Pearlman is a former Sports Illustrated senior writer and the author of "Love Me, Hate Me: Barry Bonds and the Making of an Antihero," now available in paperback. You can reach him at anngold22@gmail.com.