Two days ago, I stumbled upon an absolutely fantastic story.
While standing in the Toronto Blue Jays clubhouse, waiting to steal a minute or two of Vernon Wells' time, I was called over by a bearded man leaning against a coffee machine.
"Hi," I said. "I'm Jeff Pearlman with ESPN.com."
"Hi," he said, "I'm Gregg Zaun."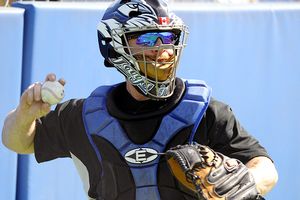 Al Messerschmidt/Getty Images
Blue Jays catcher Gregg Zaun is "funny and self-deprecating; brutally ironic and brutally honest."
What followed was one of the most fruitful 45-minute interview sessions of my journalistic career. Zaun was funny and self-deprecating; brutally ironic and brutally honest. At age 36, the veteran catcher said he was in the best shape of his career for one primary reason: "Cut back on the drinking," he said. "Stopped it altogether for three years."
In the world of the major league ballplayer, where beer, wine and booze are often key components of away-from-the-ballpark living, Zaun displayed the courage to change his ways. And once he stopped drinking, he started playing better than ever. As the son of an alcoholism counselor, I was enraptured.
"Here's a guy whose story you're gonna love!" I told my mom. "Just amazing!" That night, I wrote the following:
---
DUNEDIN, Fla. -- He does not like the word "alcoholic."
Too strong. Too far. Even "problem drinker" has an air Gregg Zaun doesn't find particularly appealing.
No, the Toronto Blue Jays catcher simply admits he wasted way too many nights at the bar; way too many hours downing beers when he should have been focused on prolonging the dream of playing catcher in the major leagues.
"I was stupid," he says, quite simply. "No perspective."
Now, at age 36 and entering his 14th season in the bigs, perspective is no longer an issue. The kid who once regularly drank teammates under the table with Bon Scott-esque zealotry might have a glass of wine with dinner. The kid who could pound one beer after another is, quite frankly, no longer a kid.
"I just made up my mind that drinking was taking away from my baseball abilities," he says. "I'd look at myself in the mirror, and under my eyes was baggy. My skin was haggard. I didn't like who I was, so I did something about it."
What Zaun did was stop. Cold turkey. The date was March 8, 2004, and he had just been released by lowly Montreal in the midst of spring training. Here was a man who had been, in the mid-1990s, the Baltimore Orioles' potential catcher of the future … who had won a World Series ring by hitting .301 with the Florida Marlins in 1997 … who was acquired by Kansas City in 2000 so that he could mentor the Royals' young staff. Here was a man who should have been one of the game's better all-around catchers, choosing to devote more energy toward bending his elbow at the bar than squatting his legs behind home plate.
Here was a man who had enough.
"In hindsight, 2004 is my best year," he says. "It's the year I chose to quit drinking. It's the year the Expos dumped me. It's the year I got married [to wife Jamie]." Most important, baseball-wise, it was the year Zaun was signed by Toronto and sent down to Triple-A Syracuse. It was there, while catching for the Chiefs in front of smallish crowds in smallish stadiums, that Zaun truly realized what he had been taking for granted. All those late nights looking for bliss in a bottle, and the actual bliss was on the diamond, the smell of the catcher's mask … the texture of dirt between his fingers … the sound of a 98 mph heater popping within his mitt.
"I got a very good piece of humble pie in Syracuse," says Zaun, who hit .304 in seven games with the Chiefs. "I needed a wake-up call to take this game seriously, and that was it."
When two of Toronto's catchers, Greg Myers and Kevin Cash, went down with injuries, Zaun was retrieved from the depths. In 338 at-bats, a career high at the time, he hit .269 with 24 doubles and 36 RBIs. Last season, his third as the team's starter, Zaun went .242-10-52. Though the numbers are hardly Ruthian (or, for that matter, Bo Diaz-ian), they were plenty for a catcher long gifted with a bat's instincts and a lightning arm. Blue Jays pitchers loved throwing to Zaun. Blue Jays coaches felt comfortable placing the game in his hands. "You're talking about someone with great work habits who makes people around him better," Toronto general manager J.P. Ricciardi said. "Zauny used to be a hell-raiser, and perhaps if we had him 10 years ago we'd be bumping a lot of heads. But now he's an invaluable extension of the coaching staff."
In the strange world of major league baseball, where Dontrelle Willis' leg kicks as high as the sun and adults dressed as sprinting sausages draw louder applause than Prince Fielder, perhaps nothing is odder than a 36-year-old catcher reaching his prime. At 36, Mike Piazza was devolving into Junior Ortiz, Gary Carter was The Kid in nickname only and Johnny Bench was retired.
Yet for Zaun, 36 is the new 26. His knees have never felt better. His arm remains strong. He works out religiously and has replaced massive quantities of alcohol with massive quantities of coffee (six cups per day from the snazzy machine sitting next to his locker). Over the past year he's begun to drink again, but only on select occasions, and never the day before a game. "All those years of backing people up saved me," he says. "I'm not shot or worn out. I'm fresh."
Odds are Toronto won't finish any higher than third in the rugged American League East. But in the grand scheme, it matters little.
Their catcher has won.
---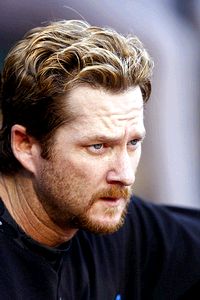 G. Newman Lowrance/Getty Images
Zaun is an example of a feel-good story that we don't know whether to believe or not anymore.
The following morning I received a call from one of my editors at ESPN.com. "Don't you think," he asked, "that we should at least mention the Mitchell report?"
Uh, what?
"Zaun was in the Mitchell report."
Indeed, right there on pages 179-181 are the grizzly details of Zaun's alleged dealings with Kirk Radomski, as well as with an Expos bullpen catcher who said he personally supplied Zaun with anabolic steroids.
There's even an image of check No. 3395, made out to Radomski for $500 and signed by Zaun.
In the early days of spring training, Toronto's catcher vehemently denied using performance enhancers, explaining to the National Post that he had written a blank check to teammate Jason Grimsley that was likely for a basketball wager.
"You're talking about one check of thousands that I've written over the last seven years," Zaun told the Post via e-mail. "I'm supposed to recall why and when and to whom and where? That was nearly impossibly for me to figure out, but when I went through the document and I looked at it, I could tell right away that the only parts of the check that were mine were my signature and possibly the $500 in the box."
Sigh.
I want to believe Gregg Zaun. I really want to believe Gregg Zaun. I want readers to hear about his trials and think, "If this guy can overcome alcohol, so can I." I want my mother, as well as others in her profession, to be able to hand Zaun-related articles to clients and say, "See! See what you can accomplish!"
I want people to read of Rick Ankiel's rise from bottomed-out pitcher to bright-lights slugger and believe, "Wow, miracles really do happen!"
I want minor league journeymen to see Jack Cust jacking bombs with the A's and know that they, too, can overcome Tulsa Drillers futures. I want to chalk up Chris Donnels' surprising career longevity to carrots and milk and David Bell's consistent output to Flintstone vitamins.
Alas, I am, at heart, a skeptic. This is one of the greatest single crimes of the Steroid Era: The death of the overcoming-the-odds story.
The death of believing the overcoming-the-odds story.
Whereas once upon a time a baseball diamond was the prism upon which dreams were drawn, now it is -- at best -- a puzzle. Is Gregg Zaun truly someone who battled time by giving up alcohol? Is he someone we should admire for courage; for strength; for perseverance?
I want to believe.
God, do I want to believe.
Jeff Pearlman is a former Sports Illustrated senior writer and the author of "Love Me, Hate Me: Barry Bonds and the Making of an Antihero," now available in paperback. You can reach him at anngold22@gmail.com.