Because he is a career .500 pitcher with a very dull name, Brian Anderson's recent retirement generated all the excitement of another Starbucks opening. Shoot, there's been so much going on lately, between March Madness, David Ortiz lording over chirashi sushi platters, Brett Favre's farewell and, of course, the mounting inevitability of a Chikezie-Brooke White "American Idol" finale.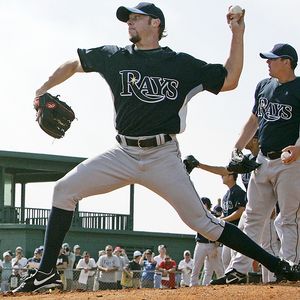 AP Photo/Al Behrman
Brian Anderson, who hadn't pitched in the majors since 2005, attempted a comeback with the Rays this spring.
Yet by largely ignoring Anderson, who was attempting to make the Tampa Bay Rays' opening day roster after missing two full seasons with arm problems, we in the media have ignored an important, though undeniably depressing, life lesson: Dreams don't always come true. Even the really, really good ones.
That's what Anderson's improbable return to the majors was -- a really, really good dream. Think about it: Anderson is almost 36 years old. He has undergone two Tommy John surgeries to repair torn ulnar collateral ligaments. He last pitched in the big leagues in 2005, making six starts for Kansas City before having his first surgery. He signed a minor league deal with the Rangers a year later, then underwent his second surgery. And then he spent much of last season truly slumming, working as a member of the (egad) media by hosting the Cleveland Indians' pregame show.
Anderson is the type of guy whose cheerfulness lights up a clubhouse; a guy who walks with a perpetual bounce in his step, rarely offers up a bad word, and considers each day on the diamond to be a Tiffany's wrapped gift.
That, more than anything, is why Rays manager Joe Maddon gave Anderson a shot after bumping into him at last December's winter meetings in Nashville. "He's always been such an uplifting person to have around," Maddon said during spring training. "And if he's healthy, I believe Brian can help us."
Throughout the first few weeks of spring training, Anderson's resurrection was the talk of Tampa Bay's camp. His fastball -- never overpowering -- was reaching the high 80s, and its late movement was as dizzying as it ever was.
Best of all, for a franchise trying to reinvent itself following a decade of unrivaled lousiness, Anderson's peppiness was a revelation. He loved arriving at the training grounds each morning; loved sliding into a crisp white uniform; loved talking to Scott Kazmir and Matt Garza about the unpredictable life of a big league pitcher. "I thoroughly enjoyed this camp, because I didn't know if I'd ever be able to do it again," he says. "I remember being a younger player and thinking -- like we all do -- 'If I have to take another grounder, I'll kill myself.' Well now taking grounders meant the world to me. When you're 25, 26 years old, you have no idea how quickly this career comes and goes. Being hurt those two years gave me a tremendous appreciation for this spring. I wanted to absorb it all. To really relish the joy of baseball."
Anderson also really wanted to make the roster. That was the goal -- an increasingly likely one after each positive bullpen session. Then, on March 12, he entered an exhibition game between the Rays and the Yankees at Progress Energy Park. After surrendering a pair of bloop hits, Anderson stared down at Bobby Abreu, the next New York batter. His first pitch, a fastball down and away, left his hand just as the pain arrived -- "a burning sensation through my elbow," he says.
"I knew something was wrong and that I needed to get off the field," he says. "But then I thought back to when I hurt my arm with Texas. That was such an unmistakable sound and feeling -- like 10 or 12 pieces of paper ripping -- and this wasn't it. So I decided to try and go on."
Anderson threw three more pitches. The first two were fine. The third -- riiiiiiiip. "I knew I was done," he says. "I just knew."
The ligament had torn once again. His comeback -- dead.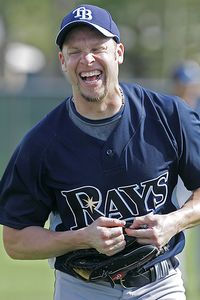 AP Photo/Al Behrman
Anderson was pitching well and having a blast this spring -- until his arm gave out again.
In the immediate aftermath, Anderson handled the bad news well. He'd given it the good ol' college try; he'd made a lot of friends; he'd worked his butt off; blah, blah, blah. Of late, however, the emotional pain has been significantly more palpable.
Ever since being selected by the Angels in the first round of the 1993 draft, baseball has been Anderson's life. He lost a World Series with the '97 Indians; won one with the '01 Diamondbacks. He faced Barry Bonds and Albert Pujols and Frank Thomas and Ken Griffey Jr., rarely backing down; rarely failing to relish the big-moment showdowns; rarely not seizing the day.
"I'm not depressed, but I'm sad," he says. "To me, depression is a serious low. But am I happy? Not overwhelmingly. I still feel like I can play, and getting that taste of it again ... well, it made me want it that much more. So there's an emptiness I need to deal with."
Though positive news is hard to find in this setback, there is one valuable moral here: Goodness comes back to you.
Throughout his 13-year major-league career, Anderson was one of the game's excellent ambassadors. He signed autographs for hours; went out of his way to help pitchers competing with him for roster spots; spoke with the media until every last question was asked. I can still vividly recall situations during the '01 season with Arizona, when Randy Johnson dismissed clubhouse interlopers with a Cujo-like snarl and Anderson picked them up with a Richie Cunningham-like smile.
Hence, less than a week after Anderson's tendon went pop, the Rays offered him another full-time position. On Tuesday he began his new life, as an assistant to pitching coach Jim Hickey.
"I'm excited, I'm nervous, I'm intrigued," he says. "Yesterday my locker was with the players. Now it's with the coaches. It goes to show, you never know how life will turn out.
"You just never know."
Jeff Pearlman is a former Sports Illustrated senior writer and the author of "Love Me, Hate Me: Barry Bonds and the Making of an Antihero," now available in paperback. You can reach him at anngold22@gmail.com.