Despite the moans of New York Mets fans nationwide, team officials decided last week to allow Willie Randolph to finish the season as manager and work his way out of a hole.
Just when it seemed as if stability would reign, however, lightning struck. Gary Carter, the Hall of Fame catcher and the manager of the mighty Orange County Flyers of the independent Golden Baseball League, told ESPN Radio that he was ready and willing to lead his old ballclub to the promised land.
"I just want them to know of my availability," he said. "I'm only a phone call away."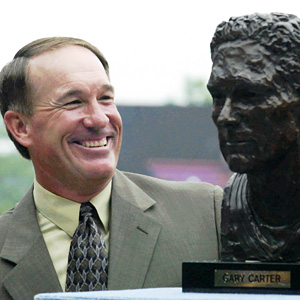 AP Photo/Ed Betz
"Golly, this really is a beautiful bust. Why don't we mount it in the dugout?"
With those words, baseball history changed course.
"I didn't want to fire Willie," said Mets GM Omar Minaya. "I really didn't. But Gary Carter was, literally, only a phone call away. And when Gary Carter is literally only a phone call away, well, you make that call!"
Hence, last night against the Florida Marlins, Carter made his major league managerial debut. ESPN.com was allowed inside the Mets' clubhouse to record the momentous event…
Gary Carter, new Mets manager: Guys, gather 'round and pop a squat! … First of all, I just wanna say, well, golly, it sure as heck is great to be here, managing the New York Mets! I've had a lot of dreams come true in my life, like making the Major League Baseball Hall of Fame in Cooperstown, N.Y., but, gosh, this is just so neat! … Now, I'm sure Willie had his way of managing, but my first rule is my coolest rule -- let's go out there and have some old-fashioned New York Metropolitan fun! Golly, I mean it! Let's pat some rumps! Let's pump some fists! When a teammate makes a heckuva swell play, let's say, "Way to go, partner! Way to get after it! You're the neatest!" … Now if you guys would do me a favor and break out that list I typed up for today, we can really get into the meat and potatoes of why this is going to be just, well, just awesome fun. OK, let's start with item No. 1. It's a really good one! Billy, can you read it out loud for everybody in the room.
Billy Wagner, Mets closer: Uh, I guess so. It says, "No. 1 -- from this point on, the Mets will chew only sugar-free gum." What the…
Carter: That's right! Billy Boy, you're a veteran. A super-darn cool veteran! Tell these guys how great it feels to shove a fresh piece of Orbit sugar-free spearmint in your mouth instead of a wad of dirty tobacco! Tell 'em, Billy! Tell 'em!
Wagner: Are you #@$&%!# kidding me?
Carter: Billy, that'll be $1 in the ice cream sundae jar.
Wagner: What the #@$&.
Carter: Two dollars.
Wagner: What the hell are you …
Carter: Three dollars, Billy. Do you want to keep testing me?
Wagner: Hell's a curse?
Carter: Shucks, good point. As a member of the Major League Baseball Hall of Fame and a better player than Johnny Bench, I really should explain. From now on, there's no bad language in the clubhouse. … Churchie, on the bottom of Page 12, I have a list of language no-nos. Can you read them to the group please …
Ryan Church, Mets outfielder: Yeah, OK. Let's see … "H-E-double hockey sticks" …
Carter: That's a bad one.
Church: Dang.
Carter: That's a bad one.
Church: God-darnit.
Carter: [Shuddering] That's a really bad one.
Church: Gosh-darnit.
Carter: That's a bad one.
Church: Darnit.
Carter: That's a bad one.
Church: Fudge.
Carter: It leads to impure thoughts.
Church: Drat.
Carter: Would have never left my lips, Churchie -- and I'm in the Major League Baseball Hall of Fame.
John Maine, Mets pitcher: Uh, so what's the ice cream sundae jar?
Carter: Great question, my Maine Man! Whenever anyone breaks a rule, they put $1 in the ice cream sundae jar. Then, at the end of each month, we have a swell ice cream sundae party in the Stadium Club! No wives, no kids -- just a bunch of fellas and one Major League Baseball Hall of Famer clowning around over ice cream, sugar-free, caffeine-free soda pop and good times! Gosh, I might even break out Bible Pictionary!
Jay Horwitz, Mets media relations director: [Raising his right hand]
Carter: Yes, Jay-Ho!
Horwitz: Uh, Gary, you sorta need to end this. The media can enter the clubhouse in five minutes…
Carter: Ah, swell point! Help yourself to a cookie from my office. They're chocolate chip -- Sandy baked them this morning! Gosh, I love that woman. I still remember the day I first held her hand. We were leaving church two weeks ago, and…
Horwitz: Uh, the media…
Carter: Right … right. OK, I have another new rule that I think you guys will just love! D-Righteous, read from the top of page 27, please.
David Wright, Mets third baseman: Um, OK. Let's see -- "From now on, the only person addressing the media will be The Kid." Uh, who's The Kid?
Carter: That'd be yours truly, D-Righteous!
Wagner: You're mother#@$&%!# 54 years old.
Carter: That's $4 in the ol' sundae jar!
Wagner: And you have a #@$&%!# perm.
Carter: Five dollars, Billy.
Wright: Really Skip, no media?
Carter: Well, I just think you guys need more time to focus on hitting the ol' rawhide, especially with a tough road trip coming and…
The meeting is interrupted. A smallish woman in jeans and a tank top enters the clubhouse.
Pati Dubroff, makeup artist to the stars: Gary, are you ready for your base?
Carter: Call me Skip, P-Dub!
Dubroff: Skip, are you ready?
Carter: Hang tight. Why don't you go into my office and grab some copies of my book, "Still a Kid at Heart." I autographed six of them for you -- heck, snag a crate if you have some friends who'd like…
Horwitz: Gary, I'm not sure that's such a great idea.
Carter: Golly, Jay, why not? The book is all about my inspirational rise from overweight kid trying his best to Hall of…
Horwitz: No … no -- the media. Not letting the players talk to…
Carter: Golly, Jay, I just think I have so much to say, and a season is so short. You know, I still remember that Game 6 in the '86 Series, when I beat out that roller to first…
Horwitz: Gary, that was Mookie Wilson.
Carter: Gosh, you're right, Jay. You're right. Grab yourself a cookie…
Jeff Pearlman is a former Sports Illustrated senior writer and the author of "Love Me, Hate Me: Barry Bonds and the Making of an Antihero," now available in paperback. You can reach him at anngold22@gmail.com.