BOSTON -- The greatest walk in Major League Baseball isn't from home to first. It isn't from the Wrigley Field dugout to the infield. It isn't even from the Yankee Stadium bullpen to the mound, as Mariano Rivera strolls onto the field accompanied by Metallica's "Enter Sandman."
No, the best walk in Major League Baseball takes place 81 times per year, immediately following the conclusion of a Boston Red Sox game. It traces the approximate half-mile path from Fenway Park to the nearby Kenmore Square T station, and -- time after time -- it brings me back to being 8 years old and laying my eyes on Coney Island for the very first time.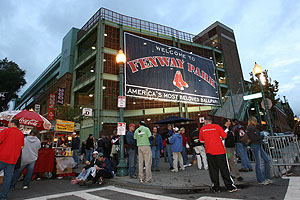 Ron Vesely/Getty Images
Bring your love of all things baseball (but never a Yankee cap) to the postgame walk at Fenway Park.
When you leave Shea Stadium, you are met with rows upon rows of automobiles. When you leave Minute Maid Park, you are greeted by the most boring downtown this side of Peekskill, N.Y.
When you leave Fenway, your senses are overwhelmed by a world oozing with color and smell and taste and feel and $15 I HATE NEW YAHK T-shirts.
I love taking in games at Fenway, but I live for the postgame stroll.
Hence, here is my diary from the aftermath of Tuesday night's 6-5 Red Sox victory over the Twins ...
10:14 p.m.: As I take my first step from the stadium onto Yawkey Way, I am greeted by the baseball fan's ultimate siren call, "Beeeeeeyah heeeeeeah! Getchya beeeeeeyah heeeeeeah!" The street is packed with Boston diehards, decked out in jerseys ranging from RICE and EVANS to RAMIREZ and ORTIZ. The scent of hot dog fills the air, and a man in front of me -- about 200 pounds overweight, with a chicken cheesesteak in his left paw, lets out a Herculean belch while bellowing, "Yankees suck."
10:17 p.m.: I am surrounded by 56 people, all wearing white T-shirts bearing the words, IN LOVING MEMORY OF FRANCO LIQUORI. They are family members and friends of the "wonderful" (in one friend's words) young man who recently died in an automobile accident at age 24. "Frank was a huge Sox fan," says a cousin from nearby Agawam, Mass. "He'd want us to be here."
10:21 p.m.: I turn right onto Brookline Avenue. Though I'm as anti-fuel industry as the next guy right now, is there a more magnificent site than the enormous red-and-blue CITGO sign that illuminates the black nighttime sky above Fenway?
10:23 p.m.: A panhandler asks passers-by for cash as he listens to his iPod. "Well," says a Boston fan, "at least we know he's not using the money for booze."
10:24 p.m.: I offer the panhandler a muffin. He ignores me to answer his cell phone.
10:25 p.m.: As I cross the highway overpass, a man in a red baseball cap, red tank top and battered pants and sneakers plays electric guitar into his miniature amp. While he wails away with some Hendrix, two scantily clad women -- watching me take notes -- approach and begin to grind against my right leg. It eerily reminds me of those days at the University of Delaware Pi Lamda Phi basement parties -- only I'm not drinking a Woo Woo.
10:27 p.m.: Having told my wife I'd buy her a T-shirt ("Really, you don't have to," she pleaded), I peruse the eclectic, unsanctioned offerings. Among my choices: I HATE PEYTON MANNING, GARNETT-PIERCE '08 and one featuring Manny Ramirez posing like Bob Marley. After a minute of internal debate, I go with JETER DRINKS WINE COOLERS. Hey, who doesn't?
10:30 p.m.: A bagpipe player in a black T-shirt and shorts plays magnificently as a group of five teens in VARITEK T-shirts chant, "Yankees suck! Yankees suck! Yankees suck!" He takes a break, but they continue.
10:33 p.m.: I arrive at the train station. The line to enter stretches several yards, and it's as hot as a midafternoon in Guam. Yet nobody seems to be in a rush; nobody seems to want to leave.
This is baseball.
This is Boston.
This is living.
Jeff Pearlman is a former Sports Illustrated senior writer and the author of "Love Me, Hate Me: Barry Bonds and the Making of an Antihero," now available in paperback. You can reach him at anngold22@gmail.com.