Editor's note: The following is an excerpt from Jeff Pearlman's new book "Boys Will Be Boys: The Glory Days and Party Nights of the Dallas Cowboys Dynasty," copyright 2008 by Jeff Pearlman. Reprinted with permission of HarperCollins.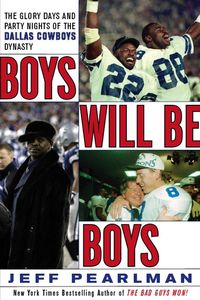 Everything came to a head on the afternoon of Dec. 13, 1992, when the Cowboys fell apart against the Redskins at RFK Stadium. Leading up to the game, a palpable bitterness consumed both teams. Though they were the defending Super Bowl champions, the 8-5 'Skins were three games behind the 11-2 Cowboys. They were a forgotten franchise, lost in the revival of America's Team. With a win, the Cowboys would clinch their first NFC East title in seven years.
"I'm going after the arm," Michael Irvin responded when asked how he would treat the cast-encased broken right forearm of Washington cornerback Darrell Green. "I'm not joking. I'm going after his arm. I don't think the arm is healed yet. I don't think the guy's healthy and I'm going after that arm on every running play. I'm not making threats. Those are facts."
Green initially refused to believe Irvin would utter such a classless statement. The words crossed a line of decency, and served as powerful motivators to the already agitated Redskins. First we're disrespected by the media … and now you threaten our best player?
After controlling the first three quarters of the game, the Cowboys unraveled in a defeat that Jim Jeffcoat called "the weirdest." The drama began early in the fourth quarter, with Dallas leading 17-10 and facing a third-and-goal from the Washington 2-yard line. Troy Aikman took the snap, dropped back, rolled to his left and locked eyes with receiver Kelvin Martin, who was slashing through the end zone. Though only in his fourth season, Aikman was already one of the league's best at looking off the defense; darting his eyes left and right to keep the intended target a mystery. This time, he and Martin stared toward one another like Ali MacGraw and Ryan O'Neal in "Love Story," passionately gazing into each other's eyes … lovingly … longingly …
WOOSH!
In came Redskins linebacker Andre Collins, who intercepted the ball and ran 59 yards to the Dallas' 42. "That," said Richie Petitbon, the Washington defensive coordinator, "was the biggest play of the game."
Though the Redskins only managed a field goal, the Cowboys officially handed the night away with 3:14 left in the fourth quarter. That's when Aikman, preparing to throw on second-and-7 from the Dallas 5-yard line, was twisted to the ground by defensive lineman Jason Buck. As Aikman began his release, the ball popped loose and rolled backward. Attempting to make something of nothing, Emmitt Smith snatched the pigskin and inexplicably tossed it toward Redskins safety Danny Copeland, who grabbed the ball in the end zone. Touchdown, Washington.
Game over.
Redskins: 20
Cowboys: 17
Jimmy Johnson: Indignant.
As is ritual, after the game the Cowboys met for a few moments as a team, showered, spoke with the media, dressed and bolted for the airport, where they boarded a chartered airplane for the return to Dallas.
Win or lose, the postgame flight is an opportunity for players and coaches to wind down, reflect and begin the recovery process. After the requisite 15-minute keep-it-down-because-we're-supposed-to-be-devastated silent time, men open up. They joke, laugh, play dominoes, play cards, talk smack, eat dinner.
Upon boarding, Johnson walked toward his seat near the front of the airplane and spotted the flight attendants preparing dinner. "Don't give my guys anything to eat!" he roared. "I mean it! Nothing!" Johnson sat down and cracked open a Heineken. Then another Heineken. Then another. Unlike the tea-toting, Bible-fearing Tom Landry of Cowboy lore, Johnson's off-the-field cravings encompassed the music of Barbra Streisand, violent movies, white shag carpet and -- most of all -- cold beer.
When the plane reached cruising altitude, players quietly scattered about. Like most teams, the Cowboys sectioned their airplane. The front five rows belonged to the coaching staff and executives. Behind them sat a handful of broadcasters and media types. Finally, taking up the rest of the jet's space were the Dallas players. Each row of the American Airlines jet has four seats. Every player had two seats to himself.
While gazing out the window, Robert Jones felt a tap on his shoulder. It was Charles Haley. "Do me a favor," Haley said. "Let me sit here so I can play cards with these guys." Haley nodded toward the nearby trio of Thomas Everett, Tony Tolbert and Kevin Smith, the team's regular Tonk players. "So I get up, and I'm just sort of leaning on my seat, watching the guys play," says Jones. "What else did I have to do?"
Jones stood facing the rear, unaware as to why the airplane suddenly went silent. When he turned his head, he understood. There was Jimmy Johnson, eyes the color of maraschino cherries, breathing down his neck. "I didn't think he was setting up to jump me, because I'm quiet, I'm not causing a scene -- I'm just standing there looking," says Jones. "So when I saw him, I stood straight up so he could get by. I figured he was going to the bathroom or walking the plane or something." Jones pressed his body toward his seat to make room for Johnson to pass. He held the position for two seconds … three seconds … four seconds … five seconds. Nothing.
Johnson looked into Jones' eyes and yelled, "Where's your f------ seat?"
Quiet by nature, the linebacker stammered. "Uh, Charles had to use it because they were playing cards," he said.
"You know what?" said Johnson. "You're the weakest f------ middle linebacker I've ever come across. You play an entire game at middle linebacker and you make one f------ tackle? Find your damn seat!"
Jones paused.
"Find your g--damned seat," Johnson said, "before you don't have a f-----' job."
Gulp.
Jones stumbled around before falling into Haley's lap. From three rows up, Frank Cornish, the backup center, laughed softly. Johnson's head spun like an owl tracking a vole. "Stop smiling!" he hollered.
"Coach," said Cornish, "I'm not smiling. Nothing's funny."
Johnson shuffled back to the front of the plane, slurring angrily. As the players whispered "What an a------" and "What's up his a--?" he re-appeared. Cornish, who had stood to use the bathroom, saw Johnson scowling at him again. "Coach," he said, "we're all disappointed that we lost. But nobody is taking it for granted."
Johnson's lower lip quivered. "Frank, are you challenging me?" he said.
"No," responded Cornish. "Not at all."
The center quickly exited, stage left, into the bathroom.
A former sixth-round draft choice, Cornish was a solid, dependable, eminently disposable reserve. If Johnson felt the itch, he would cut him in a second. "I never liked that about Jimmy," says Robert Jones. "Think about the guys I was with when he jumped on me -- Charles Haley was a star, Thomas Everett was the starting safety, Kevin Smith was a shutdown corner, Tony Tolbert was a great defensive end. He chose me and he chose Frank because we were guys he could pick on and not worry about. He never messed with his bread-and-butter guys, because he was a bully. Bullies only pick on the guys they can mess with."
In a final dose of brutality, Johnson -- again retreating to the front -- walked past fullback Tommie Agee, who was sitting on the armrest of his seat because Emmitt Smith was cramping and needed to stretch his legs. "Tommie," he said, "what are you doing out of your seat?"
Agee tried to explain, but his coach didn't want to hear it. "Sit down!" he said. "Sit the f--- down!"
And then Johnson left to drink another Heineken.
---
In the rear of the plane the players were outraged. Here were the Dallas Cowboys, 11-3 and manhandling the NFC East. They had the league's best record, best running back, best quarterback, best possession receiver and one of its best defenses. And their coach felt the need to treat them like 4-year-olds. "F--- this!" said Irvin. "I know we lost, but he shouldn't have come back here like that." Haley patted Jones on the shoulder. "Man, that was so wrong," he said. "I took your seat and he didn't say nothing to me." Players were fed up with Johnson's insensitivity.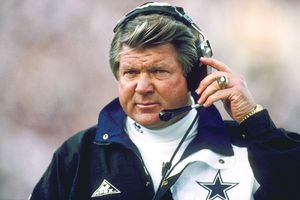 Photo by NFL/Getty Images
Jimmy Johnson seems pretty happy on TV, but back in his coaching days he exhibited a mean streak.
The following day, the Cowboys were scheduled to gather at noon for a meeting at Valley Ranch. Safety Ray Horton was sitting alone outside the weight room when Johnson approached. "Ray," he said, "how are the guys?"
An elder statesman who knew this would be his final season, Horton lacked the insecurity to sugarcoat an answer. "Coach," he said, "they're really pissed at you."
Johnson failed to flinch. "That's fine," he said, "as long as they play for me."
Moments later Johnson entered the team meeting, stood before the room and made an announcement. Horton knew what was coming -- Johnson would apologize and the organization would move on. Right?
"I know some guys are mad at me," Johnson said, "but I just want to win."
And that was that.
"Typical Jimmy," says Horton. "He was single-minded and he was hard, and all he cared about -- I mean, the only thing -- was winning football games. It's probably not the healthiest way to be, but it made him a successful coach."
In the ensuing days, players complained about Johnson to one another. They whined and moaned and questioned the decency of a man who would treat "family" (as Johnson often referred to his players) in such a disrespectful manner. But there was little they could do. He was the boss, they were the employees. Anyone who wanted to quit a team heading for the playoffs was more than welcome to do so.
On the following Sunday, the Cowboys traveled to Atlanta and trounced the Falcons, 41-17. Still fuming at their coach, players took it out on the overmatched Falcons. Aikman completed 18 of 21 passes for 239 yards and three scores, and Emmitt Smith added 174 rushing yards and his NFL-high 17th and 18th touchdown runs. With the victory, Dallas clinched both the NFC East title and a first-round playoff bye. Shortly after the game, CPC/Environment, the company responsible for those cheesy commemorative coins recognizing everyone from JFK to MLK to the 1986 New York Mets, announced that they would be issuing "a limited edition of 5,000 pure silver commemorative medallions honoring the Cowboys!" (With each one-troy ounce pure silver medallion individually numbered!)
Were the Cowboys back on top? The coins sold out in less than a day.
---
Ever nervous of a letdown, Johnson deemed it vital to destroy any potential pre-playoff complacency. The Cowboy players averaged a league-low 25.3 years of age. They were pups among men, and the coach didn't want a postseason berth to swell to their heads.
What he needed was a scapegoat.
What he had was Curvin Richards.
Growing up in the Trinidadian town of Laventille Village, Richards hated running. Hated it. As his friends spent their days playing soccer, darting up and down a grassy patch of earth, young Curvin sat back and watched. Or slept. Or stayed home.
When he was 9, his father Kevin was hired as a welder in the United States, and the family relocated to Houston. It was here, at LaPorte High School, that Richards discovered his calling.
Though he might have found soccer to be dull, Richards was smitten with the pigskin. "There's almost something magical about being on a football field," he said. "Running with the ball." Upon graduating from LaPorte with 1,159 rushing yards and 14 touchdowns as a senior, Richards enrolled at the University of Pittsburgh. After three seasons he ranked only behind former Cowboy great Tony Dorsett on the school's all-time rushing list. When Richards declared early for the 1991 NFL Draft, the Cowboys gladly used their fourth round pick on a 5-foot-10, 190-pound power back with untapped potential. "He's a great, great tailback," said Syracuse coach Dick MacPherson. "Curvin Richards is what everybody looks for when they need a running back."
But Richards had one fatal flaw -- mindlessness. Before the opening game of Richard's first season with Dallas, veterans told the rookies that the team's charter flight to Cleveland was departing from Dallas Love Field Airport, not Dallas-Fort Worth International Airport. The lone plebe not to double check, Richards missed the plane. Later in the year, a veteran Cowboy posted a sign in the locker room reading GO TO KROGER'S BEFORE NOV. 20 FOR YOUR FREE TURKEY! It was the oldest clubhouse trick in the book -- and Richards eagerly darted to the supermarket. "Curvin was a f---up," says center Mark Stepnoski, his teammate at Pitt. "If a guy is going to screw up repeatedly, why would you trust him to do anything?" Richards would arrive late to practices and forget little things like, oh, his helmet. In team meetings he refused to take notes, an inexplicable stubbornness that infuriated running backs coach Joe Brodsky.
What especially irked Johnson was Richards' inability to hold on to the football. As a rookie he only received two carries, so fumbles were a non-issue. But during the 1992 season Richards was a disaster. He fumbled three times in 52 rushing attempts -- compared to Emmitt Smith's two fumbles in 432 chances. His slippery hands especially stood out in practice, where three days rarely passed without Richards coughing it up. Johnson could tolerate a bad week. He could tolerate occasional distractions. He could even tolerate failure (well, at least to some degree). He could not tolerate fumbling.
"It's a shame, because physically Curvin was a carbon copy of Emmitt Smith," says Tony Jordan, a running back who spent two years in the NFL and attended training camp with Dallas in 1992. "But culturally Curvin was a little different. He had a laid-back approach that didn't lend itself to the intensity of pro football."
To eradicate the fumbleitis, Johnson would insert Richards into rushing drills and implore defenders to imagine themselves as pigeons and Richards the world's last breadcrumb. "We'd do this drill where nobody was there to block the safeties," says safety Darren Woodson. "It was the toughest drill on the running backs, because a hole would open up and the safeties would just kill whoever was coming through. We knew it was a running drill, and they would put Curvin Richards in and Jimmy would say to us, 'Come down hard and smack the s--- out of him.' Then he'd turn to Curvin and say, 'Make sure you hold on to the ball.'" Sometimes Richards held on. Oftentimes he didn't. "When that happened," says Woodson, "you are talking about the wrath of God coming down. 'G--dammit! Motherf-----! What the hell!'"
Dallas' final game of the season was a home contest against the lowly Chicago Bears. With 10:59 remaining in the fourth quarter, Dallas held a 27-0 lead that had the 63,101 fans dancing in the aisles. Needing 109 yards to surpass Pittsburgh's Barry Foster for the league rushing lead, Emmitt Smith clinched the crown with a 31-yard touchdown scamper early in the third quarter. Defensive tackle Russell Maryland scored his first career touchdown when he snagged a bobbled pitchout, rumbled 26 yards into the end zone and celebrated with a bellyflop. It was a good day. A great day. A celebratory day.
Until Curvin Richards entered the game.
In 13 carries, Richards fumbled twice. His first was returned 42 yards by Chicago lineman Chris Zorich. "Man, Jimmy was mad," says Tim Daniel, a Cowboys wide receiver. "I was standing right there when he turned to Curvin and said, point blank, 'If you fumble again, your a-- is cut and you'll never carry the ball for the Dallas Cowboys again.'" Then Richards fumbled again. Johnson yanked him. As he jogged toward the sideline, Richards surely expected to be browbeaten by Johnson. Instead, the coach said the worst thing possible: absolutely nothing.
The Cowboys held on to win, 27-14, and entered the locker room with a franchise-best 13-3 record; an NFC East title; a bye week -- and a coach again on the brink of a meltdown. Two weeks after the airplane incident, Johnson was even angrier. In his postgame press conference, he refused to look directly at the assembled reporters, muttering, "The team is to be congratulated on winning 13 games. (But) I was not happy with the sloppy play." Johnson furiously chewed out his players, pinpointing each miscue as if it had occurred in the final minutes of a deadlocked Super Bowl.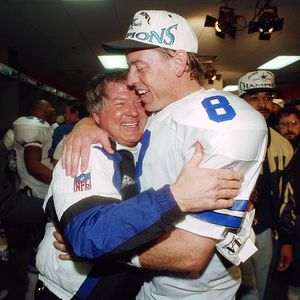 AP Photo/Charles Krupa
Johnson and Troy Aikman were definitely a successful tandem, although they didn't always see eye to eye.
"This is crazy," Tony Wise, the offensive line coach, said. "Whether anybody around here believes it or not, we beat a pretty good football team today." Aikman was equally disturbed. "What really concerned me is that he didn't congratulate us at all," he said. "That was really hard on a lot of guys. There was a lot of bitterness."
After addressing (and undressing) the team, Johnson headed straight for Jerry Jones' suite to let his owner have it. With a quarter remaining in the game, Jones had escorted Prince Bandar bin Sultan, the Saudi ambassador to the United States, onto the sideline. When Johnson spotted the smiling owner and prince (as well as Bandar's six bodyguards), he flipped. "What the f--- were these guys doing here?" he yelled at Jones. "In the middle of a game that we're blowing?"
After Johnson calmed down, he told Jones that Richards had to be cut. The owner insisted they sleep on it, but the following morning the coach's mind was unchanged. In the history of the NFL postseason, teams won scoring a lot and scoring a little. They won with good defense and adequate defense. They won with clutch kickers and nervous kickers. They never won turning over the football.
When the Cowboys informed the league of the transaction, Joel Bussert, the NFL's senior director of player personnel, was shocked. "Jimmy," he said, "I just want to make sure you know that you'll have to pay this guy full playoff money and that you can't replace him now on the postseason roster."
"Fine," said Johnson. "I just want Richards away from us."
Upon learning of his fate from Johnson, the low-key Richards nodded his head, cleaned out his locker and quietly departed Valley Ranch. His teammates were saddened, but hardly surprised. "Jimmy gave Curvin plenty of warnings," says James Washington. "What else was he supposed to do?"
The Cowboys were heading to the playoffs -- one man down.
Jeff Pearlman is a former Sports Illustrated senior writer, and a regular contributor to Page 2. His previous book was "Love Me, Hate Me: Barry Bonds and the Making of an Antihero.". You can reach him at anngold22@gmail.com.