My stocks are tanking, my bank is surely about to close, my wife is pushing the fall thermostat up to 71 degrees, my dog has a plastic funnel wrapped around her head, the presidential debates have been mind-numbingly dull and a zit the size of Gheorghe Muresan's head sits atop my nose.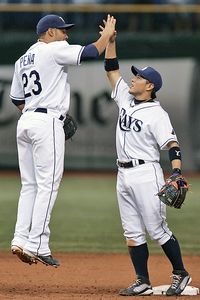 AP Photo/Chris O'Meara
Some of us are having a hard time with Tampa Bay actually being good.
I need the Tampa Bay Devil Rays.
No, not the Rays. The Devil Rays, dammit -- the Tampa Bay Devil Rays.
Now is not the time for serious baseball -- for young fireballers like Scott Kazmir and David Price or power-hitting rookie of the year front-runners like Evan Longoria. We don't require amazing displays of power or speedy baserunning or Joe Maddon's aggressive, balls-to-the-wall style of managing. No, in this moment of myriad catastrophes, when all Americans could use something uproarious to numb the misery, I demand the return of laughable, old-fashioned Tampa Bay Devil Rays baseball.
Now!
Ah, the Devil Rays. Rainbow-hued uniforms. Sinful moniker. Bobby Abreu for Kevin Stocker. The Jose Canseco-Fred McGriff-Greg Vaughn-Vinny Castilla murder-thyself row. An empty stadium that doubled as the world's largest (and most lopsided) sardine container. The $10.2 million commitment to Matt White. The promise of third baseman Bobby Smith. The inevitable stardom of catcher Toby Hall. An outfield featuring Quinton McCracken and Bubba Trammell. The decision to select Josh Hamilton over Josh Beckett with the No. 1 pick in the 1999 amateur draft. The decision to select Dewon Brazelton before Mark Teixeira and David Wright in the 2001 amateur draft. The worst logo this side of the Rider Broncos.
Most of all, I miss Chuck LaMar, the team's original general manager and a man who put the "amazingly" in "amazingly inept baseball executive." I first met LaMar during the 1999 season, when Sports Illustrated sent me to Florida to profile baseball's worst franchise. I knew he was a special human being when, upon being asked to assess his team's long-term plans, he noted -- with a straight face -- that "our plans are long-term."
Come again?
"Those are our plans."
I'm confused.
"They're long-term. And good."
Good?
"Yes, very good. We plan on being very good. Long-term."
Oh.
Boy, could I use a little Chuck LaMar right now, as I slog through life, wondering whether to pull out of my money-market account or simply move into a cardboard box while the nearby Food Emporium still leaves them out back. Back in the day, before B.J. Upton was even a twinkle in Tampa Bay's eye, LaMar would lean up against the cage during BP, nodding agreeably as Aaron Ledesma and Jason Conti popped one ball after another into the netting. "That-a-way!" he'd yell. "Go get 'em! Lookin' good!"
Of course, the Devil Rays never looked good. Never. They went six seasons before winning so much as 70 games and reached the 100-loss barrier three times in nine seasons. But while most people bemoaned their ineptitude, I relished it. Who could root against the Devil Rays when they, say, traveled to Yankee Stadium and trotted out a pitching lineup of Ryan Rupe, Lee Gardner and Lance Carter to face the Bronx Bombers? Who could hope for anything but the best as Jared Sandberg swung mightily versus Randy Johnson? The Devil Rays became the team of fourth, fifth and sixth lives -- of Ben Grieve and Sean Burroughs, of Al Martin and Rob Bell. You're a 47-year-old shortstop with no knees and a seven-pack-a-day cigarette habit? Worry not -- Tampa Bay will give you a shot.
Now, of course, that's changed -- what with the abbreviated nickname and smart uniforms and administrators who seem to understand, well, baseball. The Rays are no different than the Yankees or Red Sox or Dodgers -- another talented franchise moving on to bigger and better things.
Somewhere, Albie Lopez weeps.
So do I.
Jeff Pearlman is a former Sports Illustrated senior writer and the author of "Boys Will Be Boys: The Glory Days and Party Nights of the Dallas Cowboys Dynasty," which is on sale now. You can reach him at anngold22@gmail.com.