By Mike Philbrick
Page 2
Have you heard about the latest feud?
Seems that speedskaters Shani Davis and Chad Hedrick don't like each other too much -- and they're on the same team! The U.S. team! Oh no, that's so un-American! The terrorists are winning!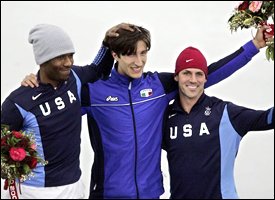 AP Photo/Dusan Vranic
Gold winner Enrico Fabris looks happy in the middle of the "feud." (AP Photo/Dusan Vranic)
From what I've forced myself to read, Davis declined to be on one of the speedskating relay teams. He wanted to concentrate on his individual events; Hedrick thinks that cost him a shot at another gold. The "eyes of the world" were on them when they faced off in the 1,500-meter finals on Tuesday. But Italy's Enrico Fabris took the gold, while Davis settled for the silver and Hedrick got the bronze. And the two Americans were very icy to one another in the postrace news conference.
Well, I've got some more bad news for the Davis and Hedrick camps: You don't even have a feud.
That's right. There's a very delicate recipe that needs to be followed to create a successful feud. And this one doesn't cut it. Like my nana used to say, "It needs more salt."
If you're looking to figure out whether the feud you're following is indeed legit (or if you're looking to start one that is), you need to follow this recipe:
Step 1: It needs to be timeless.
A feud needs to transcend an event -- not the other way around.
Honestly, if Davis and Hedrick took off their skates and tried to shank each other two years ago, would you have even heard about it? Well, maybe if there was video, but only if one of them was killed in the melee.
The only thing fueling this "feud" is that it's taking place during the Olympic Games. That, and all the people assigned to cover the Bode Miller Gold Medal World Tour have found themselves with a tremendous amount of time on their hands.
Look at Shaq and Kobe -- their feud made front-page news during the NBA season, the offseason, training camp, whenever. Hell, the first time Shaq's Heat played Kobe's Lakers, they even bumped Christmas from the top news slot.
Red Sox-Yankees? When a baseball feud can lead "SportsCenter" in December … congrats, you have a feud.
If Shani Davis called a news conference a week from now to "set the record straight," odds are that even Speedskating Monthly would pass. And if you saw Chad Hedrick responding to something Davis said this afternoon, you would be totally lost if Hedrick wasn't wearing a name tag that said, "Hello, my name is Chad Hedrick, U.S. speedskater (the one in the feud)."
Finally, not only will their "SportsCentury" profiles not include this alleged feud, but there's a pretty good chance you're going to see "SportsCentury: Ronan Tynan" before the cameras start rolling on these two guys.
Step 2: It needs to simmer.
One or two juicy moments don't lead to an official feud. Like good chili, a feud needs to sit on the stove for a while.
At the bare minimum, there have to be at least three moments when a reporter ambushes a potential feud member with a quote from the other guy the ambushee hasn't heard yet. Also, it helps if the cameras are rolling so we can get the person's immediate reaction (before agents and GMs get in the way and ruin it with lame responses like, "We'll let the final score settle this").
How many times did this happen to Joe Frazier with Muhammad Ali quotes? 10,000? That number sounds a little conservative.
Where's the history between Davis and Hedrick? A few Olympic-philes will tell you that Davis has been battling the powers-that-be on the U.S. team for a few years now, but that's nothing the mainstream media would ever care about.
Sorry, but a speedskating feud is almost as impossible to take seriously as the countless guys who've called themselves "the bad boy of figure skating."
Step 3: It needs for people to take sides.
Are you an East Coast rap guy or West Coast?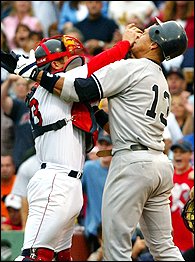 AP Photo/Winslow Townson
Now THAT is a feud. (AP Photo/Winslow Townson)
Shaq or Kobe?
Yanks or Red Sox?
"Star Wars" or "Star Trek"?
Duke or UNC?
See, it takes about a millisecond for you to chime in on whose back you've got.
Davis or Hedrick?
Come on … it's not as though there are fights breaking out by the copy machine because a Davis guy and a Hedrick guy happen to cross paths. And if that did happen, the guys are probably working at some office in Norway.
Step 4: It needs multiple public events to bring it to a boil.
If you're talking about a feud and you're saying things like, "Imagine if these guys ever faced each other again," well, then it's not a feud.
You need each feud participant to have multiple chances to earn bragging rights.
Maybe it's a 50-50 split. Or maybe one team wins 26 World Series while the other guys win just one. The point is, a one-and-done can't be an official feud.
Ali-Frazier didn't just have the Thrilla in Manila. T.O. and McNabb will face each other again. And all those teams mentioned above? Whatever the sport, they get to mix it up at least once a year.
Put it this way … the Davis and Hedrick non-feud can be put in perspective in about three seconds. Imagine them facing off in the Olympic Village with their medals hanging from their necks. Just as they're about to come to blows, gold medal winner Fabris strolls up laughing at them, wearing a full-length mink coat and a girl on each arm. In fact, that probably will happen sometime Wednesday. Let's hope ESPN Motion will have the clip.
Step 5: The makeup (optional).
This one needs at least two years before it's ready. You need to put some space between the two feuding parties by neither team winning anything.
At the All-Star Game on Sunday, it looked as if the Shaq-and-Kobe feud has pretty much run its course. Why? Because the Pistons and Spurs have won the last two titles. If Miami or L.A. had taken one of those? Game on.
Sometimes a makeup takes more than a few years. And sometimes it never happens. A couple of years ago, Joe Frazier boasted about how easy it would be to fight a Parkinson's-crippled Muhammad Ali. Then you have Mark Messier not only returning to the Rangers but showing up to the news conference and literally burying the hatchet in a bucket to laugh off their feud. Needless to say, even the potential for a "kiss-and-make-up moment" needs to be on everyone's mind whenever either feuding party is talked about.
Will Davis and Hedrick have their own emotional makeup?
Who cares, because as far as I'm concerned, they weren't ever really fighting to begin with.
Mike Philbrick is an editor for Page 2. You can contact him at michael.w.philbrick@espn3.com