I live for this! Baseball's Last True Believer
Editor's Note: Excerpted with permission from "I Live for This! Baseball's Last True Believer" by Bill Plaschke with Tommy Lasorda. Copyright 2007 by Bill Plaschke and Tommy Lasorda. Reprinted by permission of Houghton Mifflin.
---
Chapter 4: I bounced around for this
Have some breakfast!"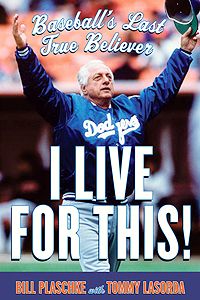 Houghton Mifflin
Click here to purchase "I live for this," by Bill Plaschke with Tommy Lasorda.
On a February morning in a small house in Fullerton, California, the cluttered kitchen suddenly shakes. It is not an earthquake. It is not a sonic boom. It is a McDonald's bag filled with Sausage McMuffins dropped on the kitchen counter. It is Tommy Lasorda's breakfast. This being the Dodgers' Winter Caravan Day, Lasorda needs his strength.
"You accuse me of never buying you a meal, but look here, I bought us these McMuffins," Lasorda says, digging in. "Man, these are good eatin'."
Lasorda loves McDonald's. He has ordered a limousine to go to a McDonald's drive-through. He once attempted to purchase a whole McDonald's restaurant while he was in the drive-through. "Turns out, man, those things are expensive," he says. Surprisingly, Lasorda has never owned a restaurant, although he once lent his name to three Italian restaurants, only to see his investment suffer when one of the places was discovered to have rats.
The McMuffins disappear, and Lasorda is ready to join the caravan, which is a good thing, because all across Los Angeles children are waiting. In the course of eight hours, Lasorda and several Dodger players and officials will barnstorm throughout southern California, stopping at an elementary school, a high school, an inner-city baseball academy, and an aquarium. When he was manager, Lasorda would take half the team along on these tours, the players joining him out of both loyalty and duty. These days, only a handful of Dodger major leaguers live in the area, so the tour is lucky to feature one star. Today the biggest name is the local-born Nomar Garciaparra, who has been with the team for only one season. That means the real star will be Lasorda.
"Eat that last one, Dad," says his wife, Jo, pointing to the last greasy lump. "Did you take your pills? Do you have directions?" Lasorda eats standing up, which is a good thing, because his small house is so stocked with boxes and magazines and memorabilia there aren't many places to sit. For more than forty years, the Lasorda empire has been run from a modest stucco home that is more cozy than castle. Some of Lasorda's closest friends have never seen the place. It is an hour's drive from Dodger Stadium and a world away from his Hollywood image.
Sitting modestly in a nondescript middle-class neighborhood, the house has two small front windows and a decoratively barred screen over the front door. It is so unlike the home of a king, new UPS drivers are apt to be confused. They show up bearing a package with the Lasorda name and think maybe it's a mistake.
Just as confusing are the expensive cars in the driveway, easily the nicest cars on the street. Tommy would move them into the garage, but there is no room, the garage being full of large storage boxes and more memorabilia and a giant washer and dryer, the same kind you find in a baseball clubhouse.
"There's a lot of legends about the stuff I have in this garage," says Lasorda. "I can't confirm or deny any of it."
Inside, the house has a sliver of a kitchen, a small dining room, and a back den that was added on, built by some of his players. In that den there is a big-screen TV that dwarfs a couple of comfortable chairs. "Somebody once asked if we were ever going to get a house to go with that TV," Lasorda says. The den is where he and Jo watch movies on Lifetime together. This is where they sit in their pajamas each evening and share their days. This, they say, is all they need.
The Lasordas have lived in this house since moving to California in the mid-1960s, when Lasorda was working on a scout's low salary. Jo made good friends, including neighbors with whom the Lasordas still share Thanksgiving and Christmas. Jo found plumbers and electricians and handymen. Jo discovered the rarest of commodities for baseball wives, the feeling of security. When Lasorda became manager and embraced Hollywood and began making good money, the woman who supported him through all the lean years had but one request: she did not want to move. Ever. So they stayed. "We would come home from having dinner in Beverly Hills with Frank Sinatra or the Gregory Peck and Jo would smile and say, 'Now you're coming back to reality. So go take the trash out.' " Lasorda would take out the trash, but he hardly lifted a finger otherwise. Until recently, he could proudly say he has never washed a dish, cleaned a table, laundered a shirt, or made a bed. "Lemme tell you a story about that. I was playing in Puerto Rico, and Jo complained that one of my teammates was helping his wife do the dishes, and so I asked her, 'How many ballgames have you been to? Do you ever see me on the mound with the bases loaded, nobody out, and that fourth hitter staring me in the face? Do I ever ask you to get him out? I don't ask you to pitch, you don't ask me to do the dishes.' "
Lasorda often follows this story with another one about Jo: "In an interview, she was once asked if she ever considered divorce. She answered, 'Divorce, no. Murder, yes.' "
When you consider Lasorda's pitching career, it was probably less messy for Jo to do the dishes herself. As hard as Lasorda tried, he pitched the way he fought -- too aggressively, with blood everywhere. Lasorda's first major league start was in 1955 with the Brooklyn Dodgers, one of the greatest teams ever, a roster boasting future Hall of Famers Jackie Robinson, Roy Campanella, Duke Snider, and Pee Wee Reese. This was the first Brooklyn team to win a world championship. This was also the perfect team on which Lasorda could get that first big-league start, because the Dodgers had such a commanding win-loss record that even a junk-throwing lefty couldn't mess it up.
With the team leading in the standings by double-digit games, Lasorda took the mound against the St. Louis Cardinals. He wanted to show his nemesis, Walter Alston, that he was more than just a mouth. He was eager to show he could be a big part of a team that he knew would win a championship. Alas, he did neither.
He walked the first batter, Wally Moon. He bounced his next pitch past Campanella to the backstop, moving Moon to second. He stepped off the mound. He wiped the sweat from his nose. Oh, no, he was thinking. Not again. Please, not again.
He stared down the next batter, Bill Virdon. He growled at him. He shook his head at him. It didn't matter. He couldn't fight his way through this. He walked Virdon. This brought up the great Stan Musial, and now Lasorda's head was back in Norristown.
He was a third-string pitcher again. He wasn't good enough again. Forget his fastball, forget his curveball. Lasorda would have to trick his way out of this jam. So he threw, of all things, a knuckleball. Campanella couldn't catch it. The ball bounced to the backstop, and now the runners were on second and third.
A Hall of Famer at the plate, two runners in scoring position on two walks and two wild pitches, and Lasorda's mind continued to spin. He had worked all of his life for this? He had fought from Cuba to Greenville for the right to do this? Embarrass himself in his first big chance? Show Alston that he was right? That Tommy Lasorda was a better heckler than a pitcher? Life was so unfair. Those trick pitches worked in the minor leagues. Why not now? Why didn't I get the big arm that could blow hitters away? Why didn't I get the great legs that could push me toward a strikeout? Why was my body not as strong as my heart? It was so unfair.
"Then," Lasorda remembers, "I threw the greatest curveball of my career."
And in the greatest out of his career, he quite unbelievably whiffed the Man, striking out the swinging Musial.
If only the story ended here. But the stories of Lasorda's play ing career never ended here. They never ended in a strikeout. They never ended in triumph. As with many great sports motivators, all Lasorda's playing stories ended in misery.
With Ken Boyer at the plate, Lasorda threw another wild pitch -- his third of the inning -- and Moon raced toward home. Lasorda ran in from the mound and blocked the plate like a catcher -- except he forgot he wasn't wearing shin guards. Moon slid toward the plate and sliced up Lasorda's leg. The kneecap was cut open. Blood dripped from his knee into his sock. Lasorda finished the inning, hobbled to the dugout, and tried to hide the gaping wound. But Pee Wee Reese saw it. And Jackie Robinson, who grew sick at the sight of blood, smelled it. And Alston, looking for any excuse to rid himself of Lasorda, immediately ordered Clem Labine to take over on the mound. Lasorda protested until a team doctor warned him that he would be risking his future ability to walk if he returned to action. This only made Lasorda protest more, until finally his teammates Don Newcombe and Russ Meyer grabbed him by the arms and dragged him screaming into the dugout.
"I was twenty-seven years old. I had been working my entire life for that moment. I knew how precious it might be," Lasorda recalls. "And then it was gone. Forever."
He was right. That was his only start that season, his only start for the Dodgers, and one of only six starts in a career during which he was 04 with a 6.48 ERA.
"Now you see why I wanted to go back to that mound?" he says. "Being able to walk right for the rest of my life didn't really matter. Being able to pitch for the Dodgers did."
On this February morning, his legs are hurting again. This time it's his left hip. It's so sore, he winces with every step. Yet he refuses to see a doctor. He'd had his knees replaced several years ago, and he dreads any talk of a hip replacement, saying, "I ain't going to no hospital, not again, no way. I can take the pain."
So he winces some more and hobbles out the front door of his Fullerton home, and the cool morning breeze hits his face, and his mood instantly changes.
"I love these caravans. I love being with the people," he says. "Isn't it a beautiful day? God bless America!"
When driving with Lasorda, the first thing you want to do is salute. Not because he sounds like a statesman, but because his Cadillac looks like it belongs to a president. From the back passenger window an American flag flaps. It flies above the roof, shadowing the side of the car, whipping furiously in the 65 mph draft, a decoration far more distracting than anything one would find on a tricked-out Escalade. Some drivers swerve to avoid it. Others slow down to stare at it. Every time Lasorda's car is washed, the workers get rid of it. Every time, Lasorda just finds another flag.
"Everywhere I go, I want everyone to know I'm American," Lasorda says, and there is little doubt of that.
The second thing you want to do when riding with Lasorda is cover your ears. His car has satellite radio, and the station is constantly tuned to forties music, and Lasorda insists on singing each song at the top of his lungs, even when he has no idea of the words.
"Baby face . . . you've got the cutest little baby face . . . Da-da-na-nada- da baby face."
The car mercifully comes to a halt at the caravan's first stop, Ocean View Elementary in Whittier, about twenty minutes from Lasorda's house. Lasorda has arrived before the busload of players and officials. No matter where he goes, he seemingly arrives before everyone else. There are rows of children sitting in folding chairs in a playground. He hobbles out of the car and they barely notice him. But as he gets closer to the group, the adults start to buzz, and soon they are surrounding him.
"Tommy, you are the ambassador of baseball!" says one.
"See what they say about me?" Lasorda replies to the bystanders. In that one statement, from a science teacher at 10 a.m. on a winter morning, the equation of Lasorda's life is once again clear. Lasorda needs his fans as much as they need him. He still glows at the platitudes heaped upon him, still shrugs as if he can't believe it, still listens to every word, even though his hearing is dimmed. "Dod-gers, Dod-gers, Dod-gers," chant the children. The team bus arrives, and the players and officials walk slowly toward the cheering children. But first each of them stops to greet Lasorda. For Dodger employees of all kinds, it is like kissing the ring of a pope. If you see Lasorda, you stop and shake his hand or pat his back, anything to acknowledge him. To ignore him is akin to blasphemy. The younger players follow the lead of Garciaparra, who hugs Lasorda like a grandfather. And if they wonder why such affection is required, they need only to listen to the crowd. Once again, even in a group that includes one of the most popular shortstops in the game, the biggest cheers are reserved for Lasorda.
"The Dodgers are here to show you what you need to do to do the right things in life," shouts Lasorda. "You go to school to get a good education. As you grow older, education is something that nobody can take away from you."
It is a routine speech met by bored glances from kids who don't really connect. Then Lasorda pauses. He can read an audience the way he once read a scoreboard. He knows when he is trailing. He knows how to make a comeback. Out of nowhere, he shouts, "The unsung heroes are the teachers. So how about a nice round of applause for your teachers!"
Not only do the kids cheer, but the teachers cheer too. Everyone is rocking in their folding chairs, the playground is alive again, and Lasorda takes another big swing.
"When you're hungry, your mother feeds you! When you're sick, your mother takes care of you! When you need clothes, your mother and father buy you clothes! You can't give them any money for any of this, can you? No! You have to show them love and respect. That's what you owe your parents. Love and respect. Let's hear you say it!" Together the kids begin chanting, "Love and respect, love and respect!" Now Lasorda makes sure this crowd will never forget his voice, even though, moments earlier, many of them didn't know his name. "OK, everybody, hold your head back now and do something for me! Say, 'I loooove the Dodgers!' Say it!"
Together, heads back, everyone says it, laughing and giggling and shouting as Lasorda adds one more footnote.
"And the Dodgers love you!" he says, and he steps back from the microphone into the lineup of mere mortal players and officials. As with all of his speeches, he had none of this planned. He didn't know what he would say, or how he would say it, until he actually said it. He makes speeches like he once managed, from his heart -- this is a guy who once ordered newfangled laptop computers banned from the dugout because they confused him. On this day, though, he is also speaking from the depths of resilience, because he's speaking in great pain.
It's that hip. It's hurting him. The elementary school speeches end, and the Dodger entourage heads back to the street, and it would be so much easier if Lasorda continued the caravan in his Cadillac. But at the last minute he insists on riding with the rest of the Dodgers in the bus. His assistant will drive his car. Even now, more than a decade after his last managerial appearance, Lasorda likes to be there for the players, hanging with them in close quarters, listening to them if they need advice. He struggles to climb up the three steps to the bus, and he curses when he squeezes into the front-row seat.
"Gawd, this leg is killing me," he says. But he is there, close to his team, even if that team is a hastily assembled group of guys in the middle of winter. He has tried to stay close to his teams ever since one of his managers refused to stay close to him. It was later that 1955 season, and Lasorda had rushed back from a knee injury and allowed the Pittsburgh Pirates to hit a couple of homers while pitching with a bad leg and sore arm. After that game, he sat for more than an hour in front of his locker, waiting for Walter Alston to applaud him for trying, waiting for Alston just to recognize him for showing up. But Alston never came near him. Only one player, Pee Wee Reese, approached Lasorda, and that was only to ask him why he fought so hard to pitch so soon.
"You weren't ready," said Reese.
"You wouldn't understand," said Lasorda.
Lasorda vowed to never again allow a beaten player to sit alone. This is another reason why he always had the team's postgame buffet in his office, and why he was always one of the last to leave the stadium, sometimes walking back to the Dodgers' hotel if he missed the team bus.
"I know what it feels like to be alone in defeat, so I promised my self that nobody I managed would ever know that same feeling," he says.
His collapse against Pittsburgh was the beginning of the end of Lasorda's Dodger playing career. Soon thereafter, he was summoned to Buzzie Bavasi's office, where the boss asked Lasorda an unusual question: "Tommy, we need to cut someone. If you were the general manager of this team, who would you cut?"
Lasorda looked around the room and came up with an answer. It is an answer that he will never apologize for giving. It was an answer that haunts him to this day.
"I told them, if I was in charge, I would cut that Sandy Koufax kid," Lasorda remembers.
That Sandy Koufax kid, of course, was the rookie version of the guy who would become one of the best left-handed pitchers in baseball history. Imagine Lasorda, known as one of the best talent evaluators in baseball history, trying to persuade the Dodgers to cut Koufax.
"But it wasn't about baseball," Lasorda says. "It was about survival." The Dodgers were not fooled. Koufax stayed, and Lasorda was cut, and he angrily finished the season in the minor leagues. He might have quit again -- how many times would that be? -- if it were not for a visit from his father, who blew up when Lasorda began complaining while they were waiting for room service.
"I drive a truck in a quarry and you're getting room service, and you're complaining?" Sabatino Lasorda asked. "Shut up!"
Lasorda did shut up, finished the season, and watched his former teammates win a world championship and vote him a half share of the playoff money. Partly because of his father's pep talk, Lasorda used that money to send his father back to Italy in the offseason. Love and respect -- he showed it long before he ever convinced children to shout it.
The next spring, Lasorda's Dodger voice was finally silenced. He was quietly sold to the Kansas City Athletics, where he could pitch once more. The Dodgers thought they were doing him a favor. Lasorda didn't see it that way.
"The Dodgers had helped me start my life, helped me get married, taken care of me when I had kids. They were there for me at every step, even if sometimes I stumbled. I knew I would have to get back to the Dodgers."
Thus began a sabbatical that has since become the fodder for a piece of Dodger trivia. Although Tommy Lasorda often says he has spent every year since 1949 with the Dodgers, you must subtract one year.
"I don't even count that year," Lasorda says, except there is one big reason it belongs.
After only half a season in Kansas City, in 1956, he was traded to the New York Yankees, who promptly sent him to their minor league team in Denver, where Lasorda met the man who would shape his managerial style more than any other boss.
His name was Ralph Houk. From Lasorda's first game in Denver, Houk rolled out a blueprint that Lasorda would follow for the rest of his career. On that midsummer night in high altitude, Lasorda took the mound with a curveball that was not stronger than science. In the thin air, it wouldn't dip. It wouldn't dart. It wouldn't fool anybody. Lasorda quickly allowed five runs, which quickly brought Houk to the mound.
Here it came, another lecture from a disappointed manager. Lasorda had heard it before. Another weathered man coming to the mound to lecture him on the obvious. Lasorda shrugged and handed Houk the ball and started toward the dugout when Houk grabbed him gently by the shirt. "Hang in there," Houk told him. "I like what I've seen so far."
Lasorda shook his head in amazement. What? His manager liked what he saw? Five runs in his first appearance and his manager was patting him on the back? He thought of Walter Alston, who wouldn't come near him after a bad game. He thought of Clay Bryant, who, after a losing game, would make him wait for an hour before he could take a shower. Perhaps nowhere had he pitched as poorly as he just pitched here in Denver, and yet his manager was embracing him.
Houk later explained that he understood Lasorda wasn't used to the mile-high air. He understood that the poor kid must have been tired after driving all night from Kansas City. That Lasorda may have been thinking about the problems of moving his family. Houk was giving him a break. He was treating him like a human being.
"When I came off the mound that day, I would have killed for Ralph Houk," Lasorda remembers. "On a day when I should have been incredibly embarrassed, I was incredibly fired up."
It was Houk who taught Lasorda the phrase that has become one of his mantras.
"Ralph taught me that if you treat players like human beings, they will try to play like Superman," Lasorda says. "He taught me how a pat on the shoulder can be just as important as a kick in the butt."
Houk also knew when to be tough. He is the only person who ever asked Lasorda to start a fight -- as if Lasorda needed to be asked. It was during the American Association playoffs against the Omaha Cardinals, and Lasorda responded by throwing an errant baseball at the pitcher's head. This provoked a brawl that inspired the Denver club to win the series. Lasorda was both applauded and fined, and the next spring he was sold back to the Dodgers for good.
"I fought my way into the organization, and I fought my way back," he says.
Through the cool afternoon and the thick Los Angeles traffic, the Dodger caravan bus heads toward St. John Bosco High, where Garciaparra went to school and played baseball. Lasorda is fighting again, this time with that hip pain.
"If you were me, you couldn't take this!" he shouts from his bus seat. "This is hurting every inch of me, but I ain't taking nothing, no Advil, nothing. The players couldn't take this. Nobody could take this!"
The pain is worse on the rattling bus, but Lasorda will stay, just as he plans on staying with the team throughout spring training, which will begin in a couple of weeks. His role there is largely ceremonial, but he treats it like he's still the boss. Every day he puts on the uniform. Every day he hangs out behind the batting cages. And even if his morning workouts leave him needing a nap, at every home game he will sit with the team by the bench, sometimes snoozing between innings.
"I hate to leave these guys," he says.
The Dodgers will be leaving the Vero Beach fans in a couple of years, moving to Arizona, a relocation that surprisingly causes Lasorda to simply shrug. Vero is his favorite place in the world, it's his kingdom, but it's no longer attractive to his bosses because of its dwindling fan base, and Lasorda will always back his bosses. "I think we should leave Vero Beach. We just don't get the fans anymore," he says, ever the loyal employee. "We'll do better in Arizona."
As the bus rolls toward St. John Bosco, it becomes apparent that the school is a long drive from Whittier, where Garciaparra grew up. Lasorda can't believe that someone would travel for thirty minutes to go to school. He stands up in his seat and begins doing one of his favorite things in the world, shouting insults to the back of a bus.
"Hey, Nomar, you went so far from home. Did John Bosco pay you to go to high school?"
"We'll talk about that later!" says Garciaparra, laughing.
"Did Arn Tellem represent you at John Bosco?" Lasorda shouts, mentioning the name of Garciaparra's agent.
"Yeah," shouts Ned Colletti, the Dodgers' general manager, who is sitting behind Lasorda. "Nomar held out for longer recess and no homework!"
Everyone on the bus is laughing now as the bus creaks its way up to St. John Bosco. Lasorda has done it again, turning a dull trip into an amusement park ride, causing one Dodger marketing employee to stop at his seat as she leaves the bus.
"Oh, Tommy," she says, shaking her head at the wonder of it all. The star of this stop is the returning hero, Garciaparra. But again, when Lasorda steps in front of the several hundred cheering boys assembled in the playground, he gets all the ooohhs.
"You're all fortunate enough to be living in the greatest country of the world, the United States of America," he says to bursts of applause. "Dream! Dreams become reality. When I was fifteen, six teen years old, I used to dream I was pitching for the New York Yankees. Then my mother would shake me and say, 'Wake up, Tommy, it's time to go to school!' And I would cry. Why didn't she leave me alone? Why did she take me from that dream? Then one day, when we played the Yankees, I took the long walk up to the pitcher's mound and said, 'I've been here many times in my dreams.' "
One of the students asks him about regrets. "My one regret is never going to college," he tells them. "I signed to play baseball out of high school and never had a chance to attend college, and I regret that to this day."
Yet talk to him privately and he scoffs at the notion that he could have been accepted by a college. "Man, I wasn't the best student in high school."
A student asks Lasorda about the rival Los Angeles Angels. "The only angels are up in heaven, and they're all ex-Dodgers!" he shouts, and the crowd roars.
The angels line is one that he uses often to tweak the Anaheim-based team, which changed its name to the Los Angeles Angels in hopes of stealing market share from the Dodgers. Yet there is another funny aspect to Lasorda's ridiculing the name.
He actually once pitched for the Los Angeles Angels, which used to be a triple-A farm club of the Dodgers. That was where Lasorda was assigned after he was traded back from the Yankees in the spring of 1957. He spent a season as an Angel, then returned to the Dodgers' farm club in Montreal in 1958. Yes, it was his seventh year there, perhaps a record for any one player in any one minor league city. The Montreal fans were so enamored of him, they held a Tom Lasorda Day and gave him a new car.
If only he had used it to drive out of town. Because he would become the only player in history to return to a minor league city after being honored with a special day there. He pitched in Montreal again in 1959 and the first part of the 1960 season before he wore out his welcome with too many fights and too much controversy. When he was released, he was given a letter written by Dodger general manager Buzzie Bavasi, essentially banning him from the organization for life because he was a troublemaker.
"I was stunned. It was like my whole world had collapsed," Lasorda recalls. "I didn't know what to do."
He phoned Bavasi and pleaded with him to explain his reasoning, begged to be allowed to return as a coach or an instructor. Bavasi said that Lasorda's bosses in Montreal had complained that he was undermining their decisions. Lasorda disputed the facts, then begged for one last thing. He begged Bavasi to read a letter he had written earlier to thenscouting director Al Campanis. In the letter, Lasorda professed his undying love for the Dodgers and his willingness to do anything for the organization. Bavasi dug up the letter and was impressed. Thus the most important Dodger Blue "speech" of Lasorda's career ended up being his first one. In July 1960, he was rehired by the team to work for Campanis as a scout.
"My love for the Dodgers had once again saved my career with the Dodgers," Lasorda says. "And the fun was just beginning."
The fun is also just beginning as the players file back on the bus, all of them heading toward the rear, leaving Lasorda in the front seat, traditionally reserved for managers. Lasorda also has to sit there because people tend to jump on the bus to shake his hand before it leaves. At this stop, it is a local Catholic bishop who boards the bus, to say goodbye to Lasorda, who always knows where to find the highest- ranking clergy. Then a policeman climbs aboard, to say he wishes he were like Lasorda, who also knows where to find the highest-ranking cop.
Just as the players are settling in behind him, Lasorda gazes out at a parking lot filled with late-model cars, and he howls, "Imagine all these kids with all these cars, and I walked six miles to school. I remember a guy coming to our house selling encyclopedias, and my father says, 'We're not buying an encyclopedia. My sons can walk to school like everyone else.' "
Half an hour later, the bus pulls into the Major League Baseball Urban Youth Academy, a sparkling new facility amid the boarded-up businesses and cluttered streets of Compton, south of Los Angeles. The academy was built to bring baseball back to the inner city, which has long since abandoned the sport. It was built to embody what Lasorda says in his speeches about dreaming big. It is the perfect place for the former manager to again stand up for the underappreciated and the barely noticed.
Which is something he begins doing as soon as the bus grinds to a halt and the doors wheeze open and the entourage saunters warily toward a picnic area filled with box lunches. A Dodger marketing hotshot starts shouting: "Everybody wait until the players get their lunches! Everybody let the players get their lunches first!" This is where Lasorda intervenes.
The hotshot is pandering and playing favorites, and even though it is only box lunches, Lasorda will not stand for it. In this case, "everybody" includes Lasorda's main constituency, the Dodger front-office workers who have carefully planned the day's activities. They are all women, and they are being marginalized, and Lasorda has to speak up.
"Wait a minute," he says. "These people have worked every bit as hard as the players. They are every bit as important. Let them eat!" The hotshot quivers behind mirrored sunglasses as the grinning women parade past him for their food, thus revealing yet another secret of Lasorda's success. His Dodger managing empire stood for twenty years amid the shifting winds of failure and discontent because of the strength of the hidden foundation of folks like these. It wasn't the stars who kept Lasorda in business, it was the role players and clubhouse guys and low-level employees, whom Lasorda coddled and embraced and eventually owned. If any player grew angry with Lasorda -- even the biggest of players -- he would be surrounded by so many people who were undyingly loyal to the manager, his voice would be silenced.
"I would tell my players," Lasorda says, "we play hard not just for ourselves but for all those unsung heroes upstairs who make these games happen every night, from secretaries to janitors, the real heart of the Dodgers."
And, in turn, whether it be washing his car or getting him tickets or stifling criticism of him, those people would forever pay him back.
It worked the same way with newspaper writers, as evidenced here at the Urban Youth Academy when Lasorda spots a local columnist and asks about her.
"She loves you, Tommy," says an assistant.
"Why on earth does she love me?"
"A long time ago, you did something nice for someone in her family, and she's never forgotten it," the assistant says.
"Oh," says Lasorda, who has heard that story a million times. "Of course."
And, sure enough, the writer approaches and treats Lasorda like a favorite grandfather. This is not unusual. Even the most hardbitten journalists who cover Lasorda will not casually criticize him, if only because he was once nice to their visiting mother, or he signed an autograph for their sick cousin, or he spoke at their church for free. If someone was going to rip Lasorda, it would have to be about something big, something worth losing his favor and the favor of all those players who would see him snub you in the clubhouse. Sometimes, as when he decided not to intentionally walk the St. Louis Cardinals' Jack Clark in the 1985 playoffs, and Clark went on to hit a pennant-winning homer, the criticism was worth the risk. Most times, it was not.
Lasorda's cell phone rings. Yeah, the calliope. It's an old friend inquiring about an invitation for Lasorda to appear at a function in New York -- on the same night he is supposed to be attending a bullriding event with his wife and granddaughter. Lasorda will put family above even his closest friends. But he will agonize over it. And when it's a really close friend, he will be physically unable to tell him no. That's what his assistant is for.
Lasorda says, "Can you call him back and tell him I'm too upset to talk, but I have to miss the event?"
"Upset, like, mad?" his assistant asks. "Or just upset, like, sad?" "What are you talking about?" Lasorda shouts. "Just say I'm upset -- as in, I'm upset!"
The assistant walks away with Lasorda's cell phone, shaking his head. Lasorda smiles. He hates delivering bad news so much that, when he managed, he eventually stopped going to the mound to change pitchers. He would walk out to give a lift to a struggling but proud pitcher. The pitcher might argue his case, and Lasorda would either allow him to remain in the game or pull him out and feel like a bad guy. And Lasorda hates feeling like a bad guy.
"So if I sent out the pitching coach, if the player argued, the coach would just shrug and point to me," Lasorda says. "There would be no scene. There would be no arguing. And by the time the player reached the dugout, maybe he wasn't so mad at me anymore." His assistant, who does everything for Lasorda, including buttoning his shirts when his arthritic fingers won't work, is like that pitching coach. Today he walks away and makes the call and delivers the bad news, and Lasorda wipes his brow, relieved.
By now, the kids from the community begin to file into the academy. The shiny walls and spotless locker rooms do not match their torn shorts and stained shirts and sad eyes. Lasorda does not notice this, though, because he has to visit the bathroom. And, as usual, he finds himself in a most unlikely spot when this need arises. He is standing in the girls' softball locker room. It is a compact but clean room with rows of red lockers that seem vacant. Lasorda was brought here on a quick academy tour by its director, Darrell Miller.
"How many girls play softball here?" he asks.
"We're still growing. It's still just twenty-five," says Miller.
"Is that all?" says Lasorda. "Well, at my age you can never pass up a bathroom, so I'm going to use the one in here."
"But Tommy …" says Miller.
"Hey," Lasorda says, "did I ever tell you about the time I helped the U.S. women's softball team win a gold medal?"
The man has an anecdote for everywhere, even a women's bathroom. He proceeds to talk about how, during the 2000 Olympics in Sydney, Australia, he was summoned to speak to the team after it had lost its first three games.
"The coaches said, 'We want you to really blister them,' " recalls Lasorda. "I told them, 'I will not use that kind of language around women.' And they repeated, 'Let them have it.' So, well, I did." Lasorda launched into a lengthy tirade: the women were embarrassing their country and themselves. He reportedly stopped short of calling them murderous traitors, but not by much.
"I called them every name in the book," Lasorda remembers. "They gave me permission to curse in front of women, so I did. I gave them everything I had. And what did they do?"
They won five consecutive games and an Olympic championship, a feat that nearly matched the men's baseball championship, which Lasorda guided. Although coaches do not receive Olympic medals, Lasorda now jokingly claims he should have gotten two. "If you ask me, I helped two teams win medals that day."
He hobbles out of the girls' bathroom and into a nearby room for a quick rest before meeting the neighborhood kids. On the table is a phone. The phone rings. Without hesitation, Lasorda answers. He loves doing this, answering calls that are not meant for him, hoping that the person on the other end will, at the very least, faint from the excitement of talking to him.
"Your name is Martha?" he says into the receiver. "You want to know if your kid has practice today? OK, Martha, I'll check." He pauses and checks. "No, Martha, the kids aren't doing anything tonight. We're giving them a day off. Hope everything goes well for you and your son. Bye."
The woman on the phone didn't recognize his voice. She was talking to a baseball Hall of Famer and never knew it. Lasorda laughs uncomfortably, then walks outside to face groups of Compton kids who aren't laughing. They look weary, distant. They clearly don't know much about Lasorda. This doesn't bother him, however, it just makes him work harder.
"I know what it is to be your age, but you don't know what it is to be my age," Lasorda tells them. "So listen!"
He notices that many of them are dressed in mismatched and worn clothing. He shakes his head.
"When I was growing up, my shoes were so thin I could step on a coin and tell you whether it was heads or tails," he says.
The kids seem to perk up and listen.
When Lasorda spots a girl sucking her thumb and staring into space, he gets her attention by talking about the Louisiana girl who used a glove signed by Lasorda, which inspired her to become one of the state's first female baseball players. That girl is now coaching college softball and has become a good friend of Lasorda's.
"Believe you can achieve anything you want!" he screams for the third time today, coaxing the thumb out of the girl's mouth. "You must believe. You must believe!"
Lasorda pauses and scans the crowd. "What do you want to be? What do you want to be?"
One child shouts out, "A football player!"
Wrong answer.
"Football? Football?" Lasorda looks incredulous. "You're talking to the wrong people, son! Go down the street and talk to the football people."
He is only partly serious. But when another boy says he has never seen a Dodgers game, Lasorda becomes dead serious.
"You've never seen the Dodgers play? You don't go to Dodger Stadium? Why not? Every little kid wants to see the Dodgers."
The child looks down and shakes his head. It seems obvious that he lives in a household that cannot afford baseball tickets. This would be the perfect opportunity for Lasorda to treat him, and he is preparing to do just that when -- "GAWD ALMIGHTY!" Lasorda screams. "GOOD GAWD ALMIGHTY!" Walking through the crowd of kids sitting at picnic tables, Lasorda has just stepped over a boy's giant sneaker and landed awkwardly on that left hip, and the pain has shaken his entire body, sending him staggering toward five wide-eyed girls.
"GAWD, IT HURTS!" He teeters toward the girls as the kids stare in shock. "GAWD ALMIGHTY."
Then, just as quickly, he is quiet and walking normally. He leans down and pats the back of one of the girls. He asks another about her homework. He turns to the child without Dodger tickets and says, "Son, I'm telling you, you will see the Dodgers one day." Even in these occasional unsteady moments, he is doing what he does best, what he will do forever. He is managing.
"See what happens when you get old?" he says, laughing, and everyone starts laughing with him.
"Hey," shouts Ned Colletti, the general manager. "I know some of you want to be football players or baseball players, but do any of you want to be leg surgeons?"
Everyone laughs again, and that is how Lasorda will leave them, laughing and waving and thankful for the memory.
He hobbles back on the bus, saying, "Stinking leg."
And to think that Lasorda used to be one of the strongest men on these streets. The Compton area had been part of his territory as a Dodger scout. And man, could Lasorda scout. His skills as a talent evaluator, combined with his power of persuasion, turned simple scouting assignments into the stuff of legend.
Lasorda once brought a prospect to a Dodger intrasquad scrimmage where he himself was the pitcher. Lasorda threw the prospect fat fastballs that the kid could hit out of the park. The prospect was signed.
Lasorda once pounced on the bleachers rumor that a certain prospect's father had been overheard talking about giving his son an injection. "Gosh, guys, do you really want to sign someone who already has a bad arm?" Lasorda said, never bothering to explain that the prospect's father was a doctor who was talking about a flu shot.
"You did what you had to do," Lasorda recalls. "I thought scouting was no different than playing, you know?"
In this South Los Angeles area in the early 1960s, Lasorda attended the funeral of a prospective player's grandfather, even though he had met the man only once. Lasorda was late for the funeral, so he wound up sitting in the last empty chair, on the altar, behind the preacher. Lasorda was the only white person in the church, so the preacher figured he was important, and surprisingly summoned him to the pulpit.
"We have a dignitary here today with us," said the preacher, who then turned and whispered to Lasorda, "What did you say your name was again?"
"Nobody knew me," Lasorda recalls. "But I knew this was my big chance to land this player."
Instead of admitting that he barely knew the deceased, Lasorda sung the grandfather's virtues, whipping the crowd into a frenzy, referring to the grandson as cut from the same mold. The grandson listened and admired and, sure enough, a day later, he -- outfi elder Willie Crawford -- became a Dodger.
"That ain't even my best scouting story," Lasorda says.
There was the time that Lasorda was trying to get to his Dodger Stadium office during a game. The guard at the front gate didn't know him or recognize him, and Lasorda didn't have a pass, so he was prohibited from entering.
"First thing I did was tell this guy, 'If I can't get in the parking lot, man, I'm going to clean up the place with you,' " Lasorda recalls. "Then I asked him if we could make some sort of deal."
The guard had a buddy who played baseball and was willing to deal. If Lasorda was truly a scout, then he would evaluate his buddy. In exchange, he would be allowed into the parking lot.
"So I ask him, 'Where's this player?' "
A couple of days later, Lasorda drove to a nearby field and watched him play. And soon thereafter, Tommy Hutton became a Dodger. He is forever known to Lasorda not as a first baseman, but as a parking lot 12 player.
"And that still ain't my best scouting story."
His best scouting story, it turns out, is his first. The target was Dick Krotz, a high school third baseman from Allentown, Pennsylvania. Lasorda, who began his Dodger scouting career in Pennsylvania, followed around the slugger for weeks. In what would be his closing move, he invited Krotz and his family to see the Dodgers play in Philadelphia. But the game was canceled because of a hurricane. So Tommy and Jo had to drive to the Krotzes' house to close the deal. "I told Jo, 'No matter what, if you see me crying, don't say anything,' " Lasorda recalls.
Sure enough, after a long night of dinner and verbal dancing, at 3 a.m. in the Krotzes' living room Lasorda started crying. In the end, he directed his sales pitch to the person most of his sale pitches would be directed to -- a mother. He was imploring Dick's mother, Florence, to look at him. "I said, 'Florence, do I look like the type that would lie to you? Right now I feel like a priest who asks people if they want their souls saved. Shouldn't those people be asking him? I'm asking you to join the greatest organization in baseball, but shouldn't you be begging me to join us? I would be leading your son around like a father. Look at me! You need me!' "
At this point, Lasorda began bawling, wailing, streaming tears. Only when the mother agreed to sign did he finally stop.
"Of course, the kid met a girl in the minor leagues and quit baseball to be with her," Lasorda says. "But that's another story."
By the time Lasorda finishes spinning the tale, the Dodger bus has pulled up at the next stop, the Long Beach Aquarium, the only spot on the caravan to which the public has been invited. This explains the huge lines that snake around the fish tanks. This is an autograph session, so no speeches are planned. This makes it the perfect time for Lasorda to give a speech.
"On behalf of the entire Dodger organization -- Long Beach, we love you!" he shouts to the four hundred people waiting in the autograph line. "You are great fans. Keep coming! Get your tickets now! Let's sign some autographs!"
Lasorda will not sign every autograph. Sitting at a table next to several Dodgers, Lasorda is the only one who will not autograph a bat. People have stood in line with their bats for hours, but he will not sign them. One man has a 1988 championship bat with everyone's signature on it but Lasorda's, yet Lasorda still will not sign it.
This is a strange quirk for one of the only living sports celebrities who never charges for autographs. Lasorda shrugs. "I don't sign stuff that gets sold on the Internet," he says.
What about balls? he is asked. What about gloves? What about ticket stubs? What about all the other autographed stuff that fills eBay like old boxes fill his garage?
"I just know that bats go for big money," he says. "And I'm not signing anything that goes for big money."
But as long as somebody gives him a name, he signs everything else -- shirts and caps and cards -- while carrying on a running commentary with the fans. As long as you say please, it is worth it to ask for Lasorda's autograph, because you never know what he's going to say when he signs it.
"Do you love Uncle Tommy?" he asks a small child wearing giant glasses. "Say you love Uncle Tommy!"
Any time a male Dodger fan shows up with an attractive woman, Lasorda's response is always the same: "You better never let her get an eye exam, buddy, or you're finished!"
Sitting next to him at this ninety-minute session is the newest Dodger, Juan Pierre. The fans don't know him, and few are talking to him, so Lasorda decides to introduce him.
"Everybody, this is one of the greatest players on our team, Juan Pierre. If you don't like Juan Pierre, you don't like Christmas!"
Pierre laughs, but he will remember this comment. Lasorda will walk into the clubhouse on a June afternoon looking for a buddy, and Pierre will be there for him. That's how it has always worked for a man who continually catches more flies with honey.
"You know the great thing about getting old?" Lasorda says to another fan. "This means you don't die young."
By late in the session, he indeed begins to look old. During a lull in the autograph parade, he tilts his head back and falls asleep. Fans look bemused. Officials look worried.
"That's it, folks, Mr. Lasorda has to go home now," somebody announces, and with that, Lasorda rises slowly to his feet and hobbles back through the aquarium's kitchen.
"Gawd, my leg hurts," he keeps saying.
On the way to his car, he passes a group of Mexican kitchen workers. He stops and gives them a pep talk in Spanish, something about if they don't start moving faster, he will tie a horse around them. Then he slows to secretly give an autograph to an aquarium employee, despite the fact that aquarium employees are forbidden to ask for autographs.
"What's your nephew's name?" he whispers, signing a napkin, handing it to a bystander who will later hand it to the employee. Then he is finally in his car, moaning softly but waving steadily to the fans that crowd the doors as the Cadillac pulls away, American flag flapping in the evening breeze.
"This gets harder and harder," he says, settling into his seat with a sigh. "But this is what I do, right? This is who I am."
Also See
ESPN Top Headlines