The Page 2 staff: What's our price?
The Page 2 staff was asked the same question: What's your price? What would it take for you to willingly wave good-bye to your team forever?
Here's what they had to say ...
WHAT'S YOUR PRICE?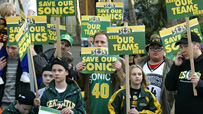 •
Jackson: Sonicless in Seattle?
•
Page 2 writers name their prices
•
Jones: It's Bennett's right
•
Vote: What's your price?
Paul Lukas
That whole "If you love something, set it free" thing doesn't work for me, bud -- not at any price. New York tried that routine 50 years ago. That's how we lost the Dodgers and Giants. It's also how we ended up with the Mets, who happen to be the team I live and die with. Fool me once, shame on you, and so on. Relocation? I don't think so, son -- not for a dollar, not for a million.
Unless, of course, you also took the Yankees as part of the deal. Then we could talk.
When it comes to the Knicks, I'm easy: you can have them in exchange for a T-shirt that says, "My NBA team went to [insert city name here] and all I got was this lousy T-shirt" on the front -- as long as it says, "Pretty good deal, right?" on the back.
Jemele Hill
For 10 White Castles, a sack of fries, and a large orange pop (we don't use the term soda in Michigan), I will give any city or respectable Kiwanis club the Detroit Lions -- the most embarrassing sports franchise in Michigan and one of the worst-run organizations of all time. Few sports teams have defined losing like the Lions. They haven't reached a Super Bowl in the modern era and have won only one playoff game in franchise history. As pathetic as that is, Matt Millen has the distinct honor of torpedoing this horrendous team to the lowest point it has ever experienced. With Millen in charge, the Lions have the league's lowest winning percentage and even less dignity. They could become the Burma Lions, the Iceland Lions or the Port St. Lucie Lions for all I care. Detroit Mayor Kwame Kilpatrick's affair: $9 million; Miguel Cabrera's contract: $153.3 million; taking away the Lions for good: priceless.
Kurt Snibbe
$285,000. If the 49ers ever move from the Bay Area that's what I want. That's the minimum salary for an NFL rookie. I don't see myself as just a fan but as a family member of the team. The 49ers have been a part of my family for generations. My parents went to games at Kezar Stadium in Golden Gate Park. In elementary school I pretended I was Freddie Solomon streaking down the sidelines or Ray Wersching when I was kicking paper footballs. Yeah, the Niners won a ton, but they've also been a laughingstock, leaving their fans to wallow in depression for decades. Like family, I've never left their side. I've been loyal and look forward to every game. If a player who hasn't even been there one whole season gets $285,000, I figure that's what they owe me (and every fan) for a lifetime of support. I would grieve as if the cash came from a wealthy family member's will.
Jim Caple
This question reminds me of when I was living in Minnesota and complaining to friends in Washington that I would never be able to afford to move back home because of the outrageous price of housing in Seattle. My friend Luke replied, "How much would you be willing to pay to have the Pacific Ocean and the Cascade Mountains moved to Minnesota?'' Fair enough. Location is everything. So what would I need to give up my local team, the Mariners? You would have to move me as well. And not to just any city. No Oklahoma City or Dallas for me. I need another city as beautiful and vibrant as Seattle. I need a home where I can bike to the ballpark, a world-class university, a renowned farmers market and a long stretch of road that climbs to a panoramic view of water. I need quick access to mountains and oceans, brewpubs and wineries, independent theaters and cozy bookstores, ferries and airports, and maybe a volcano or two (non-active -- I've already gone through the eruption thing). And where I don't have to shovel my driveway (did enough of that in Minnesota). So I guess if you gave me a comparable house with a comparable mortgage in San Francisco, I would consider giving up the Mariners and root for my first love, the Giants. Given the cost of housing in San Francisco, I figure maybe $1 million, or $1.5 million, might do it. Only you would also have to make the same offer for my dad and my brother and my sister and my nephew and my brother-in-law. And all my friends. And, oh, Tom the security guard outside the Mariners clubhouse; and Rem, who mans the door to the media entrance; and Mike, who sells kettle corn across the street; and Rick, the peanut man; and Jon, who prints the unofficial program and everyone else who has a financial or rooting stake in the team. I figure $2.5 trillion ought to just about cover it.
Only you better throw in another $100 million to sign some decent hitters for the Giants because they suck right now.
Kieran Darcy
$195,229,045. That's the New York Yankees' payroll this season -- and how much money you'd need to pay me to hand over the Yanks to another city.
The Yankees were my first love. First team I ever rooted for. First team I ever saw play in person. I simply cannot imagine not having them to entertain me for 3-4 hours practically every day of spring and summer.
Besides, for a shy guy like me, being a Yankees fan is a great conversation starter. Believe me.
Wait … hold on … my fiancee just read this over my shoulder and told me I better take the $195 million and change, if I know what's good for me. And she's right. I'd probably even have to settle for $27,708,525 -- A-Rod's salary this season.
But not a penny less.
DJ Gallo
For the Pittsburgh Pirates, I would take $38,604,501 -- or $1 more than the team's entire payroll.
Then I would wait for a new ownership group to bring a team back to the city -- a stadium as nice as PNC Park wouldn't stand vacant for long -- and use $38,604,500 of my windfall to build a roster 10 times better than the one former general manager Dave Littlefield put together. With my remaining dollar, I would then buy a single egg and throw it at Dave Littlefield's house.
For the Penguins … I don't know. This is a young, up-and-coming group of players and the most exciting team in the NHL. I'm not sure if I would sell them. If I did consider it, though, I would only accept offers in Canadian currency -- none of that worthless American crap.
And for the Steelers, the pride of Pittsburgh, I would want ... you know, I honestly don't think I would take any sum of money. Seriously. The team means too much to the city. Everyone would be depressed. Jobs would be lost. Worst of all, I'd have to deal with the wrath of this guy.
Patrick Hruby
Here's the thing: my favorite team and I already have been torn asunder. Can't blame them for leaving town, though. That's on me. It's been 14 years since I moved away from Tucson, Arizona, which means 14 years of rooting for the University of Arizona men's basketball team from the opposite end of the country. In that time, I've seen the good (1997 championship; '01 final), the bad (four years of Mustafa Shakur; Kevin O'Neill's one-play offense) and the ugly ('05 Elite Eight come-from-ahead loss to Illinois, which is now the second-worst gag job in recent tourney history -- thanks, Memphis!).
Oh, and I've also saved a ton of money.
No season tickets. No impulse T-shirt or jersey purchases. Rooting from afar is way, way cheaper, and not just financially. It saves you time. And anguish.
I'm far less inclined to watch every game of every season -- what's healthier, two hours of pickup ball at the gym, or two hours of staying up late to watch the Wildcats pound Oregon State? -- and far more inclined to take winning and losing in stride. Mostly because I'm surrounded by people who care a lot more about Georgetown and the Washington Redskins. Free from tribal groupthink, I'm probably a happier, healthier, more balanced fan. It's a lot like observing a distant supernova through the Hubble telescope: the downside is that it isn't as intense, and the upside is that ... it isn't as intense.
As such, I can't say I have a price (though I'm never one to turn down a nice piece of fish). If anything, after tallying up the opportunity costs of fandom that I blissfully haven't paid for the last decade and a half, I probably owe Lute Olson a few bucks.
Mike Philbrick
From the first grade on, there were probably 10,000 times that "my price" to give up the Red Sox was $19.18. At least 9,000 of them came in August, when seemingly every year the Red Sox would abdicate their throne as the Kings of April and May. I know I've never experienced the pain of the 1946 World Series and I didn't have much to say (literally) when 1975 happened, but I did experience 1986 and all the historical baggage that went with it -- the graphics that the networks came up with (Boston's record in Game 7 situations; the cost of a loaf of bread and a gallon of milk last time the Sox won) and the sad looks on people's faces when you told them you're a Red Sox fan. Throw in the fact that I moved to New York just in time for the Yankees to win four titles, and at one point my price dropped to $1.918. But all that was before 2004. Now when I go back to Yawkey Way the color of red seems a little bolder, a little brighter and, much to the sports world's chagrin, a little louder. The Curse of the Bambino, the 1918 chants -- all that crap that had become its own industry -- all of that was gone. And now that I'm still living in the middle of Yankee Universe while flying the flag of Red Sox Nation, it would cost $19.18 trillion dollars for me to give that up.