Page 2 celebrates classic Pro Bowl moments
Super Bowl XLII is over, and now we can focus our attention of the pinnacle of the NFL calendar, the AFC-NFC Pro Bowl.
The biggest and fastest gladiators that pro football has to offer will clash on the Aloha Stadium turf Sunday, willing to play hurt and sacrifice their bodies for the good of the game. It's a platform for unfettered effort and mental and physical fortitude. It's a showcase of thrilling performances, tearful goodbyes and spectacular sights and sounds.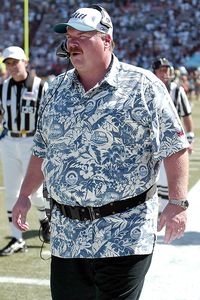 Paul Spinelli/Getty Images
Friends don't let friends wear mumus. Even enemies wouldn't let them tie it off with a utility belt.
Here at Page 2, we only let the NFL season elapse only while kicking and screaming. Therefore, we've compiled our favorite Pro Bowl memories through the years. These are purely recollections, so be advised that they might not quite be 100 percent accurate. Enjoy:
• 1979: Archie Manning so disgraces the great game of football by filming a television commercial for Fig Newtons in the middle of the second quarter that no mainland stadium will host the game the following year, leading to the Pro Bowl's permanent relocation to Hawaii.
• 1981: Vikings tight end Joe Senser is presented with the "Worst Player to Ever Make an All-Star Game in Any Sport" trophy. … "Well," he says in a stirring postgame news conference, "I also knit."
• 1984: Seattle's Dave Krieg makes his first Pro Bowl despite leading the AFC in interceptions. He doesn't throw a pick in the game, but the NFL's future all-time fumbles leader does fumble seven times after being forced to play the entire game because every other AFC quarterback had either come down with an "ankle injury" or claimed to be "getting married" that weekend.
• 1985: In leading the AFC to a 22-14 triumph, Colts quarterback Art Schlichter wins $25,000 for being named the game's MVP (then blows it all betting whether Jimmie Giles is spelled with a 'Y' or 'IE').
• 1989: Lions kicker Eddie Murray replaces kickoff tee with empty margarita glass.
• 1990: Rick Strom's stirring comeback bid fall just short as the AFC falls to the NFC 27-21. Strom, the AFC's backup quarterback and a representative of the Steelers, was added to the roster after Warren Moon backed out with a knee injury, Dan Marino sprained his thumb, Jay Schroeder suffered a hangnail, Steve Grogan had a dental appointment, Bubby Brister had to pick up some milk from 7-Eleven, Billy Joe Tolliver ate a funky slice of pizza and Kelly Stouffer … well, he wasn't invited.
• 1991: Thousands of Jets fans make the pilgrimage to Hawaii to root on their rookie Pro Bowler, Emmitt Smith, only to remember that the team actually drafted Blair Thomas instead. … Jim Kelly leads the AFC past the NFC and wins the Pro Bowl MVP award, proving that he can, in fact, win the big one.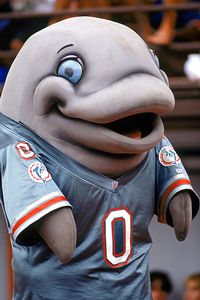 George Rose/Getty Images
A Pro Bowl without complex strategies and maximum effort would be like a fish out of water.
•
1992:
After piloting the NFC to a 21-15 victory during which he was doused with Gatorade after each quarter to fight off the scorching February sun, coach Wayne Fontes tears up at the postgame news conference, explaining "I'm just glad you're all here to share the biggest win of my life."
• 1993: Buffalo's Thurman Thomas misses the first series of the third quarter when he can't find his helmet, unfortunately reprising his Super Bowl XXVI blunder.
• 1994: Seattle's Dan McGwire throws two late interceptions, which the NFC converts into 14 points en route to a 17-3 victory. McGwire refuses to take reporters' questions afterward, insisting that he's "not here to talk about the passed."
• 1995: The AFC wins 41-13; most of the NFC team never makes it to the game from a party hosted by coach Barry Switzer.
• 1996: Redskins quarterback Gus Frerotte named honorary MVP after excitedly headbutting teammate Nate Newton in the rear end and never returning.
• 1997: Major embarrassment unfolds for the NFC, as several players on the sideline prematurely break out "Pro Bowl Champions" caps with about 90 seconds left in regulation, not anticipating the AFC scrambling to tie and then winning in overtime.
• 1998: National outrage boils over as one of Don Ho's hula dancers has a wardrobe malfunction during the halftime show.
• 1999: The Jets' Bill Belichick, filling in for Bill Parcells, engineers a brilliant game plan and pilots the AFC to a 23-10 victory. Belichick, wearing a floral, Hawaiian-style hoodie at the postgame news conference, denies any knowledge of a report by the Honolulu Herald that his staff secretly filmed closed NFC practices.
• 2000: The AFC's Ted Washington spends the second quarter in line at a concession stand for hot dogs, and Ray Lewis leaves in the third quarter to go bowling.
• 2001: Buffalo's Rob Johnson escapes serious injury despite having Tampa Bay's Warren Sapp violently yank him to the turf by the bandana.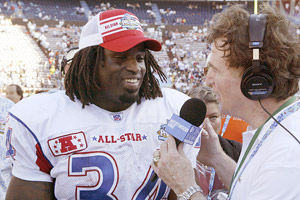 Paul Spinelli/Getty Images
Ricky Williams left defenders in his smoke in 2003.
•
2003:
Miami's Ricky Williams gains 436 all-purpose yards, triggering an incentive clause of his Master P-negotiated contract. Section 12, paragraph D, subsection 3.1 of the pact, which read, "If my boy RW goes off … and I mean OFF in the Pro Bowl, he gets crazy cheddar yo," awards Williams $4.6 million dollars -- roughly 90 percent of his earnings that season. Upon being informed of this during a postgame interview, Williams shouts "I'm goin' to Amsterdam!"
• 2004: After yielding a Pro Bowl record 55 points, NFC coach Andy Reid immediately fires longtime defensive coordinator Jim Johnson.
• 2005: Pittsburgh's Bill Cowher earns his fourth career Pro Bowl victory. While hoisting the Marty Schottenheimer Trophy on behalf of the AFC, he announces he's contemplating retirement.
• 2006: AFC coach Mike Shanahan spends the entire game lying on a towel with a silver rays-catcher directed at his orange flesh.
• 2007: Peyton Manning arrives at Aloha Stadium 6½ hours early to break down film of the previous year's Pro Bowl and spends 70 minutes throwing out and drag routes to members of the grounds-keeping staff.
Sound off to Page 2 here.