Single page view
By Mary Buckheit
Page 2
It's official. Sound the trumpets, blare your horns, roll out the red carpet and kill the fatted calf. Olympic gold-medalist swimmer Amanda Beard has officially swept this year's Hottest Female Athlete competition.
All hail the queen.
We finished tallying the votes in the wee hours of the night and the editors immediately sent me to inform Amanda of the good news. I'd hoped to make the announcement Publishers Clearing House-style, but a Nor'easter at The Worldwide Leader proved too much for the Page 2 prize patrol paddy wagon, so a phone call had to suffice.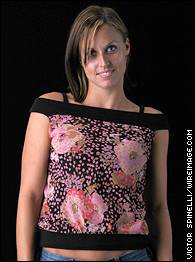 Proof positive that Page 2 readers have good taste in Hot Athletes
We wanted to fly Amanda up to Bristol for a celebratory photo shoot, too, but Amanda bowed out, refusing to accept the polar-plunge clause we tried to sneak into her contract. Icy photos aside, we're willing to compromise for a champ like this.
So, over the phone, we grilled Amanda over a fire of Burning Questions that the hottie handled with ease. Today, capped with a crown, Amanda officially assumes the throne: Page 2's 2005 Hottest Female Athlete.
* * * * *

1. All right, so you can swim. But are you prepared to take on the rigorous responsibilities required of Page 2's hottest female athlete?
Amanda Beard: Umm … Geez. What are the responsibilities?
Oh you know, shaking hands, kissing babies. The world tour, the book signings ...
Oh, of course. I can handle that!
How did you find out about the contest?
My agent told me first, he was really into all this. And then, all my guy friends started telling me about it.
Uh oh. Hold on. Did your boys stack the votes? Do we need to investigate?
No, no. I don't think so. I didn't even ask who they voted for. There were some beautiful girls on there. I'm not sure if my friends even voted for me, they just told me about the contest.
Did you log on and check it out for yourself?
Yeah, I did. I had to see what pictures you guys were using.
Did you vote?
I voted in the first round. There were a couple of my swimming girls in the running then. I had to vote for them
Did you vote for yourself?
Eeee, I think I did. Is that OK?
Yeah, that's allowed, it shows you want it! We like that.
OK. Well, I think I voted for myself and all the swimmers.
2. Who do you think was the hottest female athlete on our list?
Well, the Hawaiian girl who did the IronMan. She is REALLY beautiful!
Lokelani McMichael. She's the one you just trounced in the finals.
I know. I can't believe it. She is extremely beautiful.
Have you checked out the men's competition?
I did. I voted for the race car drivers and then ...
3. Hold on. Are you a NASCAR fan?
Yeah!
Well, I'd have to read the fine print, but I think we can take your crown away on account of such a mortal transgression.
What? C'mon. You guys put Kasey Kahne on there ... although I don't think he made it past the first round.