If we started listing Dean Smith's accomplishments we'd be here all week, so we'll just say this: The man's a legend and an icon; he's forgotten more about coaching than most of us will ever know; and, maybe most important of all, he's got a dome named after him. When you get one of those, we'll talk about you. In the meantime, sit back and listen as he answers Eric Neel's 10 Burning Questions.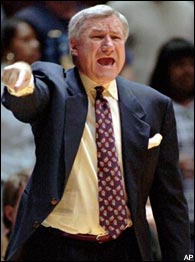 Dean's teams were often happy.
1. What do you miss most about the NCAA Tournament?
It was always exciting. We had a difficult time making it in my first fourteen years; we had to win the ACC tournament regardless of whether we'd won the regular season title. It's always exciting, though. There are chances of upsets since the shot clock and the three-pointer came into the game, which gives the underdog a shot. The Tournament is something you look forward to each game. I always enjoyed it. If I were a football coach, though, I wouldn't want the same format. In football, with the bowls, they have 36 teams that end with a win. In basketball, we only had one team happy at the end.
2. You've recently written a book called "The Carolina Way: Leadership Lessons From a Life of Coaching." Give us the Cliff's Notes version. What is the essence of the Carolina Way?
The Carolina Way is we don't worry about the result. We play hard, we play smart, we play together. Winning is the byproduct. I write what we do to build a team. My friend Gerry Bell, an expert in business, writes the business perspective. And then they got a player at the end of each chapter to give a player's perspective on what we do.
Tell me about "point to the passer."
We started that a long time ago, when I was playing. I was so tired of the star always being the one who scored the most points. I wanted to reward the passer. We started, any game, and in practice, if I scored, I'd turn and thank the guy that gave me the pass. Our players picked it up, and the coaches did it, and the next thing you know, our fans would start pointing to the passers. It made guys anxious to pass after a while. We called it the Bobby Jones Rule, because he once pointed to the passer after he'd gotten a good pass and missed the layup.
3. Do you remember what you first loved about basketball?
My dad was a football coach. I loved football more ... until the head football coach at the University of Kansas suggested I go ahead and concentrate on basketball by making me the sixth-string quarterback on his team. Basketball is an exciting game. It's made for television. People can see the looks on the players' faces. And it's a true team game, if played properly. And anybody can score.
Coach Wooden has said he actually prefers the women's game these days. Is the men's game in decline?
Well, all these guys can handle the ball so well now. They're better players now. I don't know if maybe they're not as fundamentally sound on passing as they should be, and I'd like to see more than just people shooting the long three-point shots. I like dunks, myself. It's the sure two points.
The NBA is thinking about instituting a minimum age limit. What do you think about that?
I doubt it will pass. Tennis players, golfers, ... in this country you're allowed to go work for a living. I don't know. It's good for the individual, I think, they're not ready to handle the money and all, but ...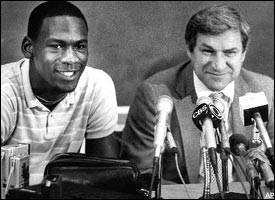 Michael Jordan and Dean Smith both on the way to legendary status.
4. What's it like to have an arena with your name on it?
It's amazing, I don't even think about it when I come to work. I still come to work here, and actually, I didn't think it should be named for me. I thought it should honor the players. They said, well, you're the common denominator of all the players, so I accepted it with that in mind. It's an honor, but I didn't even want a new building at the time, I wanted us to stay in Charmichael with 10,000 making all that noise. But we make a lot of noise with 21,700 in this building, too.
5. Finish this sentence for me: "In Carolina, basketball isn't a game, it's ..."
It's a caring ... I hope it's a caring family, but that's maybe pushing it too much.
What was your most satisfying win as a coach?
All the road wins in the conference. We were over 70% in the conference on the road. All the NCAA wins, the gold medal in '76 -- a lot of people would have been upset if we hadn't won that.
Your most painful loss?
Michigan in '89 ... we played so well, but Rice just made everything and they played their best game. And in '71 we won the regular season championship, but we had to win the tournament to go the the NCAAs and we lost that year to South Carolina. The last game of any season is always disappointing. Every coach has that, unless they win the tournament.
Outside of your own players, who was the greatest player you ever saw?
That's hard to say. We played against Magic. We beat them here in Chapel Hill, but he still had a great game. He was something. I didn't see Larry Bird in college, but I saw him in the summer, and his passing was just terrific.
6. What's your favorite Roy Williams story?
He's a great, great coach. I was excited to hire him as an assistant. We'd seen him run camps. He was a great teacher, and very bright. I was so excited when my old school, the University of Kansas, hired him. They'd gone through seven coaches before they got to Roy. And the rest, they say, is history. I'll tell you this about Roy, though, you want him as your golf partner. The first day back here, last spring, I took him out to play a new course he hadn't played before, and he hit a 72.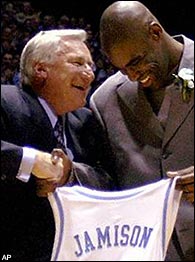 Dean Smith and Antawn planning a reunion with the Bobcats.
7. Do you still talk to your former players in the NBA?
Yeah, not as often as I'd like, but I still get a lot of calls. That's one of the fun parts of being a coach.
Rasheed Wallace has had a lot of ups and downs. Do you think he's someone who's been misunderstood?
I definitely feel that. He was one of the easiest, nicest guys in the world to coach. Mike Dunleavy, when he had him in Portland said Rasheed was a great guy to have on a team. His teammates love him. He's unselfish. His mother, Jackie, says she's tried to get him to not get technicals. We used to run sprints here when a guy gets a technical; the whole team runs. Rasheed used to say, "Let me run for them." He wanted to do everyone else's running for them.
8. Now that you're not coaching, what do you do with your time for fun?
Well, the book was fun, but I'm glad it's over. I like to golf a couple times a week, and read quite a bit. I still come in to work every day I'm home in Chapel Hill. Bill Guthridge and I still have our same secretaries with us.
9. Which of these is your favorite Dean? Dean Martin? James Dean? Jan and Dean? Or Howard Dean?
Of those you named, I respect Howard Dean.
10. When you look at someone like Hubie Brown, do you ever think of coaching again?
(laughs) No. Well, yeah, if you promise there'd be nothing else to it but to coach the team, and none of the stuff that goes with it. I was called after I'd been out a year, and I thought about it for about 20 minutes.
I think the only way I could promise you that it would only be coaching would be if you coached a city rec league or something ...
Well, Division III would be nice. I thought about that. When Tom Osborne retired I told him we ought to sneak off and just coach somewhere small for a while. He said we might need disguises.